There are so many companies that receive, evaluate, grade, pack, and re-ship sportscards EVERYDAY. Its a multimillion dollar industry that is design to help you, the Collector, find cards of your favorites players in "certain" conditions, from "good" to "gem" and from "poor" to "pristine". The object of this guide is to help you understand how they do what they do, and whether or not to trust them.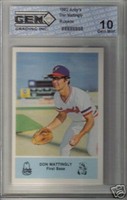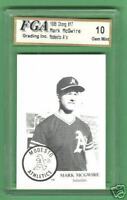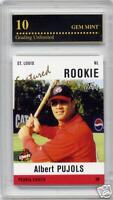 Some of these companies you may have heard of, used, and even bought from. Yes, that is correct, bought from. Lets start off with the questionable aspects to sportscard grading. Question- if you actually purchase a card from a person or company, that grades them first, who benefits from the high graded cards, the buyer(you) or the seller(them)? Nuff said. So, rule number one, never buy a graded card from a grading company OR anyone who represents a grading company. I know for a fact that you can find members who even use their grading company name as their userID-then you bid on their graded cards.
Another iffy part to card grading. Question-How much is a card worth if a company TRIMS it before grading and packing it?? That is right! Its worth absolutely NOTHING! Not a dime. And how would you ever know. You're buying it graded. Its over. Its done. Its part of your collection now, and you paid for it. Here's the deal-a regular sports card should measure exactly 2.5inches X 4.5 inches. If you have the card in your hand, no problem. BUT what do you do online?? Its really very simple. Buy from respected and high feedbacked ebayers and ONLY buy cards that have been graded by companies that are established and well known. There is a reason that a 1994 AROD SP rookie graded Gem Mint from one company sells for 100$$ and sells for 3500$$ graded from another. The old addage comes into play here, "You usually get what you pay for". Respected price guides offer detailed info on the book value of graded cards from certain companies. SPECIFIC companies. These are trustworthy names. Then you have a category of grading comapnies that falls under "other". This group consists of comapnies that trim cards and sell them for a profit, and companies that are truly trying to establish themselves among the elite in card grading. If you buy a card graded by an "other", make sure you are paying a reasonable amount of money for it. Its really that simple.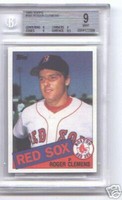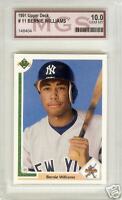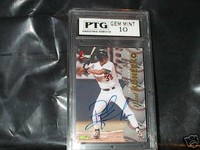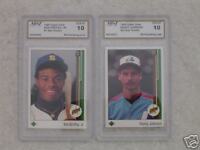 Now, done correctly, grading card is one of the BEST ways for determining value and as a way to permanently preserve your cards. Most companies sonically seal there card cases to keep the card safe and to prevent tampering. Once again, that is respected companies. If the casing is cheap, the grading probably is, too. Grading a card can asrtonomically raise the value of the card. An excellent example is the 1994 Alex Rodriguez SP rookie card. Its ungraded book value is 100$$, graded gem mint by certain companies can raise that price tag to several thousand dollars.
A card is generally graded on four areas: Centering, Corners, Edges, and Surface. The condition of these four aspects of the cards generally generate a final grade. Note- For MANY companies, ONE low conditioned area can drag ALL three other grades down. Way down. Even if the other 3 areas are perfect. So, when deciding which cards to send for grading, look very closely at these four areas and only send in the best.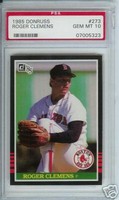 Last comment- if you ever arent sure about a card or company- take a look around Ebay- look for members who deal in sportscards that have EXCEPTIONAL feedback and write to them. Ask them questions about companies and their experiences with them. I can't tell you how many times I've answered emails from Ebayers not sure about a card or a company. Throughout this guide, I have been particular of not mentioning any company names- but I personally have encountered EXCEPTIONAL grading work from well known names and not so well known names, and unfortunately I have dealt with trimmed cards that Ive had to throw away. I hope that any of the info Ive shared with you helps the cards you want, in the conditions you want, find their way safely into your collection!!