Two of the most notable 5.1 multimedia speakers currently out there are the highly competing Klipsch's Promedia Ultra 5.1 and Logitech's Z-5500. I know that a lot of prospective buyers find themselves contemplating between the two (I did, for one). Now that I have had them both, I think I'll write a little something of my own experience to help others decide (note: in this guide, Logitech has the last laugh).
Promedia was my first buy. After weeks of online research and reading countless reviews, I decided to get one of these babies. With four 2-way satellites (meaning it has two drivers) and dual side-firing 8" subwoofer (weighing app. 48 lbs), they promised great sound indeed. Using the help of Yahoo! Shopping search, I managed to get one for just under $300 (otherwise, they usually sell for $350-400; see if u could eBay it and get a better deal). The main deciding factor was the almost unanimous excellent reviews on their sound quality, which I proved to be true. Upon receiveng them and getting them properly connected, i instantly understood what everyone was talking about. The bass is tight and not muddy, the treble is crisp but not shrill/piercing, and boy, they are POWERFUL (the first night I had them, I also got my first noise complaints from the neighbors - and the volume was set to only 50%).

Be aware though, that these speakers do NOT have digital decoding capability. I was really green in the world of PC audio connection back then, and the phrase "no digital decoding" didn't make much sense to me - until I received the speakers. I was a bit dumbfounded when I learned that there were three cables to connect them to my laptop, whereas my laptop only has ONE plug output. So be aware: If you have a regular, 2/2.1 onboard soundcard, you're gonna have to spend extra money to get an external soundcard that could decode the 2.1 signal into separate 5.1 signal. Otherwise the rear and center speakers wouldnt do anything but sit there and look pretty. As for me, I got myself Creative Labs' Soundblaster Audigy 2 ZS Notebook (price should be around $87-100). That pretty much solved the problem, and the Audigy is surely a wise investment as it can take you places, as we will see once i get to the Z-5500 part of the story.
It's not that I didn't have my reservations about my choice, though. Note that (if u've done your homework researching your desired product, you should have known this) there are numerous reports out there that they have a tendency to just DIE on you. Varying between months and years of usage, the amp would just blow out. I was just hoping that I'd be lucky and get one that would actually last. Well, I was wrong. After three months of blissful audio experience with my Promedia, they died on me. And that ended my love affair with these babies. I emailed the folks at Klipsch this morning and am still waiting for their response, but I'm definitely letting my Promedia go after repair.
And that brings the story into the Logitech Z-5500 realms...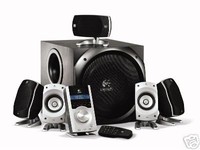 And so once again i found myself researching the market and reading more and more reviews, and getting more and more drawn toward Logitech's Z-5500. And wondering why i didnt decide on them in the first place. To begin with, there has been no known report of the amp just going dead on you in the reviews (a reliable system, thats what they are). There might be a bit of gripes about little details, but all reviews unanimously agree that they are an AWESOME set of speakers. The sound-producing part consists of four 62-watt satellites with one full-range driver each, one 69-watt center speaker (also with one full-range driver), and one front-firing, tubed-port, monstrous 188-watt, 10" of a subwoofer. Some more of its pro's compared to Promedia (that i should have seen before):
Price is somewhat cheaper (depending on where you get them). I got them from amazon for $229 and it shipped for free, too, which makes it $70 cheaper than its Klipsch counterpart.

It has digital decoding (nicely done through a very smart-looking central control module - see picture below), which means you can connect it to a 2/2.1 outlet and it will do the job of separating the signal into a 5.1 sound.
The very-smart-looking central control module also serves as multiple input place for the speakers, which means you can plug your TV, satellite receiver, DVD player, xBox, or iPod and other mp3 players to it, making it virtually functions as an A/V receiver. The availability of various inputs also enables you to play around with various cable connections and allow you to listen to your TV program in digital mode, for instance.

Availability of optical input. Now this is where my Audigy 2 ZS comes in. The soundcard decodes analog signal into a digital one that you can convey to the Z-5500 using an OPTICAL connection (get a Monster cable from amazon for a bit more than $20), and that literally takes listening experience to a whole new dimension with these speakers.

It also comes with a smartly designed, highly intuitive wireless remote control that let you adjust various settings from a distance.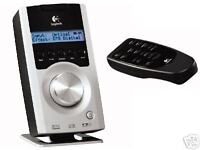 In terms of sound quality, i'd say the two are pretty much comparable with Promedia being a bit superior to Z-5500. Promedia has somewhat more powerful highs thanks to its microtactrix horn tweeters, and the bass is also more tightly packed and clean sounding. Z-5500 is lacking in its midrange due to its high crossover frequency between the satellites and the subwoofer (the folks at Logitech made the subwoofer handles frequency up to 200Hz, which the sub is struggling to do). Z-5500's subwoofer, being a 10" but powered with the same wattage as its 8" predecessor in the Z-680 model, has difficulties delivering pronounced bass sound at low volume. If you go and read reviews at Audioholic or CNet and amazon, however, you would still see that it leaves the owner amazed especially for gaming and movie experience.

That being said, I would conclude that although Z-5500 has its shortcomings in sound quality compared to Promedia, its reliability and feature-packed capability would make me choose Z-5500 any old time. Don't flaunt your money in hope for a superior sound in Promedia, because it does not last. Dont say you have not been warned.