An
armoire
was once considered a very necessary piece of furniture in many homes. It wasn't until the middle of the 20th century that architects began including more closets into their designs.A wide variety of styles such as armoire, cabinet, small cabinet, bench, table and sideboards for fullsized home decoration.Our furniture designs are timeless, aesthetics, function, strong, safety and the long-term integrity of our furniture is paramount.Indian antique furniture is among the world's finest, and its use of elegant brass and iron hardware fittings is one of the features that makes it so popular.
All the pieces have been made using 'Teak' wood (Indian Hardwood) to give them an authentic, tradtional look.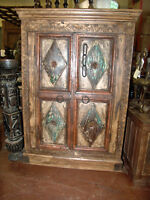 Beautifully detailed and hand carved in teak.rustic indian doors from havelis are reused to make this classic cabinet.each indian furniture piece is embodied with history and the vaastu art.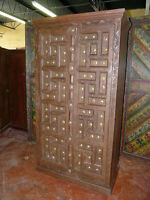 Beautifully crafted and hand carved in teak.Rich with culture the cabinet belongs to the Havelis of rustic India.The carving on the cabinet door take from the tradition of vastu culture which is the Indian art of the interior design.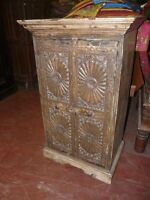 Beautifully handcrafted side cabinet with chakra carving this piece is from Jaipur and has a warm patina that shows on the exterior of the doors. Use as a side cabinet or nightstand.
Sideboards
such as damchia and Manjoosh from Gujrat are old antique Indian Chest that were used to store clothes and accessories. Carvings such as horses, elephants signifying the royalty were commonly used and the more elaborate the carving, the higher the royalty. Mirrors on the Damchias would reflect the evil and the chakra carvings would balance the energy of the interiors.Use a buffet servers or aisle decor ,eclectic and unique antique chests will stir the energies of your interiors.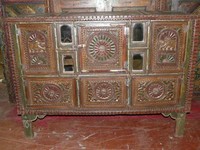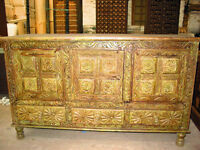 Coffee Table
found in a living room serves as a focal point for the eye, guiding and inviting it to view the rest of the room decor. From modern to contemporary, trendy to classic, the right coffee table can be the perfect accent piece for any décor. Old door tables are exquisitely rustic and full of character Minakari Tables with their intricate enamled designs are exotic and very rich in their texture.