Tarps 101 – Finding the Right Tarp
Tarps (tarpaulin)
- Is a large or small durable, water resistant or waterproof sheet of reinforced polyethylene. Polyethylene is a type of plastic that is flexible yet durable. Tarps usually have reinforced grommets at all four corners and/or have several located around the edges for attaching rope or cables to tie down the tarp.
Tarps have many uses besides to cover your canopy. Tarps can be used as a tent, to cover your cars/boats/trucks, outdoor dining, or for general outdoors purpose. They also can be used to protect your roof, garden, or patios. This guide will help you choose the correct tarp for your needs and wants.
Types of Tarps:
(UV) Protected Tarps
Ultraviolet light can be harmful to your health because overexposure to UV light can cause sunburn and some forms of cancer. Prevention can occur in many ways. Our super strong UV tarps provide a great source of shade to get out of the harmful ultraviolet light. It will last up to 7 years in normal conditions. Each corner of the tarp is double reinforced with extra strong grommets.
Our UV Tarps:
* Water Resistant
* Mildew Proof
* Washable
* Shrink proof
* Rot Resistant
Available Colors and Sizes:
Silver
5' x 7' to 100' x 100'
White
5' x 7' to 170' x 170'
Blue
5' x 7' to 100' x 100'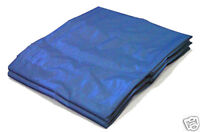 Flame Retardant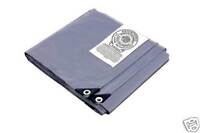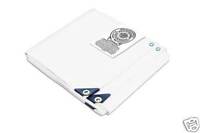 Flame retardant is usually a substance/material that prevents fires from occurring and/or helps slow down the process. Our flame retardant tarps are registered by the State Fire Marshall of California. With the numerous fires happening all around us this tarp may protect more than just your belongings. Our flame retardant tarps come in either silver or white. The sizes range from 8' x 16' to 40' x 60'.

Our Flame Retardant Tarps:

* Super Strong
* Easy to Handle
* Heat Resistance
* Rust Proof Grommets
* Laminated On Both Sides for Maximum Weatherproofing


Blue Tarps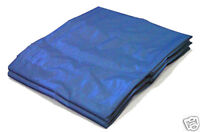 Our blue tarps are great for customers who want a durable but yet affordable tarp that won't break the wallet.
Available Sizes: 5' x 7' to 100' x 100' • 6 Mil Thickness • 3-Ply • 8 x 8 Mesh Count

* Water Resistant
* Inexpensive
* Durable
* Super strong 10 x 10 PVC laminated weave
* Reinforced Edges

Black Mesh Tarps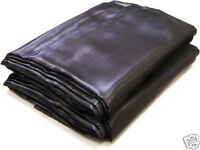 Our black mesh tarps provide a great source of shade or privacy from nosey neighbors. The tarps are ideal for patios, hot houses, and shade houses. They are great to protect your gardens and nurseries from frost, wind and sun damage.

Our Black Mesh Tarps:

* Made in USA
* Lasts Up to 20 Years in the Full Sun
* UV Protected
* Provides 74% shade
* Rot & Mildew Proof
* Reinforced tape sewn around all edges
* Brass Grommets every 36"

Truck Tarps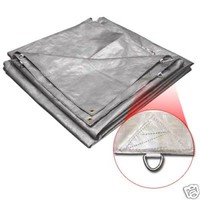 Our Truck Tarps are made best in its class as well as very dependable. Extra reinforcement and metal D rings make these tarps the top of their class. They are manufactured to meet the heavy duty truck standards. Size: 12' x 24', 12' x 26', 12' x 48', 12' x 54'. Only comes in silver.

* 14" x 14" Polyethylene Weave
* Triple Reinforced Straps with Metal D-Rings Every 24"
* UV Protected
* Rot & Mildew Resistant

Fence Tarps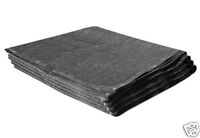 Great for construction sites, backyards, patios, and privacy. Our Fence tarps either come in black or green. There are heavy duty rust resistant grommets every 18 inches and rope reinforced corners and eyelets.

* Comes in 6' x 50'
* Produces 80% shade and 20% filtered sunlight
* UV Protected

Replacement Tarps

Replace your old dirty canopy tarp with a NEW clean tarp for a great affordable price. Our replacement tarps come in silver, white, blue, and black mesh. If you have a flat framed canopy then you will need the same measurements of the frame. Example: If your flat frame is 10' x 10' you will need a 10' x 10' replacement tarp. Remember if you have an A-frame canopy(peak top) that is 10' x 10' you will need a 10' x 12' replacement tarp. It is important to understand that the two extra feet are needed to compensate for the peak of the A-frame.

Thickness

Tarps' thickness is generally measured by mil(unit of length equal to .001 of an inch). Tarps can range from 4 mil thickness all the way up to 16 mil thickness. Generally, the thicker the tarp the heavier duty the tarp is. If you are using the tarp to cover something inside or that is rarely exposed to the weather we suggest that you use a thinner mil. If the tarp is going to be exposed to the weather or extreme conditions we suggest that you go with a thicker mil.

Mesh Count

Mesh count is the weave size within each square inch of the tarp. The higher the mesh count the stronger the tarp will be. Ex. 10" x 10" mesh count means that there are 10 polyethylene fibers crossing diagonally over 10 polyethylene fibers.

Cut Size vs. Finish Size

What is Cut Size?

The cut sizes are the dimensions of the tarp once it has been cut at the beginning of manufacturing. This is step is done before the tarp is finalized and shipped out to the customer. The manufacturer has to over compensate in material for the finish size.

What is Finished Size?

The finish size is the second step in the process. The reason the manufacturer leaves extra material on the tarps is because they need to fold over the extra material to form a double layer around the edges. This reinforces the edges to prevent tear and wear of the tarp. Generally the finish size is roughly 3"-6" shorter than the cut size. For example if you need a tarp that it roughly 7' x 9' we suggest that you get a tarp that is 8' x 10. Once you have received your tarp there will be a label stating the cut size as well as the finish size.

Example:

Cut Size 8' x 10'
Finish size 7' 6" x 9' 6"

FAQ's

Q. How long does the UV tarps last?
A. Our UV tarps in normal conditions can last up to 7 years.

Q. How much shorter will the finish size be from the cut size?
A. Approximately 3"-6" to compensate for the fold for extra strength. Our tarps are generally 6" shorter.

Q. Do you sell custom tarps?
A. Unfortunately we do not sell custom tarps. Our tarps come straight from the manufacturer but we do carry a huge selection of different sizes and colors. Most likely you will find that right tarp you are looking for in our store.

Q. What is the mil thickness of your tarps?
A. Well we do carry different thicknesses of tarps. Our blue tarps are 6 mil thickness and our UV tarps are 12 mil thickness.

Q. Are all the tarps the same?
A. No, we carry different types of tarps. We carry truck, UV, blue, black mesh, replacement canopy tarps. Tarps have different mil thickness as well as how they are reinforced.

Q. Do your tarps have a warranty?
A. No, our tarps do not have a warranty. They have a 30 day return period as long as they are unopened in original packaging.

Our Recommendation

We highly suggest our Weather Gard All-Purpose Tarps. We have a huge selection of tarps to choose from. Our tarps come in all sorts of colors(silver, white, red, green, yellow, camouflage, blue). Our tarps range from 5' x 7' to 170' x 170'. Our heavy duty tarps are water resistant, mildew proof, washable, and rot resistant. Not to mention that they have a 12 mil thickness.

Weather Gard's flame retardant tarps are registered by the state fire Marshall of California which is quality you can trust. Weather Guard's black mesh tarps are made in the USA and will last up to 20 years in the full sun. To add to our huge selection of tarps we also carry Weather Gard fence and replacement canopy tarps.