Regulators 101
Divers both new and old are often at a loss when it comes to purchasing a scuba regulators for themselves. All manufacturers are proud of their regulators but sometimes the descriptions that are supplied seem to need a degree in engineering just to understand. Face it, words like venturi, piston, diaphragm, upstream, downstream and dry valve technology are not often subjects brought up at a family dinner table. Sometimes asking for explanations of terms like those listed can lead to even more confusion and technical terms that only a scuba technician would understand. In an attempt to help you make an informed decision with your regulator purchase, we have listed the regulators from one manufactuerer, Oceanic, and hope to translate the technical differences into terms that are less intimidating.
Thingamujigs & Whatchamacallits
Most regulators offered by any manufacturer can be broken down to three or four different levels based on the featurers and benefits of each individual regulator. The first regulator would be the basic or low end regulator. These regulators are usually the ones who's design is simplistic with little or no extra thingamujigs or whatchamacallits. These regulators are usually found in rental fleets of most dive stores and resorts worldwide. The main reason is that they are the least expensive of the line. Being the least expensive does not make them less desirable as personal dive gear. Oceanics basic regulator is the Alpha 8 Sport. It is simplistic in design and in function. This particular regulator is an unbalanced regulator. Simply put, as the scuba cylinder pressure decreases, there is a change in how the regulator breathes. It takes a little more effort on the inhalation at lower cylinder pressures. Realistically, divers have a tendency not to notice this change until the tank pressure is extremely low. The first stage, the part that attaches to the cylinder, is not environmentally sealed, which means that some of the first stage internal parts are exposed to the environment. This regulator requires a little more attention when it comes to rinsing it.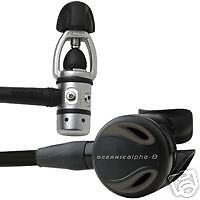 With each regulator (first & second stage) in the Oceanic line, there is a progression in both price and features and benefits. Oceanic's addition of the Dry Valve Technology to their first stages is so revolutionary that it will probably set the standards for the future of all regulators in the industry. This innovation prevents accidental water intrusion in the first stage for those embarrassing times when you have just dunked your regulator in the dunk tank and realized you forgot to replace the dust cover. Oceanic is offering this feature in all of their first stages. Here is a photo of how the new Dry Valve Technology works.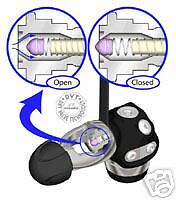 Oceanic currently carries 4 different first stages and 4 different second stages in the U.S. The first stages include the SP-5, PX-3, CDX-5 and the FDX-10. The differences in the SP-5 and the PX-3 are that the SP-5 is an unbalanced piston first stage and the PX-3 is a balanced first stage, both made of marine brass. Both have 4 low pressure ports to accommodeate your primary second stage, an alternate air source (octopus/occy), low pressure inflator hose and an additional port for drysuit inflator hose. The SP-5 has only one high pressure port for either an analog submersible pressure gauge or the increasingly more popular transmitters for the hoseless air monitorying systems (Atom & VT PRO dive computers). The PX-3 has two high pressure ports which can accommodate an additional redundant air monitoring system. Both are not environmentally sealed but both were designed to perform to U.S. Navy Class A standards to 198 feet.
The CDX-5 and the FDX-10 first stages are of the balanced diaphragm design, both first stages are environmentally sealed making and have the Dry Valve Technology design which makes tem a scuba technicians dream come true. What this means to you as a diver is that time it normally takes to have your annual service done on your regulator, has been greatly reduced and of course this saves you money. Both of these first stages perform similarly. The CDX-5 is paired up with the GT-3 second stage which incorporates a breathing adjustment knob so that you are in control of how the regulator breathes. If you are diving against a current that is a bit stronger than you normally dive, it may cause your regulator to develop a free flow from the pressure of the current purshing on the purge valve. A simple adjustment of the knob and it stops. The FDX-10 is paired currently with the Delta 4 second stage which features the breathing adjustment knob and venturi preset switch which simply redirects the air flow inside the second stage to put more or less pressure on the diaphragm. I usually relate this engineer with too much time on their hands but after diving you have to wonder how great a feature this is. To make it even more desirable Oceanic has put the second stage on a swivel ball joint at the second stage hose connection. This gives the diver more freedom of movement when turning their head to look at something. Regulators without this feature have a tendency to restrict this movement by feeling like they want to pull free of the divers mouth.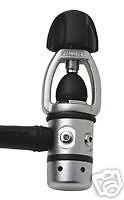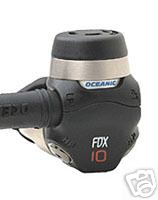 These are the main features in the regulator first and second stages that are offered by Oceanic and of course, available through visibilityunlimited. We hope that we were able to take at least some of the confusion out of the differences of regulators. Please feel free to email us with any questions. Thank you and remember... dive safe!