EBAY HAS LOST THE PICTURES FOR THIS GUIDE!!...Transferred to: www .facebook.com/Hermes.Scarf.Guides ..you will need to take out that space!
---------------------------------------------------------------------------------------------------------------------------------------------------------------------------------------
A good photograph will make a huge difference in the final price you achieve on eBay. You need absolutely zero extra equipment and only a little extra skill and time to get some real improvements in your photos, whether for your own archive use or for going on to your eBay auctions. By the time you finishing reading this Guide you should be able to see several ways to make these improvements. If you have found the Guide useful then please do click on the YES button, right down there at the bottom, as it will help more people to see it.
The problem with taking photos of Hermes 90cm carres is how to lay them out to get a full clear picture. The detail pictures are not so much of a problem, as long as you remember the golden rule...if your photo is out of focus then try again.
The steps below will improve your full scarf photos and your detail pictures too.
1 - If you have just taken it from around your neck, then forget it! The scarf needs to be freshly pressed for best results. Cameras are very unforgiving and pick up every single crease and wrinkle.
This scarf has been worn quite vigorously and is not Store Fresh!......

2- The scarf needs to be on a flat surface. Beds and tables are not so good as the floor, because it is hard to get the right angles with the camera. If you use the floor then put down a clean plain coloured sheet first. The sheet needs to be stretched taut, to remove any underlying creases. Use heavy books or light furniture on the corners for this. Are you worried about getting your sheet dirty? Well that is what a prospective purchaser is thinking when they can see every mark on your carpet or office floor in the picture too!
I can see why this seller did not want to put down a clean sheet on that carpet.....

...but really...don't hold it up like this either.........

3- There needs to be as much natural light as possible. If it is night, then forget it until tomorrow. I have never had much success outside either, as our climate is such that if it is bright and clear, then it is often windy too. And definitely use the stretched sheet as above if you are out on the patio... would you really want to buy a scarf which had just been down on the concrete slabs?
Natural light also helps to get a truer colour match. ALWAYS make sure that the lighting is even. Dappled lighting through trees is delightful but not appropriate for taking pictures of scarves, as you will end up with patches burnt out white and others without enough light and black. ALWAYS use the flash to boost overall light levels.
Variable bright sunlight and draping over chairs should be avoided........

4- You need to have the camera perpendicular to the scarf. There are several reasons for this. First, you will end up with the scarf as a rectangle. Second, it is almost impossible to get into focus over the whole scarf if you have the camera at an angle. Third, if you are using the flash facility then you will end up with the scarf receding into black oblivion in the distance while close to the colours are all burnt out.
Would you buy from this photo?.... ..... when there are listings with photos like these....


5- Always use the MAXIMUM resolution setting of your camera if it has these options.
So having found the ideally lighted flat surface, you need to get the camera over the centre of the scarf to take a picture of the whole thing. I find two footstools placed at the south and east side of the scarf, with the left foot to the south and the right foot to the east, with both legs on the far side from the natural light sources give me enough height to be able to look through the view finder over the middle of the scarf. Those of you with fancy cameras and strong arms may be able to angle the viewfinder so that you can see what the picture looks like without the stools. Just make sure that the camera is right over the centre of the scarf and you can hold it steady.
WARNING - Standing on stools or chairs while looking down through a viewfinder can be very disorientating and may result in giddiness. Always have someone else around while you are doing this, so that they can call the emergency services if required.
Pictures of the details of the scarf, including the signature, copyright symbols and scarf title can be taken normally, but remember to keep the camera at right angles to the scarf for the same focussing and lighting reasons. Make sure that your closeups are in focus. The Macro facility on most cameras reduces the depth of field. If your picture is not in focus then take another one.
Get the camera as close as you can to the scarf without clipping off around the edges. This maximises the light and detail you will get into your picture. Once you have taken the pictures there are a couple of steps you will need to do on the computer. If you have a digital camera and a computer then you must have been supplied with one of many photography software packages. They all have similar features. I normally use Paint Shop Pro but any others will allow you to do the following.
6- Crop off everything except the scarf. Including pictures of your bed, carpet, funiture, shoes or feet are all very interesting but again not appropriate here. By taking the photos at right angles you will have a rectangular picture that is easy to crop down.
7- Adjust the brightness and contrast. You will find small adjustments in the 10 to 20% range will enhance the colour accuracy of your picture, whatever your studio conditions.
8- Reduce the size of the file. You may well have taken a picture that is a JPEG file of around 1 to 5 megabytes in size. eBay and Yahoo Groups like pictures around 100 kilobytes. So once you have your adjusted, high resolution pictures SAVE them as the originals. Then go to FILE, SAVE AS and click the OPTIONS button in the lower right of the window that pops up. There is a slider there for adjusting the COMPRESSION of your new saved file. Select between 50 and 75% and make a new file name for your picture. You want to keep your original high resolution picture and get a smaller sized file to send. If you do not give it a new name then the computer will overwrite the original and it will be lost. It is one of the great mysteries of life that if you reduce a 1Mb file by 50% you end up with a file of around 100kb...that is a tenth of the size! If for some reason this does not happen then go back to the original and try a slightly different compression. The difference between the resulting photos in the two files is negligible until you get down to about 75% compression.
Photo before cropping, adjusting colour balance and size reduction.... and THE SAME PHOTO after...........
Simply follow the guide above and you can improve your photos in the same way.
Photo from purchase auction.....and..... photo of SAME scarf when it resold for twice as much!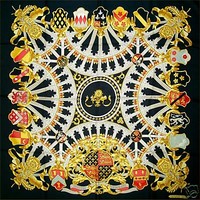 Check out some of my other guides by following this How to avoid fakes hyperlink. They may just help you to avoid paying designer prices for a cheap fake.
PS.... I am sorry that eBay only allow a few pictures of such poor quality per Guide...I can send you a full size version so that you can see the pictures properly. Just send me an email through the eBay system, ensuring that you include your email address...eBay do not show your return email address on their internal email system. Good Luck.
Your constructive feedback is always welcome via the Ebay messaging system, or you may leave your comments in my Guest Book.
Now is the time to click that YES button down there! Thanks.