Here is yet another installment of many guides that we, Replacements, LTD, will be posting to provide some interesting information on several manufacturer's of some the world's most collectible porcelain items. This one will be about Depression Glasss. The glassware made during this era was very popular due to its affordability and availability. It can be used daily, or for special occasions, and comes in an array of colors. Today, it is one of the most popular of antique collectibles. Certain patterns and colors are highly sought after by collectors.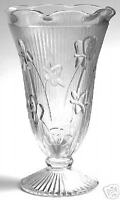 IRIS - Clear by Jeannette Glass
History of Depression Glass
The Definition…
Most everyone is aware that the "Great Depression" years occurred in the US starting in 1929 and continued until the end of the 1930's, however the term "Depression Glass" actually refers to the mostly colored glassware that was made in the US from the early 1920's all the way through to the end of World War II. It was the first machine-produced glassware in America – it was mass made and distributed nationally. Most Depression glass is colored; although there were still many clear patterns produced during this time period. There were also some opaque; as well as some with metallic accents or other decoration also made during this time. Several patterns were even produced into the late 1950's due to popularity.
The Beginning…
Depression Glass was often distributed as promotional items such as inside soap or cereal boxes – such as Quaker Oats. Some were given away at movie theatres or gas stations to attract customers. Before the Great Depression happened, there were over 100 companies producing glass in the US, but by the time the Depression was over, there were less than half of that number left. Many simply were merged into other more successful companies, some went bankrupt, and amazingly many companies burned down in fires and were never re-built.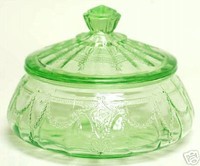 CAMEO - Green by Anchor Hocking CHERRY BLOSSOM - Pink by Jeannette
Types of Depression Glass…
Well known expert and author on this type of glass, Mr. Gene Florence, is known for dividing glass made during this era into two categories: Depression Glass and Elegant Glass. Elegant glass (produced during the Depression) was indeed "elegant" simply because of the definitive detail that went into the finishing of the product. This finishing was done by hand and included fire polishing to remove marks left by the mold, grinding the bases smooth so that it was sit perfectly flat, acid-etching a design into the glass, or cutting a design into the glass. The end result with Depression Glass was a bit more crude and simple in nature – although a great deal of it has elaborate designs they were not added to the piece after it was made, instead the design was part of the original mold and therefore are not as detailed. And the rough edges left from the molds were not polished down.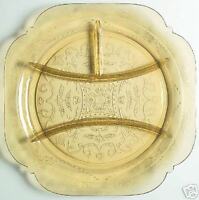 ROYAL LACE - Cobalt by Hazel Atlas MADRID - Amber by Federal
The Companies…
There were seven main companies that made a total of 92 different patterns and there were twelve other companies that only made 1-5 patterns each. The seven main companies were (click on each to see our listings): Indiana Glass, Hocking Glass, Federal Glass, US Glass, Jeanette Glass, MacBeth Evans Glass, and Hazel-Atlas Glass. These companies were primarily located in Ohio, West Virginia, Indiana, Pennsylvania, and Oklahoma. A good number of patterns did not offer a full range of service, but still many did offer a complete array of pieces that one could set an entire table with!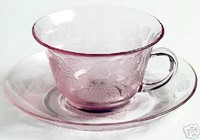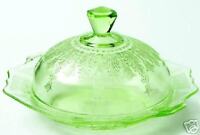 DOGWOOD - Pink by MacBeth Evans PRINCESS - Green by Anchor Hocking
A Rainbow of Colors, well – almost…
Just as the popular china collectible, Fiesta by Homer Laughlin, depression glass was made in an array of cheery colors to help brighten the homes and hearts of consumers during the grim era. The main colors were Amber, Yellow, Pink, Green, Blue, and Clear Crystal. The most dominate colors of them all were yellow and amber. So, there's an abundance of those colors available today. Originally, the colors were not known by their common name, but rather a more catchy name the manufacturer's had given them – such as Flamingo for Pink or Topaz for some Yellow colors. Today, most of the collector's demands are on pink, green, and the blues.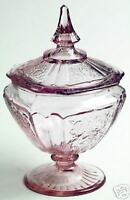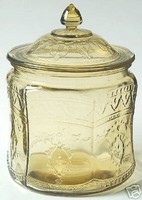 MAYFAIR - Pink by Anchor Hocking PATRICIAN - Amber by Federal
Full of Flaws…
As stated earlier, the production process of Depression glass was rudimentary and therefore flaws are simply very common in this type of glassware. These flaws might include straw marks, rough edges, wobbly bases, or a piece may lean to one side. Straw marks are sometimes mistaken for cracks, but actually they are just lines on the surface of the glass that occurred in the manufacturing process. A straw mark should not have any negative effect on the value of the glass. Rough edges were of course caused by the seams in the molds and to save money for both the maker and consumer, these were not polished down. Same with wobbly bottoms and leaning items – these were often passed off as "first quality" instead of discarding them as seconds. These common characteristics are just that – common – they are simply part of Depression Glass and they are accepted by collectors as such.
Reproductions…
There were and still are reproductions of Depression Glass patterns being made. In past years it was harder to pass off a reproduction or forged piece of Depression Glass. But currently, with advanced machinery – it is unfortunately very easy to create a practically indistinguishable piece that even a well-versed collector cannot pick out. Most of these copies are made overseas and then sold to wholesales who then sell them on as originals (sometimes they do this knowingly or unknowingly). This calls for much patience and dedication for a collector, dealer, or auctioneer to take the time to examine a piece so closely to know whether or not it is indeed an original piece from the early twentieth century or a later forged copy.
The Adam to Windsor Legend Lives…
The term from "Adam to Windsor" refers to the entire series of Depression Glass. And whether the collecting of Depression Glass is a nostalgic passion of yours because it reminds you of something your mother or grandmother owned or if you simply have a love and appreciation for this colorful relic from the past…it is one collectible with a true rags to riches story that will remain a prized possession in many homes for years to come!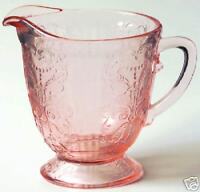 AMERICAN SWEETHEART - Pink by MacBeth Evans
CLICK HERE TO SEE ALL THE DEPRESSION GLASS WE HAVE LISTED ON EBAY!
Please note: Unless otherwise stated, all of our depression glass items that we, Replacements, LTD, sells are indeed original items and are not reproductions.