Swarovski Crystal Beads, Limited & Out of Production Items

Swarovski crystals have such a variety that limited, out of production items, and rare (or sometimes vintage) crystals can be hard to find, but make a GREAT edition to your collection. There are almost an endless supply of great colors and styles from Swarovski, and this guide is a continuation of Swarovski Crystal Beads, Finishes & Effects, Part 1 and Swarovski Crystal Beads, Finishes & Effects, Part 2 , and will discuss the limited or out of production items and how to find them.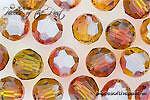 5000 Fire Opal Satin (out of production item)

Limited & Out of Production Crystals

Have you ever purchased a Swarovski crystal bead and then tried to order it again just to find it was out of stock, and no where to be found? This is not nessesarily a problem with your supplier, but a supply and demand issue with Swarovski crystal beads themselves. There could be several reasons for this but two distinct possibilities are that it is either a
limited production
item or that it is an
out of production
item.
5000 Peridot Satin

(limited production)
Limited Crystal Beads
Limited
production crystals are ones that Swarovksi has either produced, or will produce, but generally have a much larger minimums to produce. It may have been produced for a specific customer only and there are a few packages left or a large supplier may collect orders from their customers to meet the, sometimes extremely high, production minimums.
This doesn't mean that it is a color you have never seen before, more than likely it is a currently produced color that is just not normally made in the size and finish you are looking at. Some examples of these might be;
LIGHT ROSE SATIN but in a 10mm round (seen below), or the new CARIBBEAN BLUE OPAL but in the harder to find 4mm #5000 Round, in the AB2X finish.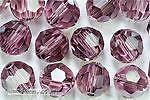 5000 Light Rose Satin

(limited production)
Out of Production Crystal Beads
These are beads that Swarovski once made, but specifically does not make any more. That doesn't mean that their production is forever gone, Swarovski could at any time bring them back to life, but generally there is a very limited supply left in circulation, or at their production facilities in Austria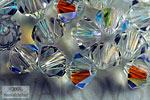 5301 Glacier Blue (out of production)

Some of these are quite rare and we don't have photos any more because we have long since sold all our supplies, but one example would be the CRYSTAL TRANSMISSION and the CRYSTAL GLACIER BLUE (shown above), also available in JET GLACIER BLUE 2X . You can still find these in circulation among Swarovski sellers but it can be hard to find, especially if you want something that only came from Swarovski's plant and not a third party finish.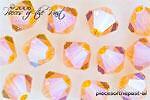 5301 Sun AB2X (out of production)

Other colors like the JET CAL (see below) is no longer being produced but production was recently stopped and there is a good supply, at the moment. Some of these colors include very unique beads like the 10mm #5000 Round, BLACK DIAMOND AB2X , PURPLE VELVET SATIN , and SUN AB2X (also seen above).


5301 Jet CAL (out of production)

So, how do you find these unique crystals. Hopefully the seller will distinguish them in some way to you, but we can't always get them all posted in the manner we wish. We have a link on our ebay store at http://stores.ebay.com/Minor-Details that shows as many of the limited and out of production items we can. A quick link to these would be at: LIMITED ITEMS

Your supplier should also be able to tell you if it is a normally stocked item by Swarovski or if the production is limited in one way or another. If not, perhaps they are not selling Swarovski (a topic I will discuss in the next guide) or it could be that they just are not aware of current production items in Austria, it is a hard thing to stay on top of for sure.
Please don't forget to vote on our guide if you found it helpful. Where you looking for something else? Just let us know. We specialize in Swarovski Crystal Beads and if you didn't find what you are looking for here, we can probably point you in the right direction. Go to our contact us from eBay above (user ID minordtails) or visit our ebay store for the largest variety of color and components at http://stores.ebay.com/Minor-Details . We offer great prices and shipping discounts, ship within 24 hours, and we are continually adding new colors and components.

Our other guides and some new guides coming soon:
Swarovski Crystal Beads, Finishes & Effects, Part 1 (basic finishes and effects produced)
Swarovski Crystal Beads, Finishes & Effects, Part 2 (effects and combinations of each)
Swarovski® Crystal Beads, Limited & Out of Production (special production items, limited or vintage)
Real Swarovski® Crystal Beads or Fake Glass? Part 1
Real Swarovski® Crystal Beads or Fake Glass? Part 2
Swarovski Bead Article Component Numbers, and Their Meaning
New Swarovski Crystal Bead Colors and Component Releases
Hole Sizes for Swarovski Crystal Beads and Components
Swarovski Bead Diagrams, Shapes, Sizes, Cuts
How to Take Great Photographs of your Crystals or Finished Pieces
How to Shop Smart for Swarovski on eBay
Wire Gauge Comparisons
Differences in Jump Rings and Split Rings
Jewelry Clasp Types
Head Pins and Eye Pins
[ALL images & text are ©2007 Minor Detail, Inc. Image theft is taken very seriously, please do not use any of our images without permission. The Swarovski® name is a trademark name and as stated in their copyright information, our company only sells finished pieces manufactured by Swarovski® themselves, any use of the name corresponds to an actual Swarovski® product.]