To find that perfect mint-condition fountain pen is every pen collector's dream,especially in the field of vintage pen collecting.Most collectors have certain types that they go for,such as Parker 51's or Waterman Patricians.To the novice just starting into this area of collecting,however,things can be a bit overwhelming.How do you tell the difference between a man's pen and a woman's pen?Which colors are rarer?Here are some handy yet basic tips for the first-time collector.
1936 Parker Vacumatic Junior in grey and silver marble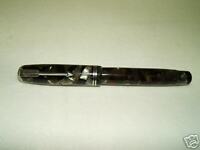 1.Research the details
Researching the details of a pen involves studying a fountain pen,preferably one that is held in the hand( It is tempting to just find a book about pens and look at the color pictures,but you are getting just a 1-dimensional view).Research is the most important aspect to pen collecting--it is here you learn everything you can about the pen you are interested in.For example,assessing the age of a pen involves looking at cap rings,date codes(Parker pens only),filler mechanisms,length,model,pattern type and kind of material used.When pens were first produced,you could get them in any color as long as it was black(black also represented a traditional businesslike color) and made in hard rubber.Soon after,however, a new celluloid material that went by several names--Jadite,Permanite,Radite--opened the door for nearly every color in the rainbow.Size is another inportant determinant.Men's pens ranged from 5" to 5 3/4"(on average); a woman's pen ranged from 3 1/2" to 4 3/4". Patterns were a gimmick designed to appeal to the eye--some of the rarer patterns(such as herringbone,lizardskin and snakeskin) can command a higher price. Imprints tell who made the pen,and if the brand name is implanted on the pen in several areas( barrel,feed,nib)--and the pen looks luxurious--it is a good indicator of a high-level pen.This is the kind of information that only comes with doing a lot of research.
Major Pen Companies
American: Chilton, Conklin,Cross,Parker Sheaffer,Waterman
British: Conway Stewart,Mabie Todd,Onoto,Thomas De La Rue
German: Montblanc,Pelikan,Osmia,Soennecken
2.Invest in fountain pen guides
Fountain pen collecting is such a small microcosm of the collectibles world. So much so in fact,that a quarter of a century has only produced a handful of pen guides.These guides,however,are invaluable to the collector for their historical information as well as their pictures.Some guides also provide an approximate value for a pen.Containing a wealth of infomation,these guides should form the foundation of a collector's library.
Fountain Pen Guides
Fountain Pens Past And Present(2nd Ed.) by Paul Erano
Fountain Pens Of The World by Andreas Lambrou
Fountain Pens: Their History And Art by Jonathan Steinberg
Fountain Pens Vintage And Modern by Andreas Lambrou
Parker 51 by David and Mark Sheperd
Pens And Pencils: A Collector's Handbook by Regina Martini
Pelikan Schreibgerate by Jurgen Dittmer and Martin Lehmann
3.Consider unusual sources of information
Pen guides are a good starting point for the newbie collector.As previously stated,they contain basic information useful for starting a collection.Other unusual sources can provide information also.Consider the following:magazine ads,vintage office catalogs,vintage christmas catalogs and (when they can be found) actual brochures from a pen company(these are highly sought after and can be a collectible by themselves!)
Left to right: 1930's Swan brochure showing various models; 1930's Soennecken brochure showing various models as well as nib sizes that could be obtained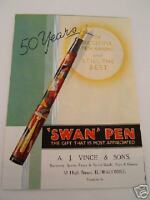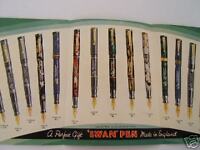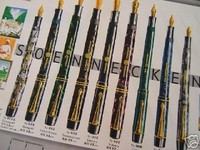 4.When looking at an auction,scrutinize the seller's photos carefully
All sellers selling items on the internet should provide photos of the pen that they are trying to sell.It pays to do so. But not all seller's photos are created equal.For fine detail,pictures should be taken in a macro or super-macro mode.Not all cameras have this capability and it limits the kind of detail that can be seen.Still,despite the blurry photos and too much flash, sometimes enough detail is evident to give the collector an idea of what's there.Some questions that the collector should ask:
Is the barrel imprint clearly seen or does it show normal wear?
Any discoloration to the barrel or cap?
Any brassing(wearing away of gold) on the clip,capband(s),or lever of the pen?
Any hairline cracks,plier marks,teeth marks,or other unusual damage to the pen?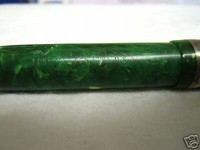 clear barrel imprint worn imprint with capband brassing and
hairline crack to cap
Sometimes the seller may state in the description that the pen has "rough spots". Don't be discouraged by this. I took a chance on buying a 1936 Parker Vacumatic with just that kind of description.Won on a bid of $40.00 and with some neccessary restoration and judicious cleaning with a polishing cloth,the rough spots disappeared and a $40.00 pen turned into a $150-200.00 pen.Careful study of a seller's photographs can net the collector a real bargain if they look hard enough.
5.Judge the degree of discoloration
Discoloration, or "ambering",is a process that occurs when the original rubber sac dries up and hardens,releasing the sulfur in the rubber compound in the form of a gas.This yellows or "ambers" the area where the rubber sac is contained(i.e., the barrel) or other parts(the cap) where rubber is found.The process is irreversible.Discoloration can vary in shading,which is why some ambered pens may look yellowed,while others are a deep brown.Discoloration will lower a pen's value and turn it into nothing more than a daily user. Yet there may be a side benefit: some rare pens that have been discolored can be picked up at a bargain price.
6.Count the cost
On any Ebay auction,part of the fun of bidding is getting your item at a bargain price.Unfortunately, there are others looking at the same pen you are and willing to pay more than you would,even more than the pen may be worth.They may think that what they have paid is the market value, but it is possible that they have paid more for it than its approximate value. To avoid such an expensive pitfall,a collector should follow these guidelines:
Always set a limit on how much to spend on a pen
Consult pen guides for an approximate price
Recouping the extra funds spent in another sale of the pen may be impossible
Be patient. Another sale of the same kind of pen(or better) WILL come along in the near future
Conclusion
Buying that collectible fountain pen need not be expensive if you stick to a set limit on spending and are patient.Discoloration lowers a pen's value, but it may also lead to a good bargain.Carefully study a seller's pictures--info about condition and age can be gleaned. Pen guides,magazine ads,and catalogs are another way to find information and are of great value to the collector.Research is crucial for determining the age,condition and worth of a pen.Following these guidelines will put a collector ahead of the competition in building their hobby.