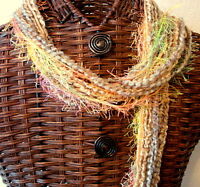 Each string scarf has at least 25 strands of homespun yarn, eyelash & / or fun fur; acrylic yarn and any other yarn I could find that would compliment the colors.
There is no wool in the scarf so it is washable, although I would secure the strands 1st and perhaps wash it in a lingerie bag.
They average 65" - 72" long and are long enough to wrap around the neck, double up or wear straight around the neck.
When I was assembling them I was designing with a ski outfit in mind. Bright and colorful.
Someone asked me at a craft show that since they felt so light and airy, were they warm? She put one on and found out that it was not only very soft but cozy and warm too!