WITH OVER 450 MILLION SEWING MACHINES IN USE IN NORTH AMERICA AND THE LACK OF TECHNICIANS, CONSIDER THIS OPPORTUNITY RIGHT NOW ! You can do it PART TIME or FULL TIME.
More and more people are going "back to the basics" with the high cost of living. When "every bit count" in raising a family, seamstress are more than ever using their sewing machines. The fabric stores and fabric wholesalers are actually in a booming business as well as all the textile and sewing industry. All you need is a very small room and table, if not your kitchen table, in order to repair sewing machines. Many machines are also serviced in the customer's home. This booming business also includes servicing machines in schools where they give sewing classes, big hotels, hospitals, prisons and dry cleaners, all using a lot of sewing machines to maintain their clothing equipment in good order. Most of them are always in the need of a technician to service their machines. Check in your area, you will see the lack of sewing machine technician. People sometimes have to travel hundred miles to reach someone who can fix their sewing machine.
Thirty years in the sewing machine industry have convinced me that anyone can learn this trade fast and will NEVER stop working. I am sollicited from everywhere to fix sewing machines and I can tell you this trade will never end despite the fact there is no new comer in this field. If you need an EXTRA income or a FULL time income, I can show you how to achieve it in this next series of 5 Guides. Yes, from A to Z!!! Each Guide will be published one after one, within a month or so. I reunited my 30 years of experience to show you this is possible to anyone. No special background is necessary, you read and experiment. For example, if you live in a small community of 1500 people, you can work almost FULL time. If you live in a bigger city, you will need to stop advertizing, unless you work 24 hours a day ! Once you will spread around you are fixing sewing machines, your phone will ring very often, many people are not using their actual sewing machine because it is not in good order. You will receive also many inquiries of people looking to buy a new or used sewing machine. In this field, sky is the limit !
Nine-tenths of all the sewing machine troubles are caused by the following things: (1)the needle, (2)the bottom bobbin, (3)the bobbin hook, (4)the needle hook timing, (5)the thread tension.
This FIRST GUIDE of a series of 5 will show you everything to fix, adjust and perform mechanical and electrical jobs on the most popular sewing machines. Once you will master these Guides, you will be able to fix any makes of machines. I invite you to read my first Guide -How to fix your sewing machine in 5 easy steps- to learn the very basics. I recommend you also to buy an old sewing machine in flea markets, garage sales, etc. Do not worry at all for its condition, you will be able soon to fix it! You should pay less than $20 This is a small investment considering the extra incomes it will generate soon...
***************** YOU WILL LEARN FAST ****************
When performing a tune-up, you are better to proceed by elimination. On any machine, make the complete tune-up as stated in my Guide "How to fix your sewing machine in 5 easy steps". Install a brand new needle correctly as explained in this Guide and make a test on a sample of cotton. If you obtain a nice stitch after following all these steps, you do not have to go further, the machine is in good condition.
If by mistake the machine is not working properly, you might be able to locate the problem with my next Guide in which the hook and needle timing are explained. If you don't know how to thread the machine, you will find on the internet a lot of free threading diagrams for all makes of machines. Just type in Google "sewing machine threading"...
The next Guides will also cover all the electrical systems (again, you don't need any background in electricity). I will cover also a special Guide to launch your home based business, how to make low cost advertizing to reach quilting groups, dry cleaners, sewing schools, etc... Also how to keep record of your sales, expenses, general accounting, etc...
PART 1: THE NEEDLE
The basic principle of any sewing machine consist of the reunion of 2 threads (one on top of the machine and one inside the bottom bobbin). The needle serves to pick-up the bottom thread, making a knot each time it goes down and up by <catching> the bottom bobbin thread. The needle is the most important part of any sewing machine. One repair out of 3 are caused by improprer needle, bent or blunt needle, or no needle at all ! People are willing to pay $50 for a complete tune-up and to learn what is the right needle for their machine. Everyone knows that a needle has an eye, a point, and a determined lenght. Yet many people have never noticed that a sewing machine needle has a long groove cut into one side. This long groove is THE MOST IMPORTANT THING TO POSITION to determine if the machine will sew. One repair out of 3 are related to the needle incorrectly place (the long groove facing the wrong side). Again, people are willing to pay $50 for a complete tune-up and to learn how to insert properly their needle. Most domestic machine needles have a flat side on the shank, the long groove being at the opposite of the flat side. Industrial needles have a round shank. But all sewing machine needles in the world have a long groove. Here is the most important thing to remember:
YOU MUST ALWAYS THREAD ANY SEWING MACHINE NEEDLE FROM THE LONG GROOVE SIDE . THIS IS TRUE FOR ANY SEWING MACHINE ANYWHERE IN THE WORLD.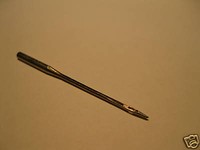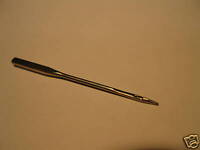 TIP: A BRAND NEW NEEDLE CAN BE DEFECTIVE. Rarely but occasionally, after inserting a brand new needle the upper thread start to break after sewing a few inches. I saw a tech in the past who was checking the needle-hook timing, checking everything around the bobbin area, and finally left the machine on his workbench, desperated. He asked me to have a look at the machine. When I saw the package of needles printed -Made in China- I suspected immediately the needle eye not to be smoothened enough. Quality needles have an extremely high polished eye compared to lower quality needles. Some bad practices in the sewing machine business is to sell lower quality needles to customers so they will bring their machine in for repair. DONT DO THIS PLEASE. START THE RIGHT WAY, BEING HONEST BY SELLING THE HIGHEST QUALITY PARTS WILL GIVES YOU A GOOD REPUTATION. IT PAYS ON A LONG TIME BASIS, BELIEVE ME. I asked the tech to pass the thread many times in the needle eye and that thread cut immediately. After installing a good quality needle, his machine was running perfectly!
You will have to refer to my Guide HOW TO FIX YOUR SEWING MACHINE IN 5 EASY STEPS in order to place correctly the needle on various makes and models of machine and to perform your first tune-up.
TIP: ALWAYS REPLACE THE EXISTING NEEDLE BY A BRAND NEW ONE, even if the customer tells you he or she installed a new one. First, you dont know its origin, it can be a low quality needle, and the point can be damaged also! Do not take any chance, replace always by a brand new needle. After completing the complete tune-up, make a sewing test. By the results, you will be able to determine if the machine is completed. If the machine runs smooth, do not knock on thicker fabric and if the stitch is equal on both sides of the fabric, you do not need any further adjustments.
PART 2: THE NEEDLE-HOOK TIMING
In every sewing machine, the needle (when going down), catch the bottom (bobbin) thread and bring it up, tying with the upper thread. The needle has to catch the bottom thread at a very precise moment. If the needle catch the thread too early, it will make a bad stitch and the upper thread may break often. On the opposite, if the needle catch the bottom thread too late, it will make thread loops underneath and the machine will skip stitches.
There are 3 kinds of hooks: the VERTICAL ROTARY hook, the HORIZONTAL ROTARY hook, and the OSCILLATING SHUTTLE hook. They all do the same job: catching the bottom thread on each cycle. This Guide will show you the OSCILLATING SHUTTLE hook timing.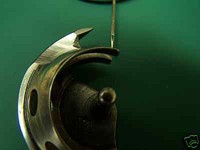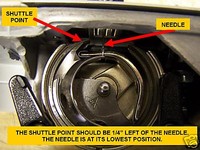 When the needle is completely down (at its lowest position), the shuttle hook point should be at 1/4" left. This hook-needle timing is the same for any front load sewing machine.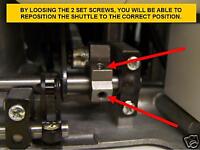 In the case the timing should be corrected, you will always find 2 set screws at the bottom right of any machine. By loosing them, you will be able to reposition correctly the hook in relation to the needle. Be sure the needle is at its lowest position and that the machine is on straight stitch position.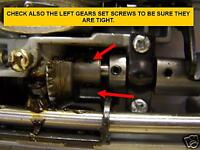 You will have to check also the left gears set screws to be tight. Rarely but sometimes, the hook timing can be off because of these set screws.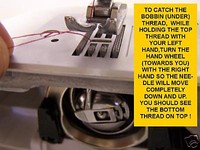 You should be able now to catch the bottom thread. Make a test on a sample by making the widest zigzag and the longest stitch. Your zigzag stitch should be equal on both sides of material. The machine should not skip any stitch. Check all your set screws and tighten them if necessary.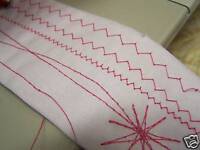 I hope you've enjoyed this guide!
Andre (alcnational)