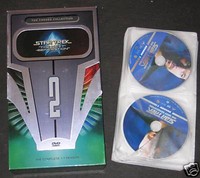 There are many guides on eBay about whether or not this version is a bootlegged edition or not. Quite simply it is and Paramount has stated so. By examining the discs we can see they are a region free, Asian Pacific release without any security strips.

Paramount has issued a statement in regards to Asian Pacific releases of their DVD's and this Star Trek Collection. "Paramount Home Entertainment or CBS studios has never licensed to a 3rd party to replicate/produce/manufacture discs in Asia Pacific." - Joe Ruvalcaba, Paramount Licensing
So you may ask why should you care since you can get a great deal on this set and they look pretty professional judging by the box. Well if morals don't get you don't let the box fool you. I received this set when a seller on half.com thought they could get away with listing them as the official release. At first I thought the same as you, nice box and the set looks well done. Quite frankly at the time I had no idea the discs were bootlegged, I just thought they were an "import" as they are often sold as.
However it was a major disappointment when trying to play the discs. First none of the DVD players in my house would recognize the discs, I had to put them in my XBOX and computer to play them. Second even those devices had problems and they could not read all the discs. The ones that did play looked worse than my old VHS tapes in the silver boxes. There were episodes where the sound was out of sync with the video. The collection I received was a disaster.
When I went online to research this edition further and see if others has issues is when I discovered it was a bootleg. I initiated my return immediately. For me it was not worth the savings or moral dilemma to have discs that won't even work and episodes freeze in the middle. If your someone who feels they can overlook the moral issues of bootlegs and deal with the technical issues of the discs then buy with your eyes open and know what you are getting.
If you found my guide helpful please click YES and let others know!