This guide will answer our two most frequently asked questions about Sports Cards:
What size and type of card holders do I need for my cards?
Collectible cards today come in many different sizes, thicknesses, and styles. For every different card product there are a number of different solutions to protecting, storing, and displaying your cards. As a collector you have invested a significant amount of money in your prized cards. They deserve the proper holder and storage products so your investment maintains its value.
Card Size
Before the type of holder can be considered you need to find out what size holder you need. The first thing to consider is the overall size. This is relatively easy. Cards from 1936-1960 came in one of two sizes for the most part. The first was 2 3/4" X 3 15/16". These are generally called vintage card size. Holders for these come in two major types: Rigid and Soft Toploaders and Non-Recessed Four Screwdowns (See below).
Vintage Mickey Mantle slightly larger than current cards
Current cards and almost all cards from 1960 to present are 2 1/2" X 3 1/2". There are numerous types of holders for these which we will detail below.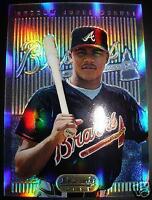 Current Card - Most Cards 1960 to the Present are this standard size
The more difficult dimension to match to your card is the thickness. In the last decade or so we have seen the advent of numerous speciality cards and inserts of all different thicknesses. These memorabilia, signature, patch, and special cards are often very valuable and absolutely need the proper thickness holder to protect the card corner and edges. Commonly card thickness is measured by points. This refers to the paper stock. All standard cards use 20 point paper stock. Other common stock used for inserts is 55 point, 75 point, 100 point, 130 point, and now even 180 point. Unfortunately, the manufacturers usually don't say what point card stock their inserts are on. Luckily here's an easy system for you to check this on your own, and then purchase the right product for your cards.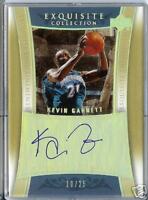 Current cards come in many thicknesses. Use our chart to determine what type of holder you need.
Chart to Card Thickness
Take a stack of standard sports cards (commons) and lay them on top of each other. Place them next to the thicker insert and refer to the chart below to figure out what thickness your card is.
1 Regular Card = 20 Point - Use All Standard or Regular Card Holders

3 Regular Cards = 55 Point - Use 55 Point Holders (Also called Action Packed Size or Thick)

4-5 Regular Cards = 70-75 Point - Use 75 Point Holders or Extra Thick Holders

6-8 Regular Cards = 120-130 Point - Use 130 Point Holders (Commonly called Memorabilia Size or Real Thick or 3.5 mm)

9-12 Regular Cards = 180 Point - Use 180 Point Holders (Also called Super Thick)
Common Types of Card Holders
Once you have deduced the thickness of your cards you can then decide what type of holder you prefer. This decision will be based primarily on personal preference and budget. Here's a quick description of the most common types:
Soft Sleeves - Just a thin polypropylene sleeve that offers basic protection very cheaply. Often used with other holders (such as toploaders or Non-Recessed Screwdowns). Generally only available in two sizes for regular 20 point cards and thick 55 and 75 point cards.

Semi-Rigids - Thin plastic holder (somewhat bendable) that is inexpensive and doesn't take up much space in card boxes, etc. Often used for Graded card submissions and for mailing cards.

Toploaders - Most common protection used for cards. Normally advertised as 3 X4 Rigid Toploaders. Available for all thickness of cards. Great protection, easy to store, and low cost.

One Screws - A very hard plastic shell that cradles the card between two halves and then is screwed down. For all standard 20 point cards and above you wil want the recessed variety. This indicates they have a cavity to hold the card. They are available for regular (20 pt), thick (55 pt), extra thick (75 pt), super thick (130 pt), and super duper thick cards (180pt).

Magnetic One Touch - A non-screw version of the one screw. Hard plastic that uses a small magnetic closure device for easy access. Expensive, but great protection! Available for now in Regular (20 pt) and Thick (up to 130 pt) sizes.

Four Screws - Traditional holders for cards. 4 screws (one on each corner) hold the card between two hard plastic pieces. The non-recessed variety is great for vintage cards and can be used with a soft sleeve around the card.
In addition to these individual holders there are cardboard and plastic boxes in many sizes to hold multiple cards. These are great for inexpensive singles and commons.