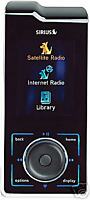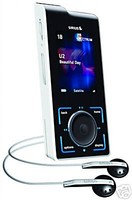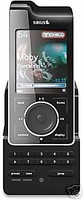 Here is sneak peak of the Sirius S100 "Stiletto" features. This unit will be the 1st Sirius LIVE PORTABLE unit to hit the market! CellularShowroom will have a sale on this item for $279 free shipping! Order yours before they are gone!
The Stiletto SL100 is SIRIUS' first true Live Portable Receiver. The Stiletto makes it possible to listen to live and recorded SIRIUS Satellite Radio almost anywhere. The Stiletto features up to 100 hours of recording time (2 GB) and can record up to 6 hour blocks of your favorite SIRIUS music, news, sports, or entertainment. The Stiletto also features up to 10 hours of one-touch recording of individual songs (Love Button). It will be able to play live SIRIUS broadcasts in the Car Dock, Home Dock and in the Portable Mode.

The Stiletto is the first SIRIUS Satellite Radio to feature WIFI. With the new WIFI feature, you will be able to listen SIRIUS inside any building were there is an accessible WIFI connection . This groundbreaking technology will expand the coverage of listening to many buildings that reception was previously unavailable and even places outside the continent.

FEATURES
Live Portable Reception
Up to 100 hours of storage (2 GB)
Up to 10 hours of one touch (Love) recording of individual songs directly from SIRIUS' Commercial Free Music Content
Schedule up to 6 hour blocks of recording from SIRIUS' Commercial free Content
Listen to SIRIUS Online Content through accessible WIFI connections
Bookmark your favorite and Loved Songs for purchase through Yahoo! Music Engine™.
Compatible with most online music providers (not compatible with AAC files)
New Enhanced media dial with six-way navigation control that puts everything at your fingertips
Exclusive Aurora user interface provides easy access to your favorite SIRIUS content with a bright 2.2" full color display
SIRIUS Replay™—Pause, rewind and replay 44 minutes of live radio
30 channel presets
Audible channel names
GameAlert™—Prompts when your favorite games are being broadcast and alerts you when the scores change
GameZone™—Lists all your favorite teams in one category and lets you select a different team from each of the various sport leagues including NFL, NBA, NHL® and college sports Parental Control and Channel Lock

INCLUDES:


Stiletto SL100 Receiver
Stiletto Car Kit
Stiletto Standard Battery
Stiletto Slim Battery
Earbud Headphones
Stiletto Antenna Headset (not required in most areas to listen live)
My SIRIUS Studio™ software with Yahoo! Music Engine
USB Cable
AC Adapter

Dimensions 2"W x 4.5"H x 11/16"D (13/16"D with Extended Standard Battery)

The Stiletto SL100 will be in limited supply in the beginning. Pre-Order now to reserve your Unit.
PLEASE REMEMBER TO SHOW YOUR SUPPORT & CLICK "YES" BELOW IF THIS GUIDE HAS HELPED YOU. THANK YOU!