A few helpful thoughts on how to choose the original Armani Jeans among the many fakes offered on eBay.
Saving a few bucks on an Armani jeans replica may seem like a good idea in the beginning but cheap Armani jeans are nothing more than cheap, inferior versions, of the genuine article. With time they quickly lose their attractive look lacking the quality of the original jeans.
Here are a couple simple hints to help you avoid being scammed out of your money.
The most important feature which distinguishes the real Armani and the many cheap fakes on sale here in eBay is the
Certificate of Authenticity
, which has a number of security attributes.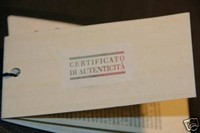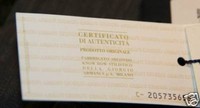 Armani goods all come with a certificate of authenticity offered by the company. These are attached to the garment through the belt loops or possibly the zip, they are in a plastic case that is colored blue and attached with a piece of blue string and a blue plastic security attachment. The fake versions may also carry these refinements but the plastic will probably be this and insubstantial and the string will be flimsy instead of thick and strong.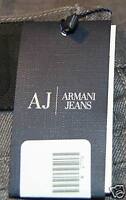 This certificate has a printed security feature, similar to a watermark, this is composed of the words Giorgio Armani, the trick is that you can not see the words by looking at the certificate, you will need to hold it up to the light, and tilt it a little, then just like a bank note the words will appear as if by magic. Cheap Armani jeans will be missing this security feature, or it will be printed onto the surface of the certificate and visible to the naked eye without holding it up to the light, this is a good indication that these cheap 'Armani' jeans may not be the real thing.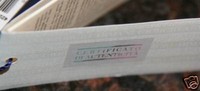 A the bottom of the real Giorgio Armani certificates you will see tiny little pieces of colored paper that don't look like they are part of the certificate, they will make up the words Giorgio Armani, they have in fact been embedded into the paper when it was manufactured, and are nearly impossible to reproduce. The two words are raised and if you gently run your finger along them you will feel the words popping up.
In tiny words on the inside of the certificate you should be able to make out
Fedrigoni Cartiere S.P.A
, these words are so small they may be hard to find, but they are also very difficult to print. If you cant find the this may also be an indication that these are cheap Armani jeans that were not produced by the company, and are in fact worthless Fake
Armani Jeans.

Another aspect you should be very particular about is
choosing your seller wisely
. Always do a little a research before committing to your purchase.
First look at the seller's other items - is there on sale just one item or there are a large number of items being sold; what is the return/exchange policy; is the seller a business seller or a private seller; are the photographs clear; Does the item offer PayPal protection. Are they new sellers? Does the seller sells mainly clothes or everything else under the sun, from tooth-picks to garden spade to socks. If it is the later then the chance is that the seller is a market trader. Ask yourself whether you want to buy "authentic" Armani Jeans from a market trader!
See their feedbacks and search through a few previous pages. However, bear in mind that the feedbacks might be from others who cannot tell real from fake or just don't care! There are people who just want to wear a label! Which is why there are so many fakes around. Its a matter of demand and supply. So read those buyers' feedbacks as well to see whether they have a history of buying high value items and hence know what they are talking about. Or just someone who have been buying cheap items and then testify about an authentic Armani Jeans they just bought.
In general, if you are in doubt, the most important thing to do is to ask the seller explicit questions such as style number, identification or more closeup photos of the item and tag. A genuine seller will be more than happy to answer you questions. Sellers of fake will tend to ignore you and sell to others who do not ask questions on the ground that these are the people who either don't care or not trouble makers. When you ask a question, make sure you present yourself as a knowledgeable buyer by asking explicit question such as "What is the style number/color code/tracking number/ID code,...etc". Don't just ask "Is it authentic?". If a seller cannot or does not answer your question satisfactorily, then don't buy from them. It's better be safe than sorry.
I hope some of you find this guide helpful and best of luck! If you have a second,
vote for this guide
so other buyers could take advantage of it!