Shiva
(Sanskrit: Auspicious One)or
Siva
, is one of the main Deities of Hinduism, worshipped as the paramount lord by the Saivite sects of India.
Shiva
is one of the most complex gods of India, embodying seemingly contradictory qualities. He is the destroyer and the restorer, the great ascetic and the symbol of sensuality, the benevolent herdsman of souls and the wrathful avenger.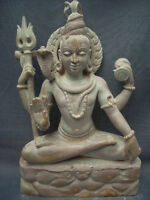 Shiva
was originally known as Rudra, a minor deity addressed only three times in the Rig Veda. He gained importance after absorbing some of the characteristics of an earlier fertility god and became
Shiva
, part of the trinity, or trimurti, with Vishnu and Brahma.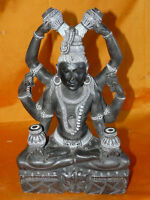 His guardian is
Nandi
(the white bull), whose statue can often be seen watching over the main shrine. The bull is said to embody sexual energy, fertility. Riding on its back,
Shiva
is in control of these impulses.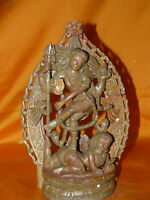 Shiva the Hindu god of destruction is also known as
Nataraj
, the Lord of Dancers.
Shiva
dances on the body of a dwarf apasmara-purusha (the man of forgetfulness) who embodies indifference, ignorance and laziness. Creation, indeed all creative energy is possible only when the weight of inertia (the tamasic darkness of the universe) is overcome and suppressed.
The
Nataraj
image thus addresses each individual to overcome complacency and get or her own act together .