This guide will give you basics on setting up a Saltwater aquarium.First decide if you want to go big or small and purchase an aquarium accordingly.Next you need to purchase a substratum for your aquarium. Remember you must use a substrate that will help balance the ph(hardness) of the water. Crushed coral, or limestone is great for this. You can not use standard aquarium gravel as it has no benefit in maintaining the hardness of the water. Crushed coral will slowly dissolve in the water and balance the ph of the water similiar to that of the ocean. Most marine fish are not raised in captivity and must have water quality similiar to the ocean.Purchase approx 1lb of sustrate per gallon of water. For 50 gallon aquariums you would want about 50lbs of crushed coral.After purchasing the substrate wash it carefully with fresh water as it will cloud you new aquarium if you dont.Then put your substrate in the bottom of your aquarium.
Next fill your aquarium with either well water, or tap water after using a good dechlorinator like Amquel+ or prime.For the next step you will need a hydrometer,(measures salt content) and a good salt mix, Red Sea, Instant Ocean, Ocean pure or whatever.Mix the correct amount of salt for your aquarium-start out with about 2 cups of salt for every ten gallons. Let the salt mix and use your hydrometer to test the amount of salt. Standard for the industry is about 1023(green zone). If the salt is below this add more salt, and if it is above this remove some of the water and add fresh water until it is at the correct range.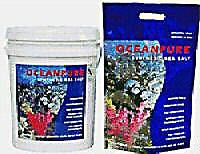 Next step setup your heater, a submersible type is the best as salt tend to seep in and short out the units.Set your temperature to about 75d. Now you are ready to add filtration. For filtration you can use wet dry units(fairly expensive) hang on filters, canister filters, protein skimmers, and internal wave filters.As an average rule you want filtration to be at least a flow rate of 4 to 5 times the gallon amount of the aquarium. I.E. a fifty gallon tank would require a minimum of 200 to 250 gallon per hour flow rate.Lifetech, Odyssea, fluval or Eheim canisters are great for starting filtration,they all have multistage filtration compartments for mechanical(filter pads to trap waste), chemical(carbon to remove impurities,)and biological(bio balls, beads, to break down liquid waste).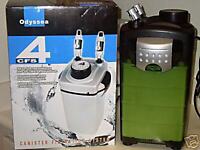 Install your fil
ters and get them operational and then check surface action of your aquarium. If the top surface is not moving well enough to duplicate wave action pickup a surface wave type powerhead like a Zoo med powersweep or a lifetech internal powerhead with air injection. Wave action is important for your fish as it Oxygenates water, helps breaks off gases, and helps the internal balance of your fish and inverts as they are used to this in the wild.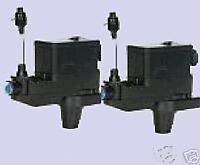 After making sure you have temperature,salinity and filtration working properly you are almost ready to add something live. Wait a minimum of 24 hours to make sure the tank settles properly and everything is working well.Then you may add a few fish like damsels to establish the aquarium.The addition of live rock will help age your aquarium. It is necessary to establish good marine organisms like algae and beneficial bacteria to keep your marine aquarium like the ocean.These organisms help remove toxic waste that the fish produce. Live rock (cured) is loaded with beneficial organism that make each piece act as a tiny filter system to purify your water. Add a minimum of 1/2 lb live rock per gallon of aquarium water to set this up properly.Wait about a week after putting in live rock to put in any expensive organisms in it, and about 3 weeks if you just use damsels to start your aquarium. You can also purchase live sand to speed up the aging process of your marine aquarium.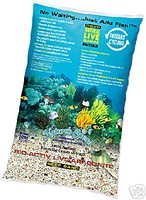 It comes with live organisms included. Usually within 3 days you can put 4 to five fish and or inverts in the tank.Saltwater aquarium products
If you are going to put a lot of fish and or corals(reef tank) in your aquarium a protein skimmer is a plus. There are many types on the market, but all of them use the same method to rid your aquarium of harmful toxins. They all have in common a basic circular chamber which has air injected into to bind with the heavier toxic water, and as it swirls in the chamber it thickens and the air pushes the proteins and toxins up to a collection chamber, where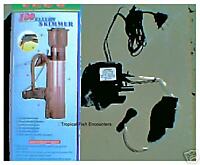 you can remove it.
Last of all before you add decorations we will talk about aquarium lighting. For saltwater fish it is recommend you have a minimum of two watts of lighting per gallons and for reef tanks(aquariums with corals etc) a minimum of 4 watts per gallons.Power compact lights are perfect for this. Many types are available find one in your budget that will serve your needs.Most power compacts use 10k sunlight and actinic light in combination.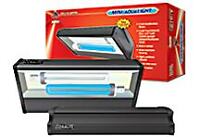 These lights will enhance the colors of your fish and corals, and simulate sunlight to encourage growth of live rocks and corals.
Last of all we can put decorations in your aquarium. Pick those that enhance the beauty of it and are safe for saltwater aquariums. Lots of new safe injected plastic coral replicas are available for this.
If you just want to start out with a small saltwater aquarium a new trend is on the horizon called nano tanks.These are small aquarium setups for both the beginner and advanced aquarium and have aquarium, filtration and lighting all included in these. Some favorites are the new Aqua pods, the Alife carribean aquarium, and the nano cubes. They are great starter marine aquariums and will house quite a few smaller organism and are very economical.