See that Red Dot on the Cell Phone you just won?
You had bought an item that had been wet...
By greggdluis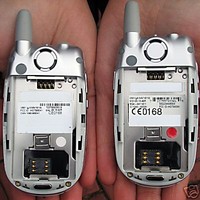 You placed a bid on a cell phone and surprise!, you won that item. You eagerly pay for the auction item and just can not wait for that cell phone to arrive at your door. A week or so later, you open the package with spirits lifted thinking you had gotten a fantastic deal. Then, you start looking it over and you heart starts to sink when you sober up to find out: This Thing Is Worse Than My Original Phone! And then, after you have opened the battery compartment, you wonder what that little Red Dot is there for. I have news for you: You bought a bad phone from someone who knows it's bad and was trying to pass off their troubles onto you, the unsuspecting Buyer.
A cell phone repair technicians typical day begins with dried sweat, urine and melted snow, each of which they regularly find inside faulty cell phones. Independent phone repair people receive about 20 or so broken handsets by mail in a busy week, along with tearful or embarrassed calls from the phone owners begging to find out what is wrong.
They specialize in and focus on diagnosing liquid damage. A technician pries open the handset, smears away the gunk and inspects the battery and circuit board for signs of water.
But their task has become considerably easier. In the past few years, cell phone manufacturers have introduced a piece of simple technology hidden behind the phone battery: a paper dot, no larger than a push-pin head, that turns red on contact with liquid.
They say: The moment I see that dot, I know it got wet. And for most cell phone provider customers, that red dot means the end of the conversation: A phone manufacturer will not fix or replace a phone under warranty if it gets wet. Nearly every cell phone I have won on Ebay has a RED DOT, but the Sellers all claim these items are fully functional in their item descriptions.
Most Ebay Buyers AND few Sellers do not know about the dot. Many who do know, point out that between perspiration and condensation, moisture can get into a phone accidentally. In 2004, the cell phone maker Siemens found that rain was the third most likely cause of a cell phones demise. (Snow came in 10th.) But while U.S. companies quickly adopted the water indicator, some phone users say the dots, like the phones themselves, are too sensitive for the real world.
When I won my first Samsung, I sent it to a Samsung Dealer for repair. A brusque note came back: Customer Abuse: Liquid Damage. When I protested, the Dealer explained that several electronic parts were corroded, a sign of water inside the handset.
When I took a trip over to the Dealer, I started talking to other Customers waiting to pick up their phones. One guy was upset...he did wear his phone on the belt clip that came with it, in the humidity of Marina Del Rey, California. And his warranty excludes damage from water, dust or vapor. But he fumed, This is planet Earth.
I followed up on this Red Dot item from home and phoned my Sisters cell phone provider. Phones are just not waterproof, said Mark Siegel, a spokesman for Cingular. The companies do not spend time working out how wet a phone can get. The company, he said, does not report how many waterlogged phones it receives annually from its 54 million customers. They are simply returned to their owners, who have to pay for new phones. A handset, unless deeply discounted when bought with a plan, retails for $150 and up.
Motorola introduced the dot technology in 2003, in its V300. Other companies have followed suit. The latest move is to affix dots to the cell phone batteries, detecting lethal liquid there too.
Those dots are a real clever idea on the companies part, technicians say, adding that they have streamlined the phones repair service and cut costs. It saves them time. One comes in, they're not obliged to fix it.
There are some independent repair people out there whose businesses have been built on defying the Red Dot. I called one from the yellow pages to inquire about repairing the famous RAZR: Oh yes, I've been able to fix those phones 50 percent of the time, they say. They recommend that people send their phones directly to them - in effect, not to bother approaching the big manufacturers. It is not that they can not be fixed, they said, it is that the companies choose not to. Dropping a phone in a toilet is one of the most common ways a phone gets wet, and they point out, You can not then complain about Motorola.
The same goes for using the phone against freshly washed hair, which floods the earpiece. But they say that 20 percent of their mail-in customers, who pay about $50 for ultrasonic cleaning and repair work, have done nothing worse than getting caught in a storm. I hear - Snow melted on the phone, they said. Or - It was at the bottom of a grocery bag during a rainstorm.
I should add, phones that are designed to be waterproof tend to be for military and industrial use and are not lightweight. Luggage companies have stepped in, making cell phone cases that cover the vulnerable earpiece and power port.
These cell phone repair people believe that despite the occasional mishap, cell phone technology is worth the price. But ultra-speedy manufacturing shows up in the end-product, they said. They put just about enough solder on them to get them down the assembly line.
That is unacceptable to many people including me. I remember hearing one guy saying back at the Samsung Dealer, A portable phone that costs $462 across the counter at Radio Shack should be about as susceptible to water as my $50 Timex IRONMAN wristwatch I have had for about five or six years, - his phone lasted just six months.
Among groups who work using cell phones, I see there has been a rising frustration. Bicycle and motorbike couriers, who cover hundreds of miles every week in all kinds of Los Angeles weather, wrap handsets in plastic bags and some use the hands-free devices. Some bike messengers, I see in Century City, say they have turned their backs on mobile phones, preferring two-way radios. One of these guys claims: Cell phones are for Muppets.
As for the rest of us who buy used cell phones off of Ebay, our best bet on bidding for these as replacement phones, is to post questions to the Sellers before placing the bid. Better yet, it would be more ethical if they (the Seller) would actually post a photo of the exact cell phone being auctioned (instead of a generic copy from a manufactures website) including a photo of the inside battery compartment showing the IMEI number (the phones serial number) AND the color of the indicator DOT. (See Photo above!) If a Seller balks at that request claiming they would be violating someones privacy, then we should just skip over these Sellers and not buy from them in the first place.
Statements like Sold AS-IS really is not a warranty, but a guarantee that the phone is actually JUNK. Why would you give away your money to a Seller who will NOT guarantee the cell phone AND include a reimbursement of OUR Shipping Fees, after all, I believe it IS the Sellers fault for trying to pass off a bad phone in the first place even if the defects are not readily obvious. And if the paper DOT is missing from the phone in the first place, then we would know that Seller may be trying to defraud us.
The independent cell phone repair people have to rebuffed pleas to replace the red dots with white ones. I wont do that, they say. But requests for their services keep rolling in from those whose phones have seen red. So I can only assume that Sellers, with lower than 100% feedback scores, will always keep making money from the Buyers who are not aware of what that little red dot is really there for. With your help, we as educated Buyers, can make demands - after all, We as educated Buyers have the money - We as educated Buyers can make the rules!