Whether you're new to the field of vintage costume jewelry or an experienced collector, you'll find eBay to be the best resource to build your collection.

It can also be the worst.

The fact is, at any given time there are between 45,000 and 75,000 pieces of "vintage" costume jewelry typically listed on eBay...and that's not even counting all the individual items listed in "lots". The definition of "vintage" jewelry can be rather loose, too; per one eBayer's request, I'll define what it means to me: pieces that were made between 1910 and 1990. Anything older falls into the antique category (with me, at least), anything newer is contemporary (again, my opinion). The most commonly collected and desirable dates of manufacture among vintage jewelry collectors as a group,
by far
, are those between 1940 and 1970.
I'd like to offer my experience as both a buyer and seller of hundreds of pieces of collectible costume jewelry on eBay. Here are some things it took me awhile to learn...the good
and
the bad:
First, Three Boring But Important Generic Rules
Never buy an item displayed in a fuzzy or partial photograph!

A reputable seller will not only provide clear pictures, but more than one view, particularly front and back when appropriate. No matter

how

glorious you think that glittering brooch might be if you could only see it clearly...when you receive it, you're likely to be very disappointed.
Avoid sellers with no clear return policy.

There's a reason they don't allow returns: it's usually because they

expect them.
Always check feedback prior to bidding.

In a collecting field as open to misinterpretation, misrepresentation and outright forgery as vintage costume jewelry, it pays to deal with sellers who have rightly earned a stellar reputation.
More Specifically, In No Particular Order...


Learn visual clues about age. For instance:

Aurora borealis rhinestones didn't appear until the mid 50's.
Older brooches typically have smooth backs, not patterned ones.

Look at the photos- see the swirly pattern in the metal of the first?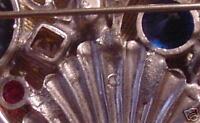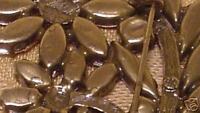 Copyright symbols appear on jewelry made from about 1955 on, not before.
Quality vintage rhinestone pieces are usually prong-set.

Examples:
Prong-set rhinestones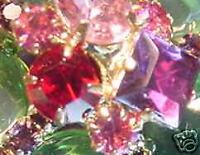 Not prong-set; glued in

Unless it's been stashed away in Grandma's drawer, authentic vintage jewelry should show minor signs of wear, particularly in the clasp area.



What the heck is Juliana, anyway?
Juliana jewelry was manufactured for a relatively brief time (two years) in the 1960's by DeLizza & Elster. It was sold with paper hangtags, and otherwise unmarked. There are a few extremely recognizable pieces out there, particularly the beautiful "Easter Egg" types. Aside from those, identification is largely based on speculation- so be sure your seller is knowledgeable and reliable. I wish my mom had had the foresight to buy every single one of their items for sale in the 60's (and leave the hangtags on), but alas, she didn't!
D & E also manufactured jewelry for the companies "Gloria" and "Tara" (also gorgeous; also hang-tagged!).

Search Effectively!
Use keywords like "demi" and "parure" and "pin" (in addition to "brooch"). Don't miss out on sets- sellers often use "parure" in titles without including "necklace" or "bracelet" or "set"- don't let those slip by!

Don't confine yourself to signed pieces.
Although glorious and lovely, Weiss and Eisenberg and Miriam Haskell and other "designer" pieces are far from the only desirable jewelry items out there. Some of my very favorite treasures are unsigned by someone wonderful.

Art Nouveau, Art Deco and Victorian are styles as well as Eras.
Make sure the description indicates that the item you're considering dates to the period, and is not a modern reproduction.

Bid!
If you see something you like, and you're comfortable with the seller...bid. You don't want to be the person emailing the next day, asking if we have another piece like the one we just sold...I wish with all my heart that we would, but we won't. There's a finite supply of wonderful vintage jewelry out there, and any seller with more than one unusual, identical vintage piece is either extremely fortunate, or selling reproduction jewelry.

Enjoy!
Vintage jewelry collecting is the coolest hobby in the world...you can't wear your Depression Glass to work every day and dazzle the office, but you can build your outfit around a fabulous piece of vintage jewelry that is uniquely "you", and it feels wonderful!
If not, please contact us through one of our auctions, and tell us
how we can improve it for you.
Thank you!