Determining which Scope you purchase will make the difference in your ability in hitting your target
and make your shooting and hunting experience succesfull. The Riflescopes purpose is to indicates a bullet point of impact and makes distant targets and surrounding objects appear closer.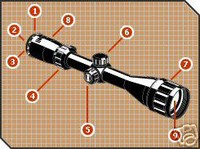 1.-Eye Piece
2.-Exit Pupil
3.-Ocular Lens
4.-Power Ring
5.-Windage Adjustment
6.-Elevation Adjustment
7.-Objective Bell
8.-Eye-Bell
9.-Objective Lens


TERMINOLOGIES
EYE RELIEF-The distance a scope can be held away from the eye and still present the full field of view. Scopes Provide an extra margin of comfort and recoil safety with extended eye relief

EXIT PUPIL- The size of the column of light that leaves the eyepiece of a scope.the larger the exit pupil,
the brighter the image to determine the size, divide the objective lens diameter by the power
(example: a 4x40 model has an exit pupil of 10mm)
FIELD OF VIEW (F.O.V.)- The side to side measurement of the circular viewing field or subject area.it is defined by the width in feet or meters of the area visable at 100 yards or meters a wide field field of view makes it easier to spot game and track moving targets. generally-the higher the magnification, the narrower the field of view
MAGNIFICATION (POWER)- Scopes are often referred to by twon numbers seperated by an "x". for example a 4x40 scope -the first number "4" is the power of the magnification- and the target will be four times closer than seen with the naked eye. If there are 2 numbers like a 3-9x40 scope than the magnification is adjustable from 3 to 9.
OBJECTIVE LENS SIZE- The second number in the formula (example 4x40 scope model) The diameter of the scope would be 40mm-. The larger the objective lens the more light enters the scope and the brighter the image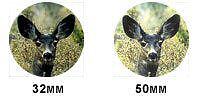 WINDAGE & ELEVATION ADJUSTMENTS- The windage & elevation adjustments effects accuracy. Windage is the Horizontal (left to right) adjustment. Elevation is the verticle adjustment (up & down) adjustment. Scopes have diffrent adjustments- the most popular ones feature 1/4 M.O.A. (1/4" at 100 yards)
or finer adjustments 1/8 M.O.A. (1/8" at 100 yards)
RETICLE DESIGNS- The various reticle designs are made to help you acquire the target faster or determine the distance of your target



RED DOT SCOPES

The red dot scopes are designed to help you acquire the target as quickly as possible-especially at close range
the red dot size comes in different sizes and dots are available in diffrent colors



CLICK HERE FOR OUR EBAY SCOPE SUPERSTORE