Hello Everyone,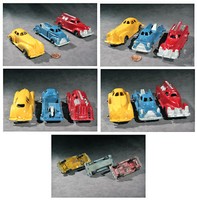 A Multiple-Image Picture or Photo
The Photo or picture above is what I call a multiple-image.I started to create these 6 months ago (January 2011), when the recession really hit the US, especially E-Bay and toys(or at least for me).
As you already know, E-Bay lets you add 1 "free" photo, and every one after that is 15 cents or if you add a certain amount, you get a "package deal". I realized that my costs were getting high in proportion to my sales, especially when you don't sell an item, even on the re-listing. And today (July 17, 2011) , with E-Bay charging almost 10% for the final sale fee, the costs are high.
So what I did, and hopefully E-Bay will still permit this, is to make a composite image of up to 5 images for presentation of the item that I'm selling. The "sacrifice" though for a the composite is that the images are small, and the detail is hard to see. If anyone asks, I will send them large-sized images to their e-mail address, or I tell them to go to my Picasa albums for great-looking photos and superb detail. My Picasa name is majortrout and if you type in "Hubley Car", you'll get a photo, and from there you can then look at my photos of old toys.
What I use is Photoshop, but you can also use the less expensive Photoshop Elements. As well, Paint Shop Pro is very good, although I have to say that I haven't tried it in years.
Basically, the method that I use is simple, but I have the site below (my blog) for you to go to for careful instruction and detail.
http://oldantiquetoys.blogspot.com/2011/06/making-composite-photo-to-save-money-on.html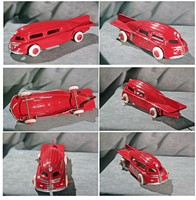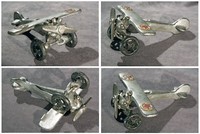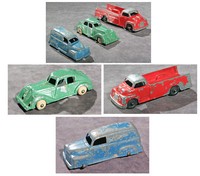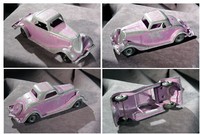 Instructions and things to watch:
1. Open all of your photos for the montage.
2. Make sure that they all are of the same size in terms of pixels/inch. Files that are 300 pixels/inch and 600 pixels/inch will create conflict. They all have to be 1 or the other.
3. Let's say you now have opened 4 photos all 4" high x 6" wide.
4. Create a new LARGER FILE sized to 8 1/4" high x 12" wide. The extra 1/4" is for a white border.
5. Bring each image into the larger one (Copy and paste or simply drag).
6. Align all 4 images nicely.
7. Do a layer merge or layer flatten command. That simply means to "glue" all 4 images into 1 large photo.
8. Resize this large photo. E-Bay likes small-sized photos and your new large one will be about 12-14 MB. Make the new one 4" x6" and 300 pixels/inch, and save it.
9. When you upload the composite to e-Bay, it will end up about 2 MB. What happens in JPEGS is that some pixels are removed to make the file size smaller. The overall image is still recognizable but with less information.
And that's about it.
If you need any more info, please e-mail me with a non E-Bay e-mail address so that I can attach files if needed for you.
Thanks for dropping by, and I hope you might save some money with your dealings on E-Bay.
1 more thing: If you want to see an interesting blog on old toys, please visit my other blog: oldantiquetoys.blogspot.com