The new trend or fad in men's grooming is called "wet shaving" using 50 year old vintage safety razors. On any given day you will find 30 or 40 safety razors for auction. These safety razors come in many styles and makes, but the most popular is the Gillette Adjustable 9 setting safety razor. Here are a few pictures.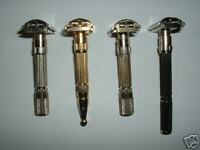 There are two types of safety razor buyers. The collector and the user.
The collector is looking for unique and very old razors, both safety and straight razors. Some are worth thousands of dollars, others just a few dollars. They are all beautiful keepsakes of a lost era. You can find book on antique razors to see their value.
The user on the other hand, is interested in the experience of a great shave. The kind your father got at the barber shop, when there were barber shops. The kind where you mix shaving soap in a shaving mug and brush it on your face.
The user is looking for safety razors that will hold modern double edged blades. Yes you can still buy brand new blades for these timeless razors. There are several websites on how to shave with a safety razor. The term has become "wet shaving". The experience is a new grooming indulgence for men of all ages. It is become comon on college campuses around the world. Older men have also taken to the trend and are buying safety razors at record numbers. This is true more many reasons. The razors a classic beautiful machines and the vintage shaver in general shave much better (closer) than do the plastic contemporary models that you throw away. Less polution is certainly a worthy motivation.
Go to EBAY and search "safety razors" or "Gillette" and you will find an abundance of offerings.