ROSE PETAL PLACE -1984-6
In 1984, Kenner released the Rose Petal Place series. There were 6 regular dolls, 10 outfits, a Nastina (bad guy) doll/toy, a car and a dollhouse. There were also 2 plush toys, 2 movies, and an assortmen tof other cute stuff.
(There was also going to be a second release of the dolls in 1986- however, it appears that although a few sets of the dolls exist- they were made for marketing purpose, and so are very very rare).
In 1990 Kenner released a set of dolls identical to the RPP dolls, which were re-packaged and labeled "Bubble Belles." These dolls used the same mold as the RPP line.
THE DOLLS
1984 First Release

Rose Petal
Orchid
Daffodil
Lily Fair
Iris
Sunny Sunflower
1986 second (limited-release) dolls (super incredibly rare)

Cherry Blossom
Sweet Violet
Fuscia
Gladiola
Marigold
Canterbury Belle
THE OUTFITS
Garden Belle
Skating Time
Flower Dreams
Bathing Beauty
Painting Posies
Petal Pushers
Dotted Dancer
Rose Water
Victorian Charmer
Tea Rose Party
FRIENDS & ENEMIES
PitterPat -plush kitten (moveable tail)
Tumbles -plush hedgehog (can roll him up into himself)
Nastina the Spider
PLAYSETS
Rose Petal Place Roadster (pink car that is the exact same mold as Jem's car - plays music when you push the steering wheel)
Rose Petal Dollhouse Cottage (furniture included a fainting sofa (look on roof), dresser, comb, and tiny little music sheets (so Rose Petal could sing on the rooftop deck)
There was also a "Rose Petal Place Slumber Slipper" pictured in the 1985 Toy Fair catalog- it appears that this toy was never actually released.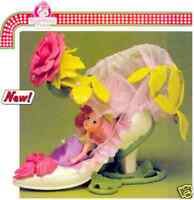 OTHER STUFF
Also released with this series:
A set of necklaces and pins of all of the first release dolls (like the strawberry shortcake jewelry) Were originally intended as "petal points" but I think they were actually sold in stores as well.
2 movies - Rose Petal Place and Rose Petal Place "Real Friends" (the second movie is especially hard to find, both movies are expensive)
Metal Lunchbox(2)
Porcelain figures (which include all of the first release dolls, as well as Tumbles, Pitterpat, the Tree, the Centipede, the Snail...)
A boardgame, and various books, stickers and other cute little things. (The line started off on stationary and greeting cards)
The Sweet Harp (like a little piano you could play)
Rose Petal Purse (pink bag-type purse with a little comb/mirror/brush)
THE BUBBLE BELLES -1990
Bubble Belles are of particular interest to any serious Rose Petal Place collector. The Bubble Belles were released in 1990, after the Rose Petal dolls were discontinued, using what was probably scheduled to be the next season of Rose Petal Place dolls.
The Bubble Belles have the same heads and bodies as the Rose Petal dolls, and were probably salvaged from the RPP line and re-packaged with less expensive outfits/accessories (the big cost for small dolls).
The Bubble Belles are all REALLY hard to find, although they were certainly released and I've seen them loose once in a while. They even had a short-lived cartoon! (Thanks Nikki for the info re the cartoon, apparently the show was a lot like the Lady Lovelylocks cartoon, and was on TV around the same time)
There were 4 dolls, 3 were released with a floating toy:
Coral
Flora
Pearl


There was also 2 playsets, and the one was released with a doll (Sabrina).
Sea Spray Castle with Seabrina (second pic below): I have only ever seen this as a photo the 1990 Toy Fair catalogue, but a very cool ebay member was able to give me some good photos of her doll as well! Apparently she is pretty hard to find (more so than the other dolls, which are also ridiculously hard to find! especially complete...)
Bubble Beautiful Palace (basically just a floating doll vanity salon type thing)
Vanity Set
Thanks to Nikki for a pic of SeaBrina! (Seabrina doll, and her castle (very tiny to the right) below)

There was also a Salon (tiny pic above- to the right and below tiny pic of castle in bottom right corner of pic)
Finally, there was a make-up set (not pictured).
***PS-- if this guide has been useful, please rate it "helpful"
but if you didn't find the information you were looking for, please let me know and I will do my best to update or answer your Qs!
Also, if you have information that I have not included in this review, I would be very grateful if you would let me know. I love finding out new information regarding my favorite dolls and meeting other collectors :D