This is a review of the Ritchey SpeedMax Pro 2.0 kevlar belted XR (cross country) MTB bicycle tire. They make this in 3 different models.
1st, and least expensive, is the wire beaded model. We have not tried this version, but are sure it runs very similar to the tires we used for this test, with the exception being that it is quite a bit heavier, and can not be folded for easy transportation (or packaging).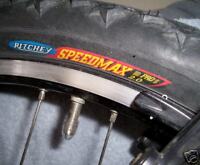 2nd is the model we tested (pictured above and below). This is the foldable SpeedMax Pro 2.0 with kevlar. It weighs in at about 585 grams or so, not including whatever inner tube you choose (of course). The only real way to make sure you are getting this tire, instead of the less expensive wire bead model, if the ad is not clear, is to call the sales dept of the merchant you wish to order it from. Also, usually the wire bead model costs a lot more to ship because of its size (it can't be folded), so the two may be similar in price in the long run anyhow.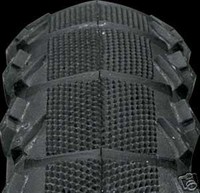 SpeedMax Pro 2.0
SpeedMax Pro 2.0 with some miles
3rd is the SpeedMax Pro WCS, which is generally only available overseas, or let's say we have been unable to find it in the states up to this point. This tire is just about the same as the one we tested, but has a softer tread compound, which will wear much quicker, but is stickier. It is also about 40 grams lighter, per tire, than the standard SpeedMax Pro we tested, and it also has blue colored side walls. Most importantly though, is that this is the tire that won the Gold, Silver and Bronze medals for XR mountain bike racing at the Olympics in Atlanta. So like this style of tire, or don't, but the fact remains it is a capable tire in the right hands.
So, back to the tire we review, the SpeedMax Pro 2.0. We are on our 5th set of these tires, so needless to say they work well for us. This is a superior tire for asphalt, while still retaining full off road capabilities with no more than an air pressure change. Of course, for the road you could buy the slim road width tires, but then you would have to pass on any thoughts of going off road until you changed the tires back out. These tires are rated for a maximum of 60 PSI. Most people consider this a hard pack type tire. We find it to be excellent on any hard pack, but also dirt, sand (at lower pressure), mud, mountain rock, technical trails, or nearly any condition we can find. This tire did leave us wanting to switch to a heavy treaded model one time in the mountains in Northern Georgia, where they are famous for the super slick red clay topsoil, but even the bikes with beefy tread were slipping like greased lightning (while also retaining considerable muck in their deeper tread which these would shed), while all the while, not gaining any distance. Never-the-less, if your main trails are solid mud, the SpeedMax is going to be a nervous feeling tire.
We know many people who love the thought of heavily treaded (NOT SpeedMax style) tires on their mountain bike, so it is worth mentioning that these SpeedMax Pros will require a different touch than a heavily treaded tire in certain types of terrain, and it is always just simply possible that many will not like the way the SpeedMax tires handle any way. Many may feel that they will have increased acceleration by using a knobbier tire (other than the SpeedMax Pro), possibly with thoughts of Motocross machines in their heads. In comparison to a MX machines though, the human body puts out a paltry amount of power. So fear not if you choose these. Your acceleration will be just about what it was with a heavier knobby tread in nearly all conditions. In fact you may even be a bit quicker being that these tires weigh less than all but a few of the heavily treaded models. Just remember that when trying any new style of tire, take it easy until you become accustomed to the different handling characteristics.
Now, if you do like more tread Ritchey also makes a few other models that may interest you. We will briefly mention a few.
1st is the Z.E.D. Race Pro pictured below.
This tire would be a nice choice for those that want or need more tread for their kind of riding. This could also be considered a race tire.
2nd is the SpeedMax Pro Alpha and Omega, one of which is pictured below.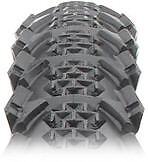 This model of tire is front and rear specific, so the tread pattern for each varies somewhat.
This is generally considered a faster tire than the Z.E.D. Race Pro, but is also known to be less forgiving, so generally this is a full blown race tire.
Lastly, and pictured below is the Ritchey Z-max Millennium.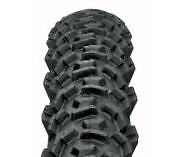 The Z-max Millennium is more of a cruising, off road play tire, mud bogger, or what have you. It is covered with massive tread, and is much wider than any of the high performance model listed above. It is also possible to have a frame clearance problem with this tire, so beware of your frame clearances are tight in those areas.
There are quite a few others made by Ritchey also, but these are a few of the widely used MTB models. There are others models more geared towards road, cruising, or trick.
Check out --> mtbr.com for many great reviews on just about anything related to bicycles, written by riders like ourselves who have purchased, and are willing to give you there point of view on a particular item.
** 09/26/06 The Speedmax Pro appears to have been replaced by the new Speedmax Beta. We will be writing another review when the new Speedmax Beta becomes widely available and we can log a considerable number of miles on them. As of now, everyone is still carrying the Speedmax Pro and that is what we are still running. Check out the ritcheylogic.com website for more info on the new line.
Vote below if this was of any use.
Thanks for the interest,
Hornwaddler