Hot Fix Rhinestone Crystals, Rhinstuds, Nailheads, and Rhinestud Shapes are the hottest trends being used to add Bling to everything. These instructions will help you apply a Hot Fix Design to your material using a household iron.
Once again we had our Kitty here to help us.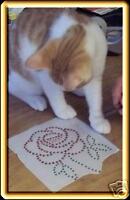 Kitty picked out the Design we will be using.
1.Use a hard, flat surface its not a good ideal to use a padded ironing board or anything soft. I use a large cutting board.


2. Now center your design on your shirt or other fabric before peeling off the backing .I always trim off the excess around my design as close as I can to the design .


3. Peel off the backing, if some of the Rhinestone come off just use your tweezers to put them back in place.

4. Place the sticky-side down onto fabric. If not in the desired position just lift it up and replace.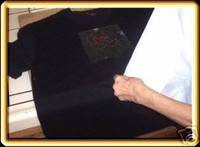 5. Place a cotton pressing cloth or lite weight towel over top of design, this will protect the garment.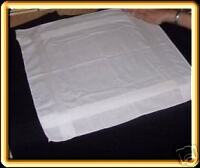 6. Set the iron on medium or wool setting-NO STEAM! Adjust the temperature as needed for your type of material. You also might want to put a pressing cloth inside the shirt.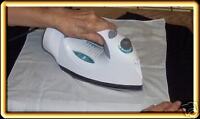 7. Iron directly on top of the pressing cloth for a minimum of 45-60 seconds. Heavier fabrics may need a little more time, and light fabrics will need less time. Its best not to move the iron; just let it sit in place. The pressing cloth is protecting the fabric. It is recommended to press across the garment up and down and side to side.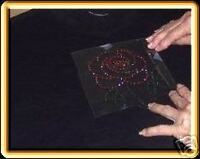 8. Once cool, the sticky paper is easy to remove. If you find you need to re heat the Rhinestones to melt the glue just put the sticky paper back on top and repeat step #7 above again.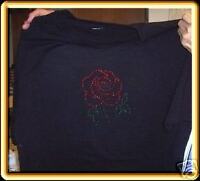 9. After the mylar is removed, turn the shirt inside out and put the pressing cloth inside the shirt and re-press the shirt for about 15 seconds. This will help melt the glue deep into the fabric of the shirt.
Your project is now complete! Rub your hands across the design, up and down, back and forth, using your fingernails. Don't be afraid. If anything feels loose, you can re-press it with the pressing cloth.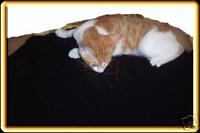 Now let Kitty give you the final APPROVAL
You want to make sure that it will wash and dry with no problem. If you ever notice any loose pieces while wearing or after laundry, cover design with a pressing cloth and re-iron. The glue is still there, and you can re-activate it into the garment.
Test it! Again, if the adhesive isn't melted, the pieces won't stick.
Transfers are fully machine washable and dryable.
Note: Small size like 6ss and 10ss crystals will iron on easy and faster. Larger crystals should be ironed on separately; because of their thickness they will require more pressing time.
More information coming soon