I love to talk ALOT hence i LOVE writing reviews & guides. lol. They are such a USEFUL, HELPFUL eBay resource most eBayers don't even know abou or utilize-use them to check out an item you might want to purchase but are not so sure about the details of it. If you found this guide why not give it a try on your own. I wrote a TON of guides but had a hard time finding the "write a review" link here on eBay so i made this handy, helpful guide on how to write guides & reviews just for YOU!!
Reviews:
Reviews are more for particular "items" per say; if you like a certain movie you can write a review on it-tell you personal story about whether you liked the movie or not & give details, etc..
reviews.ebay.com
Guides
Guides are more for Learning & Teaching others. (the link for writing a guide is on the same page as to write a review)
reviews.ebay.com
HERE'S WHAT THE PAGE LOOKS LIKE
SAME PAGE FOR BOTH LINKS ON EBAY: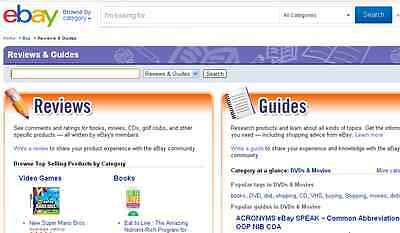 HAPPY WRITING!!
I am ALWAYS more than HAPPY to help my fellow eBayers in any way i POSSIBLY can. If you should have ANY questions PLEASE feel free to message me & i will do the VERY BEST to help you out!!
Did this guide help you out?? PLEASE DON'T FORGET TO VOTE FOR IT!!