One great way to obtain expensive designer handbags at an affordable price is to buy them slightly damaged. There's a lot of sellers that offer new handbags (some have been used as window displays) with miscellaneous damages. Faded leather from the sun can be fixed. Hopefully they're honest and show pictures of the damages so you'll know what can and can't be fixed. Beware though - one very popular seller takes several pictures of just one bag (the best one, of course) with 5-6 to list every week or two. The ones not pictured are usually in horrible condition. If they list a lot of bags, before bidding, ask the seller if that's the picture of the EXACT bag for auction.
Moisturize leather twice a year. Don't carry your leather bags in rain or if you do, cover them to protect them. You can put them under your raincoat. I'd rather get wet and protect my bag with an umbrella! I keep a cloth tote to carry when it rains.
The first step is to have several products on hand. These are the products I always have:
1. Mink Oil - Kiwi Outdoor in the green tin. I would never be without it! Not only does it condition leather but it also makes your handbag or other leather items semi-waterproof. (I've actually used an umbrella to cover my handbag while I get wet in rain!) Use a clean, soft cotton cloth and lightly massage it in. After a few hours, gently rub it off. If the leather is very dry, you can also use a dryer on a low setting and that helps to melt it into the leather. If the sun isn't too harsh and bright, you can put it outside for a few hours to help the Mink Oil soak in. If your leather has wrinkles or if you want to smooth it out more, use a leather conditioner with a hair dryer after putting lots of tissue paper inside the bag. Do not use newspaper or anything with color or print since it will probably transfer to the inside of your bag.
2. Kiwi, Saphir or Meltonian - Various colors of leather polish. I keep the basic shades - black, brown, white, navy and mid-tan, which matches British Tan colors beautifully. I like Meltonian (very little dye in it though) and it conditions leather beautifully. There are color charts on eBay by members that sell it. If the color is ok and you just want to moisturize, choose Meltonian in the clear shade. My absolute favorite conditioning dye is Saphir Creme Surfine, which is mostly available in the UK and Europe. It's getting very hard to find in the US. Saphir has orange - #52! It has tons of pigment and conditioning. I ordered beige # 16, so I could custom mix the two and get the perfect shade. I was glad I did because their orange is very bright. Be sure to wear gloves since it has a lot of color pigment. If you need burnt orange, just order the orange and brown and custom mix the two until you get the right shade. To get lighter shades, mix white or beige with the color of your bag.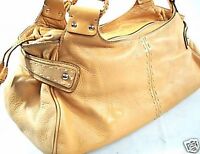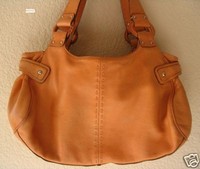 This bag had a lot of sun damage (almost white in many areas), a huge silver magic marker X on it, ink pen mark, Sharpie black marks and it was filthy. By using the products above, I restored it to like new. Angelus Dry Cleaner and Spot Remover took out the magic marker X and Sharpie black X's which had bled through from the label inside. That's done to prevent re-sale on a discounted bag or returns at full price.
In restoring colors back to your bag, do it in steps. Hopefully it takes 1 treatment but could take up to 4 but space them out in a week or two. Lightly massage the bag after several hours to remove the excess polish and keep layering the polishes until you get the right shade. Be sure to buff them each time with a soft cotton cloth or the dye will transfer to clothing.
3. Angelus Dry Cleaner and Spot Remover - This stuff is amazing and worth its weight in gold! You can find it online too and it's made in Los Angeles. It comes in a plastic bottle that is sealed so tight that you might have to use a wrench to remove the lid. Make sure to tighten it back with a tool because I had an entire bottle evaporate. This will remove INK! Yep -- and I have never had color damage from it but you should gently rub it on and gently wipe it off. It's ok to rub very hard if you see no removal of the leather color. Anything by Angelus is great. Hair spray is another good ink remover and so is perfume but it usually removes leather dye . First, test an inconspicuous area to make sure the leather color isn't removed. It's also a good idea to have polish or a match to the leather on hand in case the color is affected. Do not use alcohol because it doesn't have an oil base and it will remove the color and leave spots.
4. Cavalier Leather Lotion - Cleans, conditions and leaves a very soft lustre. This will make your handbag turn to butter and I love it. Use it very lightly or your bag will lose its shape and become limp.
5. Cameo - A brass and silver cleaner that looks like a plastic jug of Comet and it's found in the cleaning products aisle. This will clean and shine all hardware. Put an old towel under the hardware on your bag and lightly rub on a paste mixture. Be very careful not to get it on the leather. Wait about a minute and then wipe it off. Several applications may be necessary to get the oxidation off. This product is great because it doesn't scratch.
6. Kiwi Saddle Soap - Great for cleaning and removing mold and mildew on leather.
7. Clear vinegar - Great for removing odors, especially cigarette smoke! Leather soaks up all odors around it and you don't have to be a smoker for your bag to take on the odor. For example, I carry my nice bags into casinos in Las Vegas. Nothing is more disappointing than to win an auction and get a bag that smells horrible! Use a soft white cotton cloth with straight vinegar. Lightly rub it on the outside and inside. Set the bag outside in fresh air - windy days are excellent. Be sure and wash your cloth with soap and water so you can use it again to wash out the chemicals. You might have to do it many times so keep smelling your bag after each treatment. Then moisturize the bag with leather conditioner and put it outside again to air out.
If your bag has water damage, put it away from sun and heat and let the leather dry out naturally. Use saddle soap to clean it and then restore the color by using the steps above. Be sure to use a conditioning treatment to add moisture back to the leather. Lately, I've seen bags listed with mold and mildew. The bags belong in the trash and I would NEVER buy a bag with those nasty damages! Just breathing the spores could make you very sick and the spores disperse into the air and on everything. I'm shocked that people would even think of listing them.
Never, ever sit your bag down on the ground or on any area that can scratch, soil or damage the bottom. If I have to put mine on a floor or dirty area, then I find a cloth or paper towel to put it on.
Many handbags have interiors that aren't stitched in and you can pull them out and wash it. Lay a towel near the sink and put the leather portion on it. Be sure not to get the leather wet. Use a mild dish soap or Woolite and gently hand wash and rinse the interior. If you're trying to remove lipstick, use a little bit of OxyClean and soap mixed together. Pat it dry and hold a hair dryer on it. Hang the interior on a clothes hanger with clothes pins to dry completely.
Old fashioned shoe stores are getting harder and harder to find. If you have an older section in your city (downtown), check the area for one. They can offer valuable assistance in restoring shoes and purses. I have one and I love going in there. They have everything from leather shoestrings, grommets, dyes, conditioners, polishes, etc. and some will even repair stitches and replace soles on shoes. I have a pair of Etienne Aigner western boots that I adore and I had the (thick rubber crepe) soles re-soled. I bought them in 1976 and they still look like new!
Here's my prized handbag collection and almost all of them have been restored to like new. Cole Haan bags are amazing quality and if cared for, can last over 20 years. I've saved a LOT of money by buying damaged bags on eBay. The orange one was not restored when I took this picture. You can see how faded it was by sun damage since it was a window display. I bought a huge armoire just for storing and admiring them. Keep them covered with a dust bag or in a cabinet and they should last a lifetime if you take good care of them and if they're good quality bags.
17 gorgeous Cole Haan bags in my armoire - a natural anti-depressant!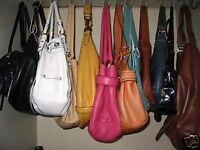 Many eBay members have sent me pictures of their damaged bags to ask me how to restore them. Just email me (metaluna00) on ebay with your email address and I'll give you an address to send your pictures to. I'd be happy to look at your pictures and give you advice.