Please let us know at the bottom of the page if this information was helpful to you. Thank You!
Why Our Moulding Is Labeled "Seconds"
We at 'The Moulding Outlet' expect each piece of retail-grade, solid hardwood moulding we sell to exceed our competitors standards and our customers expectations. Our goal is to offer the consumer the highest quality, stain-grade moulding in the world. Each piece of our moulding is milled the old fashioned way—from a single piece of the highest quality hardwood. As a result, our products are not held together with veneers, finger joints, glue, or any other "manufacturing devices" used in lesser quality, low cost mouldings.
One reason solid hardwood moulding is desirable is the distinct character hardwood adds to a room. Each piece retains all of the personality of the tree it was cut from. Nature has individually adorned every inch with intricate detail no man or machine could hope to reproduce. These earthen imperfections are what create the allure of hardwood. Whether painted, stained, or clear-coated; each grain pattern, small knot, and color variation speaks so that every room in your home tells a unique story.
However, some of the hardwood moulding we produce have either an unusually high percentage of these imperfections or large imperfections which some consumers find objectionable. These pieces are labeled as seconds and are marked to be sold on eBay. This is not to say we have forgotten our high standards when it comes to online sale. Our seconds are hand-graded under our "85 Percent" rule. This means that on the average, each piece will have at least 85% total clear face area--some may have slightly less; most will have more. While retaining some of the blemishes will add rich detail to your home, many of our customers choose to remove some of the less than desirable imperfections. This tutorial will show you how you can easily do that.
(Check out our
auctions
and our
eBay store
!)
A Plan Of Attack

The universal solution for any defect is to simply saw it off and throw it away. Usually this can be done as a natural extension of installing the moulding. That is to say, there will be a certain amount of scrap in any moulding project. Many defects can often be eliminated into this leftover scrap by carefully considering in advance where to make cuts. This process is best explained through illustration. Consider the floor plan shown below; let's take the example of hanging base moulding: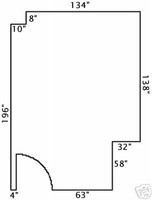 This is the floor plan of an actual office. This room, like most rooms, does not consist simply of four walls with four ninety degree corners. Every room has a door frame. Many rooms also have a closet, fireplace, stairway, notched corners (like the example room), or any number of other architectural features that break up the walls and corners. For this particular case, there are three objects which break up walls: the doorway and the notched corners in the upper left and lower right of the room.

Continuing our example, to trim the corner in the lower right of the diagram, you will need a piece of 32" trim and a piece of 58" trim--90" total. With a standard piece of 96" trim, this leaves six inches of scrap. When installing seconds, you can use this scrap to your advantage. How? Find a piece with defects to match your needs. Machine-made mill marks are one relatively common form of defect which we allow in our seconds. These marks often occur at the very end of a piece. So one of the pieces of trim in your order may have a defect within the last 6" of a piece. In this case, when trimming this room, you would simply cut your 58" piece and 32" piece. Note that this pattern of cuts is exactly the same as if there were no defect; just be sure to start from the end without the defect. Cut this way, the defect falls on the six inches of scrap. This means the defect, along with the scrap, is in the garbage. Viola! With no virtually no extra work you have eliminated a defect through simple planning alone.

There are any number of such length combinations possible for this room alone. And keep in mind you don't have to use one piece until there it is completely spent before moving on to another piece. You could use two different pieces to trim the lower right corner, thereby also generating short pieces which could be used in the upper left corner or around the door frame. Any span of wall which is shorter than the length of moulding you are using is a potential opportunity to eliminate a defect. Most of the time you will be able to eliminate several defects just by planning ahead. So take a few minutes to form a strategy for each room you trim out--be sure to include in that strategy an inspection of your moulding and a determination if one of the other simple repairs described below can be used. The time you spend preparing a plan will be more than made up for as you install your moulding. In fact, using seconds-grade moulding or not, a simple plan of attack is one of the few things that separates a beginner installation from an expedient and professional looking result. There is a saying: "You can tell the skill of a trim carpenter by looking at his waste pile."


Other Possibilities
Fill
—A fill uses putty or spackle to fill in gaps, gouges, chips, or cracks in the moulding. You can also fill nail holes from installation. To fill a defect, first decide whether you will be painting or staining the moulding. If you will be painting, use spackle; for large holes you may need to use wood filler instead of spackle. Fill the defect and allow to dry. Once dry, sand down the filled defect so that the contour is even and continuous. Then prime and paint.
Putty should be used with stained moulding. It can be used before or after staining. Putty should be purchased to match the color of the stained wood to disguise the fill. Press putty into the defect and wipe away the excess. Again, try to make the contour level and continuous. Unlike spackle or wood filler, putty should not be sanded. Try to hang the moulding so that the filled defect is in an inconspicuous place--away from eye level where possible.
Sand—
Rough or fuzzy spots and scratches can usually be simply sanded out. When staining, use a fine sand paper; around 200 grit will work. For fuzzy spots that will be painted, prime the wood first, then sand. Fine steel wool can also be used. It is generally easier to get steel wool into the grooves of moulding. However, steel wool may discolor the surface. So, test steel wool first before using extensively, especially if you plan to stain the moulding. Whether you use steel wool or sand paper, blow or wipe the moulding down before painting or staining.
Bow
—To fix bowed moulding, hold it flat and straight against the wall and install as usual. Be sure to nail into studs or framing and use enough fasteners to keep the moulding flat and straight. We try to eliminate any pieces that are too bowed to be useable.
Color
Variation
—Color variations are not generally considered a defect. These variations are a part of the natural beauty of hardwood moulding. But, there are steps you can take to ensure that you get the most out of your color. Staining your moulding will help to normalize the color. From there, you can color match the moulding. Basically, color matching means putting like colors of moulding next to each other so that one color transitions smoothly into the next. This process may be time consuming but the beautiful results are well worth the effort. It is especially striking for hardwood floors or wainscot paneling.
To color match, start by separating the moulding into three or four piles of like shades. Then simply hang the moulding in such a way that similar shades are near each other. For instance, when hanging oak, you might hang a whitish piece next to a slightly pinkish piece next to a reddish piece. Use your best judgment to find a sequence of colors which is aesthetically pleasing to your eye. Pay special attention to splices and other joints as a good, color-matched joint will be nearly invisible.
Another method of handling color variations is to simply paint all the moulding. Our moulding should be primed before it is painted. Use one or more coats of high quality wood primer, then smooth with steel wool or fine sand paper between coats. Finish with a thin coat or two of your chosen color. After painting, every piece of moulding will look exactly the same.
If All Else Fails...
In situations where you simply cannot eliminate a defect through planning ahead or through any of the methods described above, there is one final solution: the splice. A splice is a technique which joins two pieces of trim nearly seamlessly. Don't think that a splice is extraordinarily difficult just because we've saved this technique for last. In fact, the splice is a very common technique in hanging moulding. It is traditionally used wherever a wall is too long to be spanned by one piece of moulding. So, you'll probably be doing several of them as you install your moulding anyway. However, when installing seconds, the splice can also be used as a last resort for eliminating defects. This technique is relatively quick and painless if you have a power miter saw. If not, you can rent or buy one from practically any hardware store. Follow these simple steps:
Remove the Defect—

Set the piece of moulding vertically against the fence. Angle the blade at 22.5 degrees and make a cut on one side of the defect. Without changing the orientation of the moulding or the angle of the blade, simply slide the piece of moulding along the fence and cut out the other side of the defect. The two pieces from either side of the defect should fit squarely together. Test fit them on a level surface. If the two pieces do not fit neatly, you may need to file, sand, or re-cut the edges.


Paint or Stain—

You should paint or stain the moulding now just as you would for normal installation. Remember to prime first if you are painting.

Hang the Trim

—When hanging the moulding for a splice, first nail up the piece with the angled cut coming off the wall, forming a groove. The second piece should fit snugly into this groove. Hanging the two pieces in this order allows you to form a tight joint. Make sure the pieces are straight before nailing.

Spackle or Putty—

Now use spackle or putty to fill the joint: If you are installing stained trim, use putty. Purchase putty to match the color of the stained wood. Press the putty down into the joint. Overfill the joint. The point is to end up with a level surface without a dip. Wipe away all of the excess. This joint will still be slightly visible because of differences in the color of the stained wood and in the grain patterns at the joint. However, when joined as detailed in this guide, a splice joint will only add a professional look to your fine moulding.
If you are installing painted trim, use spackle. When spackling, press the spackle down into the joint. Again, overfill the joint. Wipe off the excess and let dry. Once dry, lightly sand or steel wool the joint so that the profile is completely smooth and continuous. Apply a light coat of paint over the joint. Once dry, a painted joint will be almost completely invisible.

That's it! When installing your moulding, certain defects must be trimmed off or removed via splice joint. Others may be repaired by some of the other methods outlined in this guide. Use your judgment, but keep in mind that any defect can always be eliminated by a splice joint if you first try another method and it doesn't work.
Tips and Tricks
Practice everything—cutting, filling, filing, sanding, fitting, staining, painting, puttying, and nailing—on scrap pieces. Practice makes perfect!
Remember, the most important part of any installation is the planning and preparation done before a cut is made or a nail is driven.

Surface preparation is critical to a professional looking finish. Always prime then sand before painting. Sand and color match before staining or clear coating.

It's a good idea to test your stain, clear coat, or paint on scrap before applying it to all of your moulding. In order to accurately gauge what your finished trim will look like, be sure to go through every step of the stain, clear coat, or paint process to ensure that the results of the test look exactly as your finished trim will. You can even try out several colors or stains and compare to find the best looking finish for your home decor.
Some people prefer to paint or stain the trim after installation. There is nothing wrong with this method and the results will look exactly the same either way. But we believe it is generally easier to paint or stain the trim on saw horses or a workbench before installation so this is our recommended method, especially if this is your first time hanging trim.
If there are inconsistencies in the contour of the wall, try to hang a splice so that the joint is over a level section. This will result in a tighter, and thus less noticeable, joint.
When forming splice joints in window or door casing, hang the moulding so that the joint is not at eye level. If a joint is hung at eye level, it will draw attention whereas if the joint is hung at knee level, it will hardly be noticeable.

Have the proper tools available. A miter box, a good handsaw, and a hammer will get the job done. But professionals use power miter saws and pneumatic nail guns for good reasons!
Always remember: measure twice, cut once. You can always take more off but you'll have a hard time trying to make a short piece any longer!
Thank you for taking the time to read our guide! We at 'The Moulding Outlet' hope this guide has been helpful and encouraging. It would be our pleasure to provide you and your home with beautiful hardwood moulding for all your future projects. If you were helped by this guide, click "yes" in the "was this guide helpful" section below. Otherwise, let us know what we could've done better before clicking "no". Email us with ideas for improvement and future tutorials, or just to brag about your completed projects. Click on our name, "themouldingoutlet", in the header to this guide and click "contact this member". We love to hear your feedback! Check back with us as we will have more tutorials in the weeks to come. We appreciate your patronage, suggestions, and pictures of your finished projects. We sell all of the moulding you need to fill your home with sophistication—check out our
auctions
and our
eBay store
!