Reed & Barton
Stainless Steel Silverware Flatware
Reed & Barton is one of the oldest silversmiths in the United States. They began operations in 1824. They are very well known for their sterling silver products but they also make a complete line of stainless steel silverware.
There are several Lines in the stainless by Reed & Barton.
The first is the LUXURY LINE
The Luxury stainless steel collection offers the finest in flatware craftsmanship, with a 100-year warranty.
The patterns in this line include; 1800, Alfresco, Allora, Bellevue Matte and Country French. It also includes Finial, Forum, Longwood, Longwood Matte and Preston. Sienna, Sienna-matte, Sylvan matte, Weston and Woodridge round out the Luxury Line.
The second is the CUISINE LINE
Reed and Barton's Cuisine 18/8 collection of stainless steel flatware comes with a Lifetime warranty.
The patterns in this line are Berkshire Matte, Conventry Matte, Hammered Antique, Hampshire Matte, and Hartley Matte. Roseland and Villa are the final two patterns in the Cuisine Line.
The third is the LEGACY COLLECTION
Reed and Barton offers a 25 year warranty on all flatware patterns in the Legacy collection.
This line includes Ashland, Ashland Matte, Boulevard, Classic Braid and Crescendo II. Dane, Kendall, Perspective, Radiance and Silver Scroll round out the Legacy Collection.
Reed & Barton also makes the Waterford Line of stainless Flatware.
Stainless flatware 5 piece sets generally include a place knife and dinner fork, a salad for and a place spoon and teaspoon.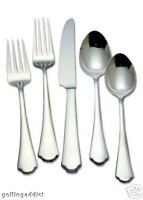 Reed & Barton is an excellent choice for your tableware. Select a pattern for everyday or as a special set to use for the holidays. Reed & Barton makes many patterns to choose from and to grace your table.