Recipe For The BEST Cookies
You Will EVER Eat

This delicious cookie recipe is from the very little (heart shaped) cookbook titled The Bear Facts Recommends. It was published by a small company back in the 1980's. I am sure it is no longer in print.
They called the cookies simply
CARMEL BARS


The Ingredients are
2 cups flour

2 cups quick rolled oats

1.5 cups brown sugar

1tsp. baking soda

1tsp. salt

1.5 cups melted butter

1 14 ounce pkg Kraft Caramels

1 cup evaporated milk

2 cups chocolate chips

1 cup walnuts, chopped or dry roasted peanuts.
I always use real butter not margarine, & I prefer the walnuts, but that is up to your taste.
Mix flour, oats, brown sugar, soda, salt and butter. Press 1/2 to 3/4 of mixture into a 11" x 16" jelly roll pan. Bake in a preheated 350 degree oven for 5 minutes. Melt caramels with evaporated milk in double boiler. Sprinkle chocolate chips and nuts over cooked crust. Spread caramel mixture over chips & nuts. Sprinkle remaining crumb mixture on the top. Bake 15- 20 minutes at 350 degrees until golden brown. These will be a big hit with everybody - they taste like a candy bar!
Recipe makes 3- 4 dozen cookies. After cooling I like to use the smaller sized spatulas, either one made by pampered chef, or a similar one to remove cookies from pan. Serve on a pretty cookie plate, or pedestal cake plate.
These cookies are wonderful anytime, but I particularly like them in the fall. I think the carmels make me think of carmel apples which remind me of fall.


They would of course be the hit at a Christmas Cookie Exchange, too!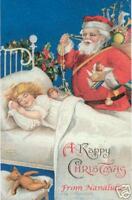 There are some other really good cookie recipes On EBAY. Be sure to check those out too.
EBAY also has a Cooks Nook discussion board for those of you that like to cook or bake.
See My LATEST AUCTIONS
Click on my ME PAGE to find a link to my website. I am sure you will find treasures there you will love. Monogrammed, wedding, & embroidered handkerchiefs, bed and table linens, tea accoutrements and tea party accessories. Beautiful Gifts, lace parasols and fans. Thanks for looking & enjoy your collecting!
Read & Vote on My REVIEWS & GUIDES
MOST OF ALL ENJOY YOUR COOKIES!
© 2006 Nanalulu ♥