Late 1970s Japanese horn hybrids look wacky and get criticism from some viewers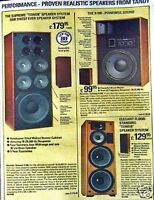 Radio Shack waded in with some horn hybrids of their own, best known being the REALISTIC Mach One. The REALISTIC buyer wants the late 1970s type 'Japanese' oriental sound, deep sensational bass, clear vocals, remarkable stereo effects, a one brand audio rack system like B&O needing same year vintage speakers and receivers.

The speakers below are about enjoying REALISTIC speaker tuner-amplifier systems. For 'good value' sound a REALISTIC brand has special significance, hearing a lot more detail, owning an American dream!
14-gauge flat flexible megacable, 50ft, Cat. No. 278-1273, pk of 4 deluxe pin connectors Cat. No. 278-320

OPTIMUS X-200 (above) Cat No. 40-9158, 95dB @ 1w/1m, 120 watts RMS, (200 watts peak thanks to Motorola piezo horn cluster). Custom made for REALISTIC STA-2100 and STA-2000 receivers, 'supreme tower' space savers. FR.18Hz - 28KHz, 8 ohm, one of the world's rarest speakers! Older 1977 model has a squawker horn below eight twin cluster Motorola-style piezo super horns!

OPTIMUS T-200, (above) 150 watts peak maximum, F.R. 25Hz-20,000Hz, (1980 F.R. with Gradial slope x-overs falling to 50Hz in later 1982 version), time-aligned staggered edgeless tweeter with Hafler M5 style horn assembly, 6.5 ins cone squawker , 8 ohm, 90dB SPL 1w/1m, 'tower' room space saver speaker of 'skyscraper concept', 'doubled' 10ins identical woofers, later REALISTIC T-300 (for receiver STA-2080) improves this with Auxiliary Bass Radiator (A.B.R.) Drone.
Rec. T-200 receivers:- REALISTIC STA-2000, STA-2100, STA-2300, STA-2290, STA-240...
OPTIMUS T-300, 150w, F.R. 44Hz-20KHz, 91dB SPL 1w/1m. See JBL L220 and L150 for upmarket equivalents of the Optimus T-300, they're not 'doubled' but A.B.R. drone speakers, looking like two speakers but with only one driven. L220 were matched with powerful vintage Pioneer and Sansui, harman/kardon PM650, Citation etc.
Receivers for Optimus T-300:- STA-2290, STA-2080...

OPTIMUS X-100 (above) scaled down 12 ins woofer 1977 version of 1976 year original Mach One, 100w peak maximum power, 8 ohms, 20Hz - 25KHz, bass and percussion really felt with STA-2000 or STA-2100 receivers! Surround sound effects from only two speakers, high sensitivity, special all 'air core' inductor version of Mach One x-over.
OPTIMUS T-110, power 80 watts peak maximum, 92dB SPL 1w/1m, tower space saver footprint concept, ferrofluid-cooled tweeter with broad dispersion acoustic lens on a cone tweeter, most eBay examples not well preserved but one of the most deserving 1970s sounds for restoration.
Rec. Receiver:- REALISTIC STA-2290, STA-2250...
OPTIMUS T-70 Acoustically-Tuned Labyrinth Enclosure, 75 watts peak maximum power, 8 ohm, 55Hz-20KHz from 1-inch soft dome tweeter. Exceptional sound from this speaker, one of the all time best ever collector REALISTIC speaker sounds.
Rec. Receiver:- REALISTIC STA-2080, STA-111...

DECCA London speaker, Tandberg TR2075 Mk II speaker & heavy bass horn box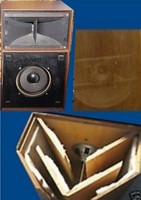 Bass horns need mouths six feet square as seen in rock concerts but Hi-End Audio has folded bass horns, often with agricultural looks and efficiency. Mach One style is seen in Vitavox Bitone speakers of Cinema theaters, more recent Vitavox are:- Thunderbolt, Air Scout and Air Partner. REALISTIC Mach One and Mach speakers differ from the curious tone of bass horns, expensive to travel, many bass horn boxes become firewood with only their drivers posted as spares.
Great sound comes from speaker + amplifier mesh. Hi-End DECCA London is a larger version of the Kelly ribbon and has its DECCA Kelly MK.X legendary giant magnet, 8 inch woofer with large, more rigid, baffle area sounding board to small hole driver diameter. REALISTIC sound best together bought on one day at a saving over buying items at different times, upgrading stereo from a magazine review often spoils overall sound, unless partnered with the same set room acoustics and same ears of the audition panel reviewer, so REALISTIC 'Good, Better Best' catalog systems helped!

Check the squawker compression driver is visible as below and the back stage of the horn not missing!

1977 Mach One, T-110, T-200
1982 Mach One

Mach One Tone Burst Square Wave technology proved extremely accurate square wave (audio) reproduction under the most difficult, i.e. 'tone burst' test conditions! With matching brand receivers on analog FM, 40-4024A and Optimus X-100 will give a 'Realistic' (best bang for the buck) 'hi-End sound' but if you add digital audio sources or receivers/ amplifiers YOU think ought to be better - you've wasted all their efforts! Even with real hi-End the best results only come from matching up a few known sets of 'Separates'.

'Deep Bass' as a term refers to 20-80Hz heard and felt by the human body so improving musical enjoyment.

1975 Mach One, 40-4024A, Lifetime Guarantee, altogether nicer looking, flat color oiled walnut veneer, better lasting white print, rot-free gray genuine rubber edge, wire grille back of catalog example's squawker horn throat (20Hz (felt as a sensation)-25KHz), 4-layer voice coil, 50Hz bass system cut-off (47Hz lowest audible), true Disco speakers in domestic wood trim, 100w peak like many 1970s Disco speakers, black painted woofer basket, medium magnet size, ten screw knob panel, rear of cabinet 8-screw squawker panel, two at center! 4-layer have a real short high power life, if thrashed, early Mach Ones will lose their once formidable sound for:- REALISTIC:- CD-4SQ 4-ch, STA:-225 and original STA-2000!
1977 Mach One, 40-4024, 100w peak, 35oz magnet! 5-year guarantee, rot-free simulated rubber black woofer edge - lacks skunk stripe trim but appears a type of foam edge, sound not Disco but nice and loud. Smaller squawker height, more curved front, flatter looking throat sides, orange veneer of 1982 model, ten screw knob tweeter panel chips at corners, rear of cabinet 6-screw squawker panel, thinner bullet lens than 1976 model, different x-over suits 1977 - 81 receivers:- REALISTIC:- STA-2100, Korean -2000, -2000D, -2100D, 2200...
1982 Mach One Liquid Cooled, 40-4029, gray foam edge (25Hz (sensation)-20KHz), edge wound voice coil small magnet feature, gold woofer basket, 160w peak with 65Hz system cut off, (62Hz lowest audible), strange but real interesting low volume sound, muted bass, six screw knob panel. Edge wound chassis like the Celestion Sidewinder were controversial, listeners either love or hate them, advantage being long life bass performance at high volume! All foam edge speakers need new foam after 20 years, each custom made for a chassis! Receivers:- REALISTIC STA-2300, STA-2290, STA-2080...
New Replacement Mach One bass driver offered with no new x. over for its new voice coil and various dubious seller claims to suit both Mach One and Mach Two while a 90dB SPL 1w/1m foam edge '82 year Mach One look-a-like not with the original '76 rubber edge, cannot suit all 'Mach' x.overs so real dubious!

Mach One spares don't mix, use the right horns, bass driver and x.o. network for your model!
Subtle quality differences of 1977 4024 left and 1975 4024A Mach Ones!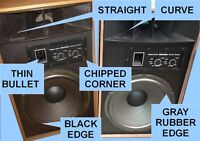 Edge wound voice coils, Rudy Bozak, Jim Lansing and Western Electric were pioneers of the edge wound voice coil needing a smaller magnet than 4-layer voice coils in the 1976 Mach One. Radio Shack claimed the Final Mach One was 4-layer and edge-wound but the two features usually compete.
The Sectional Horn, the EMI 901 had multiple tweeters not needed after the dome tweeter appeared. Optimus 9 has multiple squawkers, Mach One cell horn does the same job but is more power efficient, continued in spiral ribs of the bass cone, a refinement over the X-100. Even a horn for high frequencies is more power efficient than a dome tweeter!

Optimus-3, RARE Available 1971, FR 20Hz-20KHz, very heavy floor stander, looks like 1960s corner horn enclosures, boasts E.S.P. -'Equalized Stereo Perception', promising better than omni-directional sound with its 'sound dispersion pattern' switch controlling the outer of 3 x 3ins. tweeters. 100w peak 12-inch woofer, brass voice coil. 75lbs weight. Lifetime Guarantee.

Nova 9, RARE, Available 1972, FR 20Hz -25KHz 3-way floor stander, 15 inch woofer with 3/4 ins. cabinet 'for bass you can feel', 100w peak, phenolic diaphragm super tweeter with spherical diffractor, weight 51 lbs. Lifetime Guarantee. The deeper-the-bass, the heavier the box needed.

Optimus-7, SCARCE, Available 1973, FR 20Hz-25KHz 3-way heavy floor stander, fine furniture looks, H.27/1/8 x W24 x 15/3/4 ins. 55-60lbs weight. (?), 12 ins. woofer, 6.5ins. squawker, 2.5ins tweeter.

REALISTIC OPTIMUS 9 with (rear ported) Wharfedale Diamond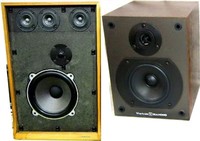 Recommended Optimus-9 receivers:- REALISTIC STA-225, STA-250, STA-150, STA-80...
Optimus-9, Available 1974, FR 20Hz-20KHz, 3-way floor stander, forebear of the Optimus X-100, 3 top mounted squawker cone drivers give wide dispersion equivalent to 3 element horn version of the Mach One 4-element horn squawker. Plywood separate baffle gives enough strength for 3 cone squawker layout with main flake board woofer baffle. 12 inch cast basket bass. STA-2000/Optimus X-100 sound comes from a restored harman/kardon PM650 and original Wharfedale Diamond above, a tiny stand mount design secretly developed for many years to rival floor standing speakers, worth finding if you have a good PM650, a remarkably powerful amplifier, anything less transform them into 'surround sound rear speakers'.

REALISTIC STA-2000 is no POWERHOUSE meant to be played at sensible volumes for an 'effortless' quality.
POWERHOUSE amplifiers: SONY TA-F333ESX, ROTEL PRE/POWER, NAD 319.
Stereo FM needs a stronger input than mono FM.

REALISTIC STA-2300, STA-2290: FM 1.8 micro volts, for indoor aerial - getting hissy!
REALISTIC STA-2000, STA-2080: FM 1.7 micro volts - good!
Technics stereo radio tuners: many models only 0.9 micro volts - excellent!

Below the 1310 and 1310B series of round throat super tweeters resembling certain Sanyo Fisher speakers!

1976 Mach One & 1977 X-100 x.overs differ as their woofer voice coils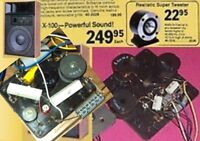 Above Optimus X-100 'all air core inductor' x.o. network version of 1976 Mach One, largest new polypropylene film cap just fits between the 3 coils, other two also firmly fitted at sides. These REALISTIC x-overs are point to point soldered for higher sound quality over Mach Two x-over below, a printed circuit board is nevertheless used in many hi-End speakers.

Recommended X-100 receivers:- REALISTIC STA-2000, STA-2100, STA-2000D, STA-2100D...
"30cm woofer - Multicell midrange horn - Heavy duty tweeter - If you like the sound and feel of a wall-shaking bass, you'll love this speaker. It has the response and power capacity (over 100 watts peak programme) to give you the low frequencies your entire "body" hears ... close your eyes and feel the music. The superior transient response of the X-100 preserves the punch of modern music material -It's the speaker that makes hard rock easy! L-C crossover for a smooth 20Hz-25,000Hz response. Genuine walnut veneer. Removable grille." Size: 23.25x15x10". Cat No. 40-9157.

In the 1990s what is the difference between the OPTIMUS and REALISTIC brands? OPTIMUS, Technics and Pioneer build quality are all cheaper than the 1970s but sound quality of systems is still good. REALISTIC Mach Two with 40KHz upper frequency was preparing to be SACD ready, OPTIMUS Mach Three speakers just plain old 20KHz use add-on 1310 super-tweeters to extend to SACD response, speaker maker B&W claimed Super-Tweeter was best sitting on on top!
REALISTIC Mach Two $230 US, 22 bids, 4 bidders, Sebring, Florida
REALISTIC Mach Three Mk.II $305 US, 24 bids, 5 bidders, Tampa, Florida
OPTIMUS Mach Two
and Three Mk.II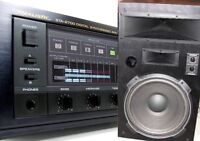 Recommended Mach Two receivers:- REALISTIC STA-2500, STA-2600, STA-2700, STA-2270, STA-2280, STA-12...

REALISTIC Mach Two, Available 1985, (24Hz-40KHz, 160w peak), deeper lowest note than Mach Three (30Hz). Final year OPTIMUS Mach Two, 1991, has revised x-over new radial for old axial caps, tidier layout than seen above, new thicker gauge wire ferrite core inductors. Mach Two is 94dB SPL at 1 watt and 1 meter, white plastic cone squawker has black foam suspension rot issues ($16 replacement foams kit), especially in yellowed cone examples. People wrongly assume Mach Two were junk with no Mach One horn squawker but Dr Bruce Edgar claims rectangular horns ring at their corners like a bell, glass fiber and aluminum throats, more than thick plastic or wood. Round throat Super Tweeter 1310B is metalized plastic so not junk as some eBay sellers say. Mach Two squawker (as shown) should be pure white, not yellow when caused by cigarette smokers with rot in bass foam surrounds likely worse, paper cones may smell of stale tobacco for a few weeks on arrival in your home. Bass units of both Mach Two brands should be ribbed, with 8-screw Sanyo OTTO/ Fisher-style plastic speaker clamp, super tweeter slot should be vertical as shown above not horizontal.
'Fostex for Lowther' are six S.A.C.D. Super-Tweeters looking like heavy aluminum with not everybody agreed aluminum rings, or that it's acoustically inert! Mach Two cone squawker/ high tech horn improves on a well advertised 1970s J.V.C. concept, cellular horn in a portable radio!
Fostex Super-Tweeters:- FT-17H, FT-96H, T500A mkII, T90A, T900A, T925A.
Mach Three, Mk.1 rare twin duct, Mach Three horns not cellular, throat less rigid. Optimus X-200, top of page, four squawker speaker cone wave source equivalent to 4-element Optimus X-100 cellular horn squawker. Speakerlab 6WA Wave Aperture are a 12 ins. woofer look-a-like. Grundig Hi-Fi box mock-up Altec's multi-cell style horn throat, a tweeter rather than squawker and later seen in the J.V.C. 5341.

SONY SS-860, 20Hz-22KHz, 99dB SPL, 1w/1m is way louder than the 1992 Optimus Mach Three inspired by Klipsch Chorus speakers. (45Hz-20KHz +/- 3dB and 101dB SPL, 8-ohm, made 1987-90 for 100w RMS). High sensitivity speakers need that much more quality in low power amplifiers and it don't come cheap, no cheating quality! Old bass drivers are best sold with their boxes or box dimension and tube length/ diameter build details supplied! Large driver Memorex and OPTIMUS speakers with only about 89dB SPL 1w/1m were poor quality compared to Mach speakers as Frequency Response and SPL at 1w/1m reflect the quality of design in large cabinet speakers. The twin cluster drivers of SS-860 create a 'live effect', the practice seen in many 1960/70s speakers.

SONY SS-860 17 ins. woofer & Speakerlab 6WA Wave Aperture 12ins.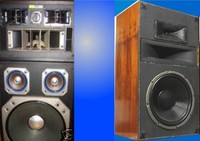 Grundig Hi-Fi Box 506 Audioprisma series loudspeakers were styled after a much vaunted Grundig radiogram of the Audioprisma name. The 503/706 appear in 1973 a year after HACKER elliptical stereo speakers emerged and both enjoy a similar early quality stereo market, ranging between the 8-inch 503 and 10-inch 706 with a tower 707 version. See below for details of the 503 with high-only sectional horn system. The deeper front to back heavier box 10-inch bass, 706, goes down to 30Hz and has a midrange-high horn. Smaller drivers for a bigger baffle can improve bass efficiency as in the novel 1980 year REALISTIC OPTIMUS 27, 1979 Boston Acoustic A 200 Series II and later A 100, DECCA London horn hybrids, a ten-inch 'Volt' speaker claiming the most punch!

OTHER Ebay Search Lifetime Guarantee REALISTIC 20Hz-20KHz speakers:-
Nova 8B 12" Woofer, Nova 7B 10" Woofer, Optimus 1B 12" Woofer Optimus 2B 10" Woofer 30Hz - 20KHz, (Mach One/Optimus X-100 20-25,000Hz)
BEWARE - THE JUNIOR HORN HYBRID*******************************************

REALISTIC Minimus-5 : 20 watts Music Power - 70s version, 15 watts Music Power - 80s model, both Cat No.40-255 with 100Hz-20KHz - not quality. Ebay traders seem to like this little speaker - real wood veneer built to table radio standards, horn dispersion is w-i-d-e, but no bass, even with Loudness! Catalog describes as an Extension Speaker, a Main Line match for the REALISTIC STA-16 stereo receiver, with caption 'The Sound, Looks and "Feel" of Expensive Stereo at a Low Price!'

Collectable Radio Shack Decor speakers Allied Nova Omni with plastic fake cast iron top piece. Optimus-6 octagonal table end speakers with Indian style wooden grille.

********************************************************************************

OTHER OPTIMUS X-100 TYPE SPEAKERS: Altec Lansing Valencia 846B Voice of the Theater, 1985 ONKYO Grand Scepter GS-1 Super High Fidelity Horn speaker system - As the X-100 has a bullet horn in the tweeter, the ONKYO GS-1 has one each of, on its two woofers! -That's a double bass bullet horn system, with JBL K2-S9800-style mid/high horn above!). The Mach one 40-4029 as sealed boxes are 90dB SPL, not ported bass reflex like the more sensitive REALISTIC Mach Two and Three. Pioneer CS 801A 3-way, rubber edge bass, large squawker horn, sectional tweeter horn, Pioneer CS 901A 4-way, dual concentric sectional horn with twin baffle cone tweeters below a sectional mid horn, CS-R700 from the 1973 year R Series, GRUNDIG Hi-Fi Box 503, 4-ohm, 35/ 50w, 58 x 39 x 14cm. 38Hz-26KHz, 13.2Kg/ 29.1Ibs, wood veneer/ grey grille, upper sectional mid-range horn. REALISTIC Mach One, Optimus 990S, Sansui SP-300, the SP-300 has the same type of cabinet brace as the X-100 and Sansui's later 1975-79 range of large horn hybrid speakers are the SP-X series! Klipsch Heresy, TAD Exclusive 2404, JBL Everest DD66000, K2-S9800, DECCA London , 1970s Altec Lansing 19 etc., Technics SB-E100, SB E 200, SB-1000, SB-9500, SB-400, SB-440, SB-600, SB-3007. J.V.C. 5341. They're the marketing thinking behind REALISTIC horn hybrid speakers.
Note: many REALISTIC speaker cabinets are built less well than Wharfedale so you hear 'boxy sound'. You must carefully add box rigidity and modern speaker damping advances to reduce box panel vibrations.