Real Swarovski Crystal Beads or Fake Glass?


Are you sure the crystal beads you are buying are real Swarovski® beads (also known as Austrian Crystal Beads) or are they simple glass knock-offs and not crystal at all? Unfortunately there are some who try to sell the far lesser quality glass beads as Swarovski crystal beads and we will try to give you some suggestions as to what you can look for and questions you can ask of your supplier to be assured you are receiving what you are paying for, the highest quality crystal beads made today.

There are many articles already written on this topic so I am not going to try to repeat the same information but I will touch on a few important issues and the offer some things to look for and suggestions I might make to future Swarovski bead buyers.
Common Clues -

Some of the common clues are that Swarovski crystals come in

gross

packages, not strung like many beads. Their machine cut so they should all be uniform and the corners should meet. A dead giveaway is if you can look at the crystal in question through a magnifying glass and see edges and corners that do not meet. You should also not see any air bubbles within the crystal with the naked eye. The quality of glass that Swarovski uses will give it a clearity and luster like no other, so impurities that might find their way into other crystals should not be present if you are looking at a real Swarovski bead.
Weight -

Another area to look at is the actual look and feel of the crystal beads. Swarovski is made of one of the highest lead contents of any crystal bead made, more than 31% lead, so they

will

weigh something. We might think that these are small beads but 4 (four) 6mm bicones (shown below) will weigh 1 gram (about 1/4 gram per bead) and each size will have a specific weight. The glass beads will weigh less without the lead content, so this is a dead giveaway. If you don't have a gram scale, that's ok, you should be able to see the clarity and feel the weight. Swarovski crystal beads have a shine and luster that you can just see instantly. (If you don't have one, a gram scale is availble at most craft stores and is a handy tool to have in your collection of tools.)


Color Names

- This might be a strange one to some, but the color names are specifically chosen by Swarovski and something we always look at is, what color name is the company using. Anyone selling Swarovski crystal beads that buys them directly from an importer or Swarovski themselves buys them in hologram sealed (saying CRYSTALIZED) packages and the official Swarovski color name is right on the package (see below, full package on the left, closeup of the color, article number, gross per package and the CRYSTALIZED hologram).
When searching for colors you might find some generic names like
yellow
or
red
or
blue
but these are not colors that Swarovski has produced. Swarovski names their colors Citrine, or Red Topaz, or Montana Sapphire instead of more generic use names. It might be that the supplier is just not aware of the proper Swarovski name, but if that is the case I would wonder why that is myself?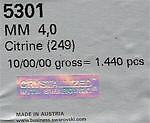 You can actually see the real Swarovski colors names by looking at their color chart as well. This is a good way to see what Swarovski is calling a specific color. The charts are not printed anymore by Swarovski but they are updated digitally as new colors are released and we update our color chart list as often as we can.

The base colors on the chart are going to be the only names they will use, but they will have variations for finishes and effects. You might see one of the colors on the chart is called TANZANITE, so there might also be a LIGHT TANZANITE, TANZANITE AB, AB2X and so on (check our other review on finishes for an explanation of that).

If you see something that is not listed on this chart, you might question where the finish came from, where the supplier purchased this "color". Some examples of this that have recently shown up on the internet are "chili-pepper" or "brandy" or "rose gold". Some of these colors did originate as a Swarovski crystal but were later finished by a third party company, but they certainly are not an "official" Swarovski color name.

Coming in one of the next guides we will discuss where some of these unique colors come from, why no one has them but a few sellers, and so on (look for it in part 3). We think it is important that, you, the buyer, know exactly what you are buying when you put down your hard earned money.

There are always more ways to look at these issues and we will try to update some of the other ideas as we can write them down. Hopefully some of these will aid in making sure you receive exactly what you are paying for, the highest quality crystals beads available.
**A Special Footnote**
This guide is not to say that the sale of glass beads should not take place or the sellers of glass beads are not honest. Glass beads are (and none Swarovski crystal) are a lagitimate product and certainly have their place in the beading world. It is only when these are sold
as Swarovski Crystal Beads
and portrayed that way. We want the customers to know what they are buying, and get what they are paying for, regardless of what product it is, beads, crystals, or lampwork.
A continuation of this guide can be found on Real Swarovski® Crystal Beads or Fake Glass? Part 2
Please don't forget to vote on our guide if you found it helpful. Where you looking for something else? Just let us know. We specialize in Swarovski Crystal Beads and if you didn't find what you are looking for here, we can probably point you in the right direction. Go to our contact us from eBay above (user ID minordtails) or visit our ebay store for the largest variety of color and components at http://stores.ebay.com/Minor-Details . We offer great prices and shipping discounts, ship within 24 hours, and we are continually adding new colors and components.

Our other guides and some new guides coming soon:
Swarovski Crystal Beads, Finishes & Effects, Part 1 (basic finishes and effects produced)
Swarovski Crystal Beads, Finishes & Effects, Part 2 (effects and combinations of each)
Swarovski® Crystal Beads, Limited & Out of Production (special production items, limited or vintage)
Real Swarovski® Crystal Beads or Fake Glass? Part 1
Real Swarovski® Crystal Beads or Fake Glass? Part 2
Swarovski Bead Article Component Numbers, and Their Meaning
New Swarovski Crystal Bead Colors and Component Releases
Hole Sizes for Swarovski Crystal Beads and Components
Swarovski Bead Diagrams, Shapes, Sizes, Cuts
How to Take Great Photographs of your Crystals or Finished Pieces
How to Shop Smart for Swarovski on eBay
Wire Gauge Comparisons
Differences in Jump Rings and Split Rings
Jewelry Clasp Types
Head Pins and Eye Pins
[ALL images & text are ©2007 Minor Detail, Inc. Image theft is taken very seriously, please do not use any of our images without permission. The Swarovski® name is a trademark name and as stated in their copyright information, our company only sells finished pieces manufactured by Swarovski® themselves, any use of the name corresponds to an actual Swarovski® product.]