Rainbow Brite dolls
Checklist and picture guide for the vintage Rainbow Brite Dolls
Included in Guide: Vintage (1983) DOLLS & PLUSH (not toys/figurines/sets)

For a peak at some neat Rainbow Brite prototypes and larger pix of dolls- cut and paste this link: www.wix.com/galacticatt/rainbow

LARGE 18" Dolls (14" Baby Brite) (Total of 4 large dolls released)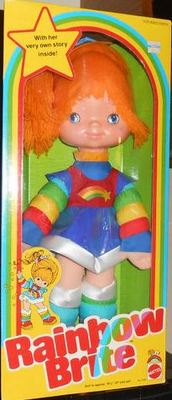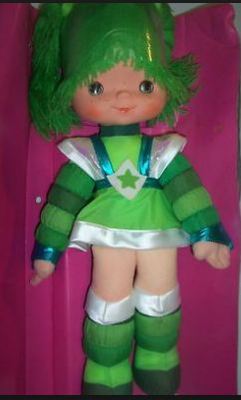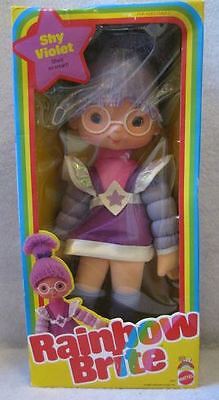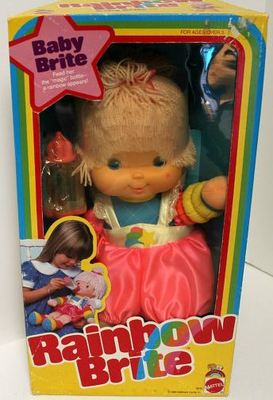 Made by Mattel, copyright Hallmark Cards, 1983. MIB generally $40-$75 (baby brite $35-$45)
18" Rainbow Brite - accessories - blue hair ribbon. common variations: the size and color of the face star can vary, the amount of rooted hair can vary greatly (very thick or very thin), and the brightness or exact color of the color bands on her boots can vary. She also sometimes has red "underpants"

18" Patty O'Green - accessories - two kelly-green hair ribbons -at base of braids

18" Shy Violet - accessories- fat purple hair ribbon.

15" Baby Brite - accessories: pink ribbon & bottle. One release also came with diaper. ** common variations: Baby Brite with light pink hair, and with dark pink hair- different size/color face star, and made in Hong Kong or China. (No 2003 version released)

MEDIUM/Lrg 15/16" Dolls (4 Emotions dolls released)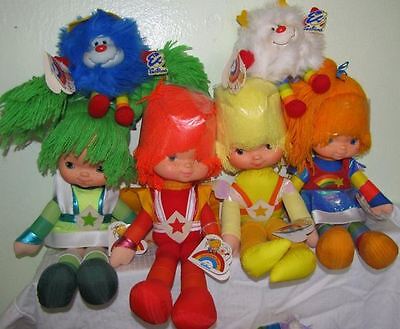 These 4 were Made by Emotions division of Mattel, (not released in boxes). Copyright 1983 Hallmark cards. Frequently suffer from VDS. All fairly rare, especially with paper hang-tag. Typically $15+ loose, $35-$50 + with wrist tag and in good condition (Less for Red & Canary).
Rainbow Brite

Patty O Green

Canary Yellow

Red Butler

SMALL 11" DOLLS w/ SPRITES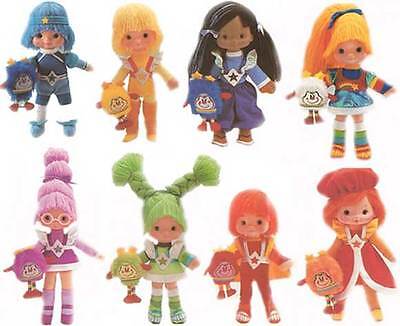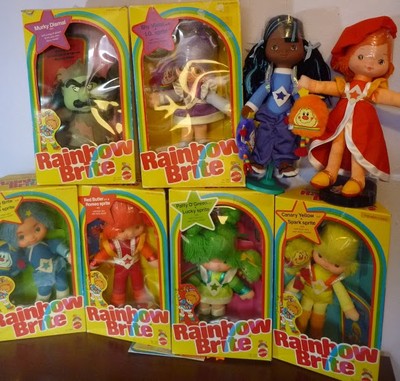 All 11" regular edition dolls were released with little 3.5" "hand sprites" that attached to the doll's hand with velcro.
Rainbow Brite & Twink ($5-$15 loose/complete, $25-$55 MIB) accessories: blue ribbon and white hand sprite. variations: star-shoes vs. plain shoes (common), red pants vs. blue pants (less common); turqoise body color vs. dark blue (less common); variations with lip color/face paint (lip color) and the face-star can be various sizes, and darkness)

Indigo & Hammy - (prices vary wildly- but on the higher side) accessories: 2 light blue hair ribbons, dark blue hand-sprite.

Patty O'Green & Lucky ($7-$12 loose/complete, $25-$35 MIB) accessories: 2 green hair ribbons, green hand-sprite variations: star shoes vs. plain shoes (watchout for 2003 version who has bandaids on knees)

Red Butler & Romeo ($5-$15 loose/complete, $25-$35 MIB ) accessories: red hand sprite & yellow cape (watch for 2003 version, who is very similar, but has "bendy" legs. variations: star shoes v. plain shoes

Shy Violet & IQ ($15-$20 loose/complete- $55+ MIB) accessories: purple hair ribbon, purple hand sprite (be careful, the indigo sprite looks similar- make sure it is BRIGHT purple).

Lala Orange & O.J. prices vary wildly- but are on the higher side

Canary Yellow and Spark ($5-10 complete, $25+ MIB)

Buddy Blue & Champ prices vary wildly- but on the higher side

MURKY with a stormcloud ($5-15 depending on accessories/decals- $25+ MIB)
Loose Price estimates assume doll is complete with Sprite. Generally $10/$15 is a good deal for any really good condition & complete doll- (Indigo, Buddy & Lala a good price would be $20 for a loose doll- but they can be more). Keep in mind prices vary wildly depending on availability, and the condition of the doll. Dolls missing hats/sprites/faded/pilled hair will be considerably cheaper.
DRESS-UP DOLLS (and dress-up horses) -11" dolls, Barbie-sized horses (3 dolls, 2 horses)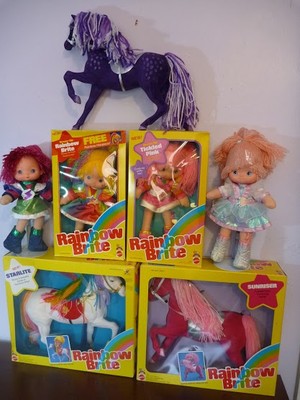 (Dress-up Stormy and her horse were made as prototypes but never released - Moonglow was released ONLY in Germany)

Rainbow Brite comes with boots/hair piece/overdress/bodysuit. Loose dolls are generally $25-$50 on US Ebay, MIB prices vary wildly. These dolls are MUCH cheaper and easier to find on the German ebay- but shipping is usually quite a bit.

Tickled Pink US prices are $35-$50 for complete dolls. Considerably less if missing boots or any part of outfit (bodysuit/dress). MIB doll prices vary wildly but can get very high-

Moonglow Hard to find in the US. Best bet is the German ebay. Prices vary for loose/complete dolls, but are usually pretty high $75 - $200. MIB dolls are VERY hard to find

Unreleased dolls that were planned but never released- Stormy & Lala Orange (you can often pick up a nice custom Stormy on ebay, but the prototype has never been found. Only one Lala prototype is known to exist)

Starlite horse (limited release -US) $25-$75 loose & worn (MIB VERY hard to find)

Sunriser horse (limited release -US) $25-$55 loose & good condition (MIB hard to find)

Made by Mattel in 1985, copyright Hallmark Cards, 1983. Dress-up dolls did not come with Sprites, but had completely removable outfits (bodysuit, overdress, boots & a star comb. Rainbow also had a Rainbow hair accessory. Moonglow was only released in Germany- after the line was already cancelled in the U.S. Stormy was never released although she is pictured in various catalogs and the dealer and pre Toy Fair catalogs. No prototypes have ever been found of Stormy. A prototype was discovered of Lala Orange, indicating that Mattel planned more dress-up dolls at some point.
Plush Pets (& Lurky!)

Made by Mattel or Emotions division of Mattel, copyright Hallmark cards 1983.
11" Starlite $5-10 loose- ($45 - $100 MIB)

10" Starlite (Emotions) not released in box- $10+loose w/o tag

16" Lurky ($10+ loose, $35 - $50 MIB)

10" Lurky (Emotions) ($25-$50 w/ emotions paper tag)

Kitty Brite ($20-$40 loose, $75-100+ MIB) - prices vary wildly and can go high

Puppy Brite (watch out for the 2003 clone) $5 loose, $25+MIB
SPRITES
SIX 11" BOY SPRITES (watch out for 2003 clones) (Shown with 14" Lurky & 12" Starlite for size)


Prices fluctuate greatly, but generally $25-$35 MIB, $2-$15 loose.
Twink (white)

Spark (yellow)

Lucky (green)

Romeo (red)

Champ (blue)

OJ (orange)

SIX 11" GIRL SPRITES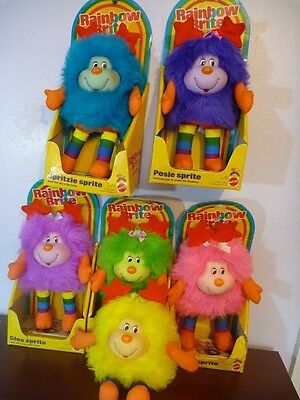 Somewhat more difficult to find than the boy sprites. More common on German ebay. Generally $35 - $55 MIB (sometimes less), $10 - $25 loose.
Spritzie (light blue)

Merrily (light yellow- not pictured)

Flutter (light green)

Posie (purple)

Glee (lavender)

Deelite (pink)

BABY SPRITES (each came in a plastic ball with a paper tag)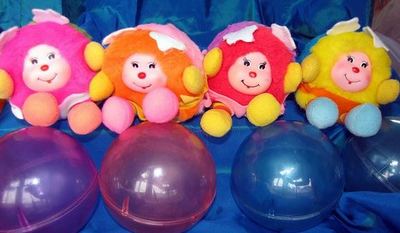 Itsy

Bitsy

Eensie

Teensie
Sprites MIB (mint in ball) are extremely rare and go for $35-$50+ if the ball is in good condition. Baby Sprites that are loose (and still have their diapers) go for $15+ (more common on the German ebay)
Small (6") Sprites
These guys all look really similar- and they are all the same size.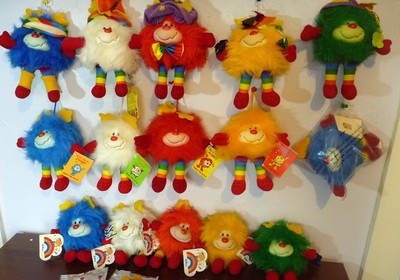 First row- the HATFUL SPRITES
-6 different sprites with little hats.
These guys are all really cheap- you will probably pay more in shipping than you paid for the sprite- unless it is brand new with it's tags (in which case the price is typically $7-12 tops)
Champ (blue with leg warmers & visor)
Twink (white- with nightcap/wizard hat)
Romeo (red - with painter's cap & bow)
Spark (yellow- with leaf headress)
Lucky (green - cap with clover)

6" Emotions Sprites:
look just like the hatful sprites- but with no hat. They look the same but should have a tag that says "Emotions division of Hallmark Cards" (also look for the plastic Emotions hang tag).
These guys are not expensive, but are still relatively hard to find, especially with the blue plastic Emotions hang-tag.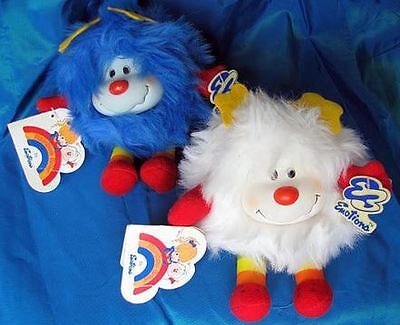 Twink

Spark

Lucky

Romeo

Champ

6" Taco-Bell (kids-meal) Sprites (4 of the boy sprites- fairly common)
These guys look just like the little sprites above- but they have a paper Taco Bell tag, they squeak when you shake them, and their right hand is a clip that can fasten onto things. Also- there are only 4 in this set (they skipped Lucky for some reason):
Twink

Spark

Champ

Romeo
Random additional Info
Rainbow Brite names across the world.
This could help you with your searches in the German and non-English ebays.
German names:
Stormy - Stormy?

Shy Violet - Viola Veilchenscheu

Starlite - Sternschnuppe

Lala Orange - Maria Mandarina

Buddy Blue - Bubi Blauschuh

Indigo - Nina Nachtigall

Patty O' Green - Katrin Kleeblatt

Canary Yellow - Sabine Sonnenstrahl

Tickled Pink - Penny Popperpink

Moonglow - Sandra Silbermond

Twink - WeiBwirbel

Murky Dismal - Grummel Griesgram

Baby Sprites - babywichte
Rainbow Brite in Italy (info thanks to Sailor_Jupitor and Janlourainbowbrite! for info)-Rainbow Brite was very popular in Italy, although collectors report that some dolls were never released there. Janlourainbowbrite, who collected Rainbow Brite dolls during that time, remembers that Italy never received: Lala Orange, Violet, Buddy Blue, the 18" Patty or Violet, and all of the Emotions dolls/pets/sprites, the hard body horses, Dress-up RBB, Kitty Brite, OJ boy sprite, the girl sprites, and the sailmobile or sprite cycle.
The name of Rainbow Brite in Italy was Iridella- here are some of the names of the other characters (just in case you are searching on Ebay.it) :
Rainbow Brite & Twink Sprite = Iridella & Folletto Bianco

Red Buttler & Romeo Sprite = Red Rosso & Folletto Rosso

Lala Orange & OJ Sprite = Lala Arancio & Folletto Arancione

Canary Yellow & Spark = Canary Gialla & Folleto Giallo

Patty O'Green= Patty Verde & Folletto Verde

Buddy Blue= Buddy Blu & Folletto Blu)

Indigo= Indachella & Folleto Indaco

Shy Violet= Violetta (this could mean little violet) & Folletto Viola

Tickled Pink= Rosellina or Raggio Rosa

Moonglo= Raggio di Luna(ray of moon)

Stormy = Tempestella (little storm)

Starlite = Stella Bianca

Sunriser = Aurora

Starlite= Stella Bianca (white star)

Twink= Folletto

Bianco (white sprite)

Murky Dismal= Murky Cupo (cupo is dark/obscure,but intended in a sinister way

Lurky Dismal(?)= Lurky Guffo (no translation for this word)
Rainbow Brite in Canada was Rainbow Brite and also Azurine for the French/Canadian - although in France, her name was Blondine- so she had two French names! (thanks to Joe/13wasberen for the info).
French names of Rainbow Brite (should you be searching on French ebay):
La La Orange & OJ - Clémentine & Ptipépin

Patty O'Green & Lucky- Mentholine & Ptichou

Canary Yellow & Spark- Capucine & Ptifou

Indigo & Hammy- Indigo & Ptimiam

Red Butler & Romeo- Roméo & Pticâlin

Buddy Blue & Champ- Bluet & Ptiploum

Murky- Grisemine

Lurky- Gropouf

Starlight: Tagada

Rainbow Land: le Pays de l'Arc-en-Ciel

Rainbow Land: la Bulle

And Blondine is also known as Blondine de l'Arc-en-Ciel
Rainbow Brite was released in Europe, Canada, Australia & the U.S. in fairly large quantities. These dolls were all made by Mattel. However, Rainbow Brite was also released in Central and So. America, and Japan- the dolls from these countries were made by toy companies within these countries (due to trade restrictions) and are MUCH harder to find. For example- Lily Ledy made a series of Rainbow Brite dolls for Mexico- (including most of the series) and Estrela made a few of the dolls for Brazil (possibly not more than Rainbow Brite, 12" & 18"). These dolls are interesting because the fabric, coloring and materials are very different.
PROTOTYPE INFO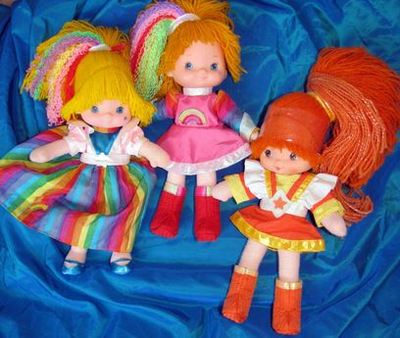 About the process: In the 1980s- toy company designers made"Rough copy" prototype dolls from concepts on paper that have been approved by the company- rough copies are designed to show what the doll could look like- and for the designers to decide whether the design works, or what needs to change.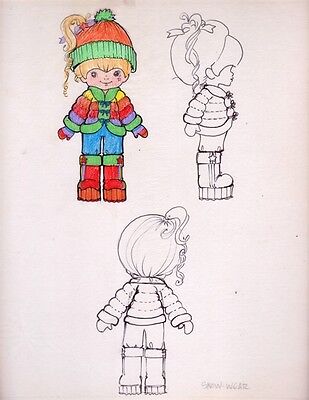 Once an early prototype has been approved for production a second prototype series will be made to work out the packaging process (samples and white box dolls) - at this stage, final decisions about color and placement may not have been made yet. The pink dressed doll above is one such example. (The rainbow appears to have been colored in, and her head is a dress-up head put on an understuffed hand-sewn body.)
Once the design of the doll has been approved/finalized and the doll is approved for mass production, a series of prototypes (often slightly bigger and better made than the mass production dolls) are made for catalog photos and marketing. These dolls often have hand-painted features (larger and better defined eyes/lips/ect- to show up in pix) - and full, hand-rooted and hand-styled hair. You can see this kind of prototype on the back of any doll box or in any catalog picture. The Lala doll above is one such example.

Plush prototype dolls and critters usually don't have tags- and there are often tiny details that set them apart from a normal doll. IE compare the regular dress up doll below on the left, with the prototypes on the right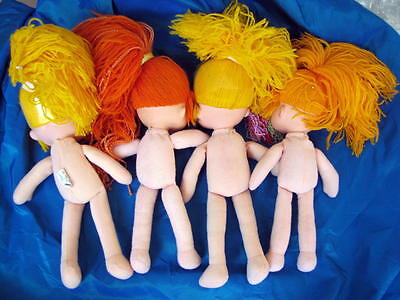 Rainbow Brite Doll Variations
U.S. version (red pants v. blue pants edition, thick v. thin hair edition (amount, not size of yarn), large star v. small star)

General Euro edition (box printed in 4 languages- English/German/French/Italian);

Canadian edition (box printed in English & French)

French edition (box printed in French only)
VERY RARE VERSIONS!
Japanese version (very rare); Japanese language print only

Mexican version (dolls are very rare mib- tags will say hecho en mexico- made by Lily Ledy rather than Mattel, but licenced by Hallmark);

Brazil version (rare loose or MIB) made by Estrella, not Mattel (dolls came in a white box made by Estrela and printed in Portuguese only). Dolls were made by Estrela instead of Mattel. As a result, the dolls have the same colors as the Mattel dolls released everywhere else, but were made from completely different fabrics. The dolls (11" and 18" only) have thick course YELLOW yarn hair, (not orange), and the dress and body is made from felt and lame instead of polyester. The big Brazil Rainbow also has a gold Estrela necklace.
***PS-- if this guide has been useful, please rate it "helpful" but if you didn't find the information you were looking for, please let me know and I will do my best to update! (Keep in mind that although I would LOVE to include more and better pics, but ebay limits these guides to 10 pics of the above size... sad eh?)