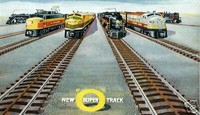 There are 6 quintessential works about Lionel "Super O" that are required reading for those interested in "the track"! This essay compiles the 6 works in one location for reference:
1. 'A History of Lionel "Super O" Track'. This piece provides availability, background, specific information and photos of and about the track system. Also included is data such as the years it was produced; wide radius "Super O" ( 54", 60" and 72" diameter curves ); track planning software; component track sections and Lionel catalogue numbers of all "Super O" items. It is available on line: History of Super O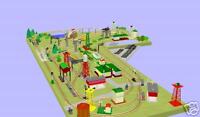 2. Lionel_SuperO_Track Yahoo Group is focused, but not limited to, those with an interest in Lionel "Super O" track. With over 500 members it is an online forum with "answers and questions" about this track system as well as postwar to current O & O27 trains. Photos, reference links, files are all available. Find this in the Yahoo Groupings under Lionel "Super O" track. It is available on line.
3. Rudley's Track Layouts for Lionel "Super O", is a 24 page booklet put together in 1962 by Joe Rudley. Joe was a Lionel dealer of note and also owner of the Sarasota Seahell and Train Museum in Florida. The museum was sold a dozen years ago and its contents were in Richard Kughn's (one of the previous owners of Lionel) Carail Museum in Detroit. The reason Joe put this booklet together is that there were no plans for "Super O" layouts available at that time. The booklet contains 18 pages (30 layouts) including suggested scenic treatment, necessary components as well as sections on Scenery, Accessories and Wiring. Some exquisite large layouts as well as many medium and smaller layouts as well.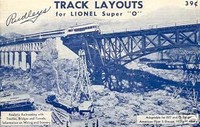 4. Classic Toy Trains (CTT), has a superb article about Lionel "Super O" track in the November, 1997 issue. Six pages in length with photo's, details and a story about the 1957 Lionel Showroom "Super O" layout. Many details compiled as only CTT can do. Very worth while reading for the "Super O" aficionado.
5. Classic Toy Trains (CTT), in 2000, published "Lionel Display Layouts You Can Build". The beauty of these small to medium sized dealer display layouts is that they are 4'x8', 5'x9' and 8'x8' and most of us can find enough space for one of these layouts. They are clever and classic postwar in design. There are 8 "Super O" layouts and 12 layouts using 027 and O gauge. Some very nice color photos that are sure to tantalize a tinplater. Also included in this 95 page book are some excellent stories about those who build these layouts, construction tips and much, much more.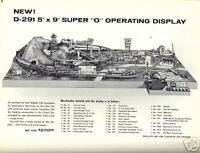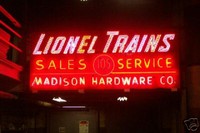 6. "Super O" operating instruction sheets. The "Grand Daddy" of all the sheets is: How To Assemble Lionel "Super O" Track. This is an overall representation of many situations that you will find with "Super O" track. Specific areas it covers are: Assembly, Electrical Connections (#43 and #61&#62), #37 Uncoupling Track Units, #36 Remote Control Blades, #48 Insulated Straights & #49 Insulated Curves, #38 Accessory Track Adapters, "Super O" Transition Pieces for "O" and "O27" Track. Within each category is a detailed account of the subject. Most frequently with illustrations, explanations and "how to" use data.
Mike (lionelsuperotrack)