PROMOTE YOUR SIGHT !
Having a great Web site , e-Store, or even a simply auction listings is not enough. You also have to bring people to it.


But promoting an online store is different from promoting an ordinary Web site. You're not just looking for hits. You're looking for sales. While it's always a good thing to bring more people to your site, what you really need is buyers. How do you bring them to you?


As always, the solution is to put yourself in the customer's place. If you were someone looking to buy online, where would you be? On e-Bay, where at and what times will they most likely be there ? Just a simple tip , get your user id , your e-Store, or whatever you have out there as much as possible and provide a WIDE range of items for sale.
Detail as much as possible with clear, well-photographed pictures of your items.
Provide a variety of payment methods, and ALWAYS list your shipping charges in the description. Many buyers will pass on to the next auction if this isn't clearly listed as they are afraid they will find out after they win the auction that the seller is asking an unreasonable amount for shipping.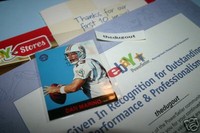 Well, hope this tip is helpful ! Please visit my e-Store, you can find my user id and e-Store info, along with my feedback and POWERSELLER status in the upper right hand corner of this review. By clicking on my e-Store you will go straight to my homepage with easy to search categories ! :0)
Thank You,
Scott
THANK YOU FOR OUR FIRST 10-YEARS OF E-BAY SALES !!!!!