Three year old preschoolers are beginning to be very interested in the Earth. If you are religious, you may be teaching your child about creation and that God made all things and that He made the world for us.
My son and I created a fun craft that he now has hanging on his wall and adds to off and on. The large, colorful World map (shown below) that we made is a great accent for his room and reminds him of our lesson about the Earth and our God who made it. This craft is great for developing scissor skills and fine motor skills in all preschoolers.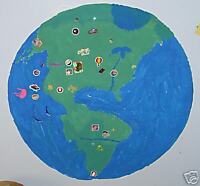 Materials
For this craft you will need:
Instructions
Measure out a length of craft paper that is a little longer than the desired diameter of your Earth.
Tie a string onto the pencil.
Cut the string to the length of 1/2 of your desired diameter.
Hold the end of the string in the middle of the paper and stretch the string until it is tight.
If your child is able, have him draw a circle with the pencil keeping the string tight while he/she is drawing.
Untie the pencil and use it to free hand sketch the continents and some major features of the world. (I always need to look at another illustration or photo while I am doing this.) We chose North and South America, because we live in North America and my son's favorite TV characters (Dora The Explorer and Diego) live in South America. (It is not important for your map to be accurate or to scale. Just look at mine! Ha! Ha! Your child is just developing an awareness of the earth at this point.)
Lay your sketch upon newspaper or a dropcloth.
Mix the blue and yellow tempera paints together to make green.
Give your child a round paint brush and have him/her choose either blue or green paint.
Instruct your child where to paint the blue or the green. You may, also, choose to paint using either blue or green while your child is painting. (Depending on the size of your map, this may take more than one session to complete.)
While you are painting, discuss the Earth. Point out the water. Point out the land. Point out where you live. Point out where fish live and various other animals.
Allow the paint to dry.
Allow your child to cut around the large circle if he/she is able. You will most likely have to assist with this.
Tape the "world" up to a wall using painter's tape or masking tape.
Give your child some various stickers.
Discuss where any animal stickers might go. (Example, a river otter sticker would go near a river. A polar bear sticker may go in Alaska.) Have them place stickers in the appropriate places.
Discuss where particular transportation stickers might go. Ships may go on the ocean, cars may go on the ground.
Leave the map up indefinitely and see your child add more stickers as they desire.
Enjoy!
If you found this guide to be helpful, please vote "Yes" below.
Copyright 2006 Angela Vawter (hugawayfromhome)