Oporto and North of Portugal
, second largest city in Portugal, famous for it's wine - Port Wine - , and by it's river - Rio Douro, where you can cruise upstream and enjoy the beautiful scenary. For more detailed guides about Oporto or Portugal, don't hesitate te contact us.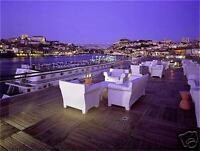 Oporto, the country´s second largest city, is in itself full of interest, but the district it heads, though largely industrialized, offers the visitor plenty to see. Along the coast, holiday resorts like the cosmopolitan beach of Espinho, busy ports like Matosinhos, with splendid seafood, or traditional fishing towns like Póvoa de Varzim, where there is also an animated casino. Inland, for example, the charm of Amarante, with 17th century mansions overlooking the river and famous for a kind of sweet egg pastries called "papos de anjo" (angel bellies).
Right next to Oporto you can visit, in Vila Nova de Gaia, the lodges where Port wine is blended and aged and where you can taste the different varieties, or you may choose to take a river cruise along the Douro. The whole district is filled with prosperous towns, as commerce and industry thrive there, but you can drive along many calm roads with wonderful views over the river or enjoy a rugged and still unspoilt coastline.
Matosinhos is, in spite of its industrial port, renowned for its gastronomy based on seafood and also popular for its coastline of small beaches enclosed by rocks beaten by the sea. Matosinhos also boasts of a valuable patrimony visible in monuments such as the Monastery of Leça do Bailio, the first headquarters of the Order of Hospitallers in Portugal and with a 14th-century fortified church exhibiting Gothic arches and a beautiful rose window.
To the north of Oporto visitors enter the Minho region. Here, between the roads and bridges left by the Romans and the trails that lead to Santiago, we can appreciate the variety of tones and colours that portrait Portugal. Following the pilgrimage and religious festival trails or tasting your way along the "Vinhos Verdes" Route, a moment of peace and rest will no doubt be found at one of the region's Manor-Houses. By boat, train or car - all unforgettable journeys - we head in the direction of the Douro.
Standing before us is one of the world's unique landscapes, either because of its terraced vines that step down towards the River, its almond trees in bloom or even because of its rock paintings. It has been a demarcated wine region since 1756 and a journey along the Douro would be incomplete without a wine-tasting at one of the farms where the renowned drink Porto is produced - here in the oldest Demarcated Region in the world, the wine is famous, then in Trás-os-Montes it's the water, as well as its garlic sausages, steak, cured ham and other such delicacies. It is a destination with excellent water springs and the natural environment in which it is located attracts so called Nature Tourism and Active Tourism.
It offers a wide range of sports alongside the preservation of the environment and boasts breathtaking scenery. It is a land of contrasts, combining the hospitable character of the locals with the nature they live in, providing moments of pure delight and rest.


Useful Informations
Geographical situation:
Oporto, the second largest portuguese city, is situated on the North part of the country.
Language:
Portuguese is latin in origin and the third most widely spoken European language in the world. It is the mother tongue of about 200 millions people. Portuguese is the official language in several countries: Angola, Cape Verde, Guinea-Bissau, Mozambique, São Tomé e Príncipe in Africa, and Bresil in South America. In Portugal itself many people can speak english, french and other languages.
Religion:
Portuguese culture is very influenced by religion. Catholicism predominates but others religions can be practiced.
Electricity:
voltage:220/380 volts at a frequency of 50 Hertz. All sockets Follow European standards. To use American type-plugs, a 220 volt transformer should be used together with an adapter plug.
Money:
Portugal is one of 12 European Union countries whose common official currency is the euro.
1 euro is divided into 100 cents. The coins come in denominations of 1, 2, 5, 10, 20 and 50 cents, and 1 and 2 euros.
The notes are differentiated by their size and colour and come in denominations of 5, 10, 20, 50, 100, 200 and 500 euros.
One side of the coins has a common design (the European side), and the other side has a national symbol. All euro coins can be used in any euro-zone country, irrespective of which national symbols they display.
ATMs - Automatic Teller Machines (Multibanco):
Portugal has a national network of cash machines (ATMs) identified by the symbol MB (Multibanco), from which you can withdraw cash 24 hours a day.
Currency Exchange:
You can exchange money at banks, which are open from 8.30 a.m. to 3 p.m. five working days a week; at bureaux de change; and at automatic currency exchange machines (these are for currency sale transactions only).
Car rentals:
There are car rental services at airports, international rail terminuses and in the main towns and cities.
Drivers with mobility difficulties, or anyone who prefers to, can rent automatic or adapted vehicles.
To rent a car you must: be at least between 21 and 25 years old, depending on the company's rental policy, show identification (identity card for EU citizens or a valid passport for other nationalities), have had a driving license for more than one year.
Banks:
Banks are open from 8.30 a.m. to 3 p.m. five working days a week. Portugal has a national network of cash machines (ATMs) identified by the symbol MB (Multibanco), from which you can withdraw cash 24 hours a day.
Pharmacies:
Pharmacies are open on weekdays between 9am and 1pm and from 3pm to 7pm and on Saturdays between 9am and 1pm. They display an illuminated green cross outside when open at night. All of them have information posted on the door indicating the nearest pharmacies that are open at night.
Shopping:
In general, shops are open from Monday to Friday, from 9 or 10 a.m. to 7 p.m. Some close for lunch from 1 to 3 p.m. On Saturdays from January to November, shops generally close at 1 p.m. though in city centers some are open in the afternoon. Shops tend to stay open on Saturday afternoons and sometimes even on Sundays in December for Christmas shopping. There are plenty of shopping centers inside and outside the cities that are usually open from 10 a.m. to midnight every day of the week. They generally have stores with the main international brands. However, traditional shops with Portuguese products can be found particularly in the streets of the older neighborhoods of towns and cities.
Telephones:
In public telephone booths, coins and special cards can be used. They are sold in Portugal Telecom shops, post offices and some kiosks and news-stands (with a sign indicating this). All telephone numbers in Portugal are composed of nine digits. To call from abroad to Portugal, it is necessary to dial the international access code 00 and the country code 351. To call abroad from Portugal, dial 00, the country code, the area code and then the number wanted. The dialling codes of the various countries are affixed in public telephone booths.
Internet:
Internet access is available on payment in some cafés and in numerous post offices that have the Netpost service. In various hotels and public facilities, like conference centres and shopping centres, there are duly marked "wireless" areas where it is possible to access wireless Internet.
Driving:
Vehicles drive on the right in Portugal. Unless otherwise indicated, vehicles coming from the right have priority in squares and at intersections. At junctions with roundabouts, vehicles already on the roundabout have right of way. Road signs comply with international rules. Compulsory papers: personal ID, driving licence, motor insurance certificate, vehicle registration or equivalent, vehicle logbook (livrete) or equivalent. On the spot fines are issued.
Speed limits for cars without trailers and motorcycles:
50 kph - in built-up areas
90 kph - on normal roads
100 kph - on roads restricted to motor vehicles
120 kph - on motorways
It is illegal to drive with a blood alcohol level of 0.5 grams per litre or more. All occupants must wear seat belts.
Disabled access:
many hotels have accommodation that has been adapted for use by people with motor disabilities. However it's a good idea to contact them directly for details. Public transports usually have reserved seats for passengers with difficulties, but there is no access for people in wheelchairs. Lisbon metro is not fully accessible to people with motor disabilities. Blind passengers are allowed to travel with their guide dogs, provided that they wear a collar and muzzle. All Portuguese airports have wheelchairs and disabled toilets and transfer facilities. They also provide special assistance on request. There are many limitations on disabled mobility and we recommende that you obtain more detailed information from the services you plan to use.