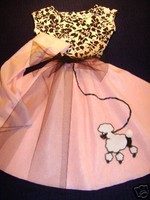 A Quick Poodle Skirt Primer for the First Time Buyer
More and more, buyers are searching eBay for unique clothing unavailable to them at local stores. The word is out that eBay is a great place to find these items and the frequency of poodle skirt sales on eBay is one indication of this trend. Hot times of the year for poodle skirt sales are before Halloween and in the spring when fifties dances and father/daughter banquets are common place; however, some eBay sellers are now offering custom, handmade, manufactured, and used poodle skirts all year long. Many people that look for their poodle skirts on eBay have never bought a poodle skirt before, so I've put together a short list of things to consider before making a bid on a skirt or fifties outfit. Taking these simple steps can help to alleviate the disappointment of receiving an item that doesn't fit or is not of good quality.
Most important, as you should with every bid you make, check the reputation of the seller in the feedback section. Look for comments that pertain specifically to the quality of the items received. Click on the item number to make sure that the feedback is actually referring to a poodle skirt. For example, one entry in my feedback section might be for a poodle skirt and the next for a pair of shoes I'm clearing out of my closet. Obviously, the level of customer service should be the same on any item, but look for information about the poodle skirts. Don't hesitate to ask the seller for more pictures or more information about the quality of the items. A picture is worth a 1000 words, but it doesn't always tell the whole story. The best endorsement of the quality of the items produced is in quotes directly from buyers. Sellers who make and sell quality items should have quotes from emails, pictures of people wearing the skirts, and other forms of positive direct endorsements from actual customers, and the seller should be willing to share these with potential buyers. This should be particularly easy for sellers who make custom skirts in addition to those they sell on eBay.
I began making poodle skirts when a good friend showed me two poodle skirt outfits she purchased on eBay. We were both disappointed with the quality. Two little girls were left with poor quality skirts and cheap accessories for their Father/Daughter Valentine Dance that were not even worth the shipping that she paid. Compare different sellers. This is easier at peak seasons when more sellers enter the eBay market. For example, I do not bother trying to sell felt poodle skirts in the summer when the demand is very low, but some sellers with manufactured stock and other custom makers have items available year round. Also, make sure that your seller offers a return policy if the item you receive is not what was described in the listing. Any reputable seller will stand behind his or her product. This does not mean that you should receive a refund if the item is described correctly, but doesn't fit your daughter because you measured her incorrectly or didn't measure her at all. In addition, several sellers coordinate matching accessories to create a complete outfit. Make sure the description carefully describes these items as well. You will usually pay a little more for the luxury of having the complete outfit and not having to locate the matching items, but no amount of money is worth it if you can't actually use all of the accessories when you receive them. This is a chance that buyers of these assembled outfits take because the sizes on these items is no guarantee that these items will fit you or your child. For example, a top from The Children's Place in a Girls size large is not the same size as a Limited Too top in a size large. Use measurements whenever possible.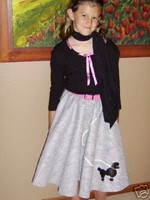 Here are a couple of suggestions based on the most frequently asked questions that I receive:
1. Measure the waist first to determine if the skirt will fit you or the person you are buying it for. Buy a skirt by the measurement in inches. The sizing given in the listing is just an approximation. Also measure the length from your waist to your knee to see if it will be the length you want. Traditional poodle skirts should fall below the knee to mid-calf. Notice that there is often a discrepancy in the length of poodle skirts from different sellers. Be aware that shorter and skimpier skirts require less felt and the smaller the amount of felt is used, the lower the cost for the seller. You do not want a short poodle skirt that has no fullness or swing. If you do, buy a yard of felt at the fabric store and wrap it around your waist because that is the look you will have with a poorly made poodle skirt.
2. Poodle skirts are commonly made with felt to alleviate the need to wear a petticoat or crinoline underneath. The felt, if it is of good quality, stands away from your body to give you the look of a skirt with an undergarment. Thin felt will not offer the same effect and usually requires an undergarment. Ask the seller about the quality of the felt they use in the skirt. This is very important. Do not assume that the materials are high quality unless it is specifically stated in the description. Good quality felt costs at least $5. U.S. dollars per yard and up to $7. for certain colors. A good skirt for a girl will be made with at least 1 and 1/2 yards of felt and a ladies skirt requires at least 2 and up to 3 yards of felt. Also, make sure that the poodle applique and sequins or trim are sewn on and not adhered with glue or an iron-on adhesive backing. Over time, the adhesive separates from the felt and these items will fall off.
I hope these suggestions from my own experience will help you find the right poodle skirt for your event. When made well, a poodle skirt can be shared, passed down, and enjoyed my many people for years to come; and if the past fifty years are any indication, poodle skirts will continue to be popular for parties, dances, pageants, car shows, and all kinds of events where the nostagia of the fifties is celebrated. Best of luck to you!
Since I originally wrote this guide, I've noticed that many more poodle skirts are being listed on eBay in response to the high demand for the skirts. Whether you decide to buy from me or someone else, please consider the following cautions in addition to the ones I've listed above: 1. A poodle skirt is not a mini-skirt. If the skirt looks tiny and lays flat in the photo (unless it is a full circle skirt that is layed out in a circle), it will not offer the fullness and length that is characteristic of a true poodle skirt. Unless the skirt is offered with a crinoline or petticoat, make sure you look for quality felt. Regular fabric, fleece, or thin felt offer little to no fullness. 2. Check to see if the elastic is covered or exposed. If the elastic is not enclosed in a waistband, like a regular skirt, it will rub and chafe against the skin and be uncomfortable. The other option is a skirt with a regular waistband and a zipper. This requires more time and effort on the part of the seller, and will cost a little more. To date, I am aware of one eBay seller who puts zippers in all of her custom skirts and she mentions that in the description. 3. If the items do not look like the seller has taken the time to present and photograph them with care, it is likely that the quality of the items may disappoint you. We all take a bad photo occasionally, but I'm talking about consistently poor photos that do not show the detail or quality of the items. 4. When you are considering handmade clothing and/or accessories, you most often get what you pay for. We all love to find great deals--that's why most of us shop on eBay. But, if you are purchasing something you, your daughter, or granddaughter will wear for many special occasions to come, do not let price be your sole consideration. Ebay is a tremendous marketplace for buying and selling items, but be very selective in what you choose to purchase and take time to educate yourself about all of your options before you buy or bid. I hope these suggestions help you in your search!