Protective gloves are designed to create a barrier for the user from hazards. Using the correct gloves can prevent or eliminate injury. Evaluate a glove based on it's characteristics in relation to your type and risk of injury. There is no single pair of gloves that will eliminate all potential hazards, so it is up to the user to choose a pair of protective gloves that BEST fits their risk enviroment. Protective gloves come in a variety of modes and models and quality is just as varied.
There are three readily recognized hazards that a user can expect when in contact with a suspect/ inmate:
Bio-Hazards (...ie blood and other bodily fluids)
Cut Hazards (Knives and razors, etc)
Puncture Hazards (Hypodermic needle sticks)
And there are two must have features that a user must evaluate:
Dexterity (Ability to manipulate objects while wearing the gloves...like a handgun)
Tear Resistance (Ability to withstand repeated usage)
Let's talk about the gloves outer shell. Remember, the outer shell (leather, spandex, neoprene or otherwise) is not specifically designed to protect a user from any of the hazards mentioned above. The outer shell is a covering for the liner (or in the case of the unlined glove, the hand). Sometimes the gloves outer shell comes with special characteristics (like textured palm grips) which make it more user friendly but does not contribute to protecting the hand from injury.
The liner is what really protects the hand from injury. Liners are specifically designed to protect against any one of the hazards mentioned above and protective gloves can have more than one form of liner.
Remember protective gloves are built around the premise of protection with regards to RESISTANCE to a hazard, however, NO glove maker gaurentees ABSOLUTE protection.
What can be confusing is the terms used when discussing liners. Here is a short list of popular gloves and their functions currently on the market today:
UNLINED GLOVES
Gloves like the DAMASCUS DYNA THIN or the DAMASCUS NEXSTAR I have NO LINERS and are a basic search glove and provide minimal protection versus any of the hazards mentioned above. The advantages to an unlined pair of gloves is maximum dexterity and affordability. For optimal hand protection against hand hazards a user should select a pair of gloves with some form (or combination) of liner material, which will most accomodate the users work enviroment.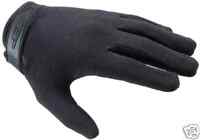 CUT PROTECTION
KEVLAR - Designed by the Dupont Company, Kevlar is a polyblend of synthetic fibers woven together to protect the user against cuts without diminishing manual dexterity and is four times more cut resistant than leather. Kevlar will not diminish or wear out even after repeated laundering. Kevlar is the least protective of the current cut resistant gloves on the market today but offers superior manual dexterity compared to the other cut resistant liners. The HATCH STREET GUARD line of gloves Iis one of the the most popular version of this type of glove currently on the market today.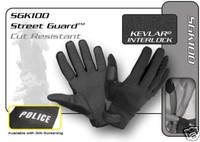 SPECTRA - Designed by Allied Signal, Spectra is a polyethylene fiber and is the strongest man-made fiber. Spectra is 8-10 times stronger than steel and 40% stronger than Kevlar approximately twice the cut resistance of Kevlar. The drawback to Spectra is loss of some manual dexterity and the cost is usually higher. HATCH FRISKMASTER 2000 is a popular glove with this form of liner.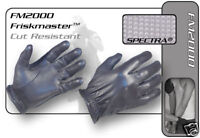 RAZORNET - Razornet is a blend of Spectra, fiberglass and a polyester yarn. Razornet is four times more cut resistant than Spectra alone. Once again a loss of manual dexterity is experienced and the cost is higher (notice a trend?) Hatch called their version of the Razornet liner the X11. Hatch offers a popular versions of this type of glove the HATCH STREET GUARD X11.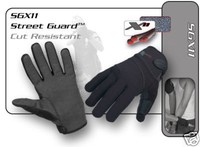 FLUID PROTECTION
HIPORA - Hipora is actually a waterproof membrane with numerous micro pores that shuts out fluids from entering but allowing moisture from the hands to escape. Liners made with Hipora are waterproof, windproof while at the same time allowing the hands to "breath" resulting in cool dry hands.
PUNCTURE PROTECTION
Currently there are no liners that have absolute protection versus a needle stick although most manufactures will suggest cut resistant gloves have some degree of puncture protection and this is mostly true. There are gloves with specially designed fingertips that utilizes layered material to achieve very good puncture protection but do not have a liner to protect the rest of the hand. This type of glove would be most useful to the corrections officer. Hatch offers a glove with needle-stick protection on the finger tips called HATCH ARMORTIP.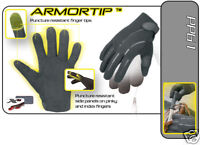 LINKS
View all our Cut Resistant Gloves
View all our Puncture Resistant Gloves
We hope this guide was useful and if you have any questions please feel free to contact us!