Gorgeous. Sparkling. Modern.
This fine fragrance is fresh, floral, and feminine... beloved by all who wear it. Amazing Grace has the highest of consumer ratings with rave reviews - and for good reason.
It is totally beautiful without being overwhelming, and appropriate for virtually any occasion.
The name says it all: Simply Amazing.
EAU DE TOILETTE or EAU DE PARFUM ?
Some have noted that the Eau De Toilette does not have staying power, therefore prefer Amazing Grace Eau De Parfum. We gave this the test. One spritz, no more than that - and 8 hours later the Eau De Toilette is still quite noticeable. Which brought question as to whether or not the products reviewed were authentic. More about authenticity at the end of this guide...
Amazing Grace Eau De Parfum seems to be a little on the strong side and the fragrance itself is ( strangely ) a bit different, with hints of musk and?
However, everyone has their own preferences. What smells fabulous to one person may not be acceptable to the next. If you prefer a fresh light fragrance, the Eau De Toilette is perfect - especially for Spring and Summer. Something more sensual? Choose the Eau De Parfum. Either way, try before you buy is strongly recommended.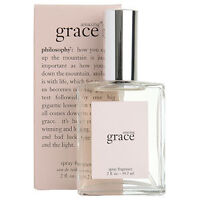 WHAT CONSUMERS SHOULD KNOW
There are virtually 1000's of imitations ( watered down copies of fine fragrances ) to be found right here on Ebay, in addition to many other well known websites.
This includes our beloved Philosophy Amazing Grace. Unfortunately, sellers do not always disclose this information.
When browsing, first and foremost - ask the seller if the item you are interested in is authentic. If the answer is anything but straightforward this is a red flag. If the price seems too good to be true, bid with caution.
Also observe the packaging closely. The box, bottle, and label imprinting should appear exactly like what you see here.
"Generic replica" fragrances look extremely similar but will have slight variations. The lower printing on the label may be different or not be present at all. The box ( if included in listing ) should also be observed carefully.
In example, this is Philosophy's Amazing Grace Eau De Toilette - and the wording on the label simply reads SPRAY FRAGRANCE. We don't know why, but we do know it is the authentic company Eau De Toilette product label. If you see this item with a label or box that says anything other than Spray Fragrance, it is definitely a copy.
Thank you for visiting, we hope we have been able to be of assistance.