You hear a lot about depression glass and carnival glass, but were you aware that the predecessor to them was beautiful Victorian Opalescent Glass?! Opalescent glass consists of a huge variety of designs and colors made by many different glass companies through the years.
Northwood's "Open O's"
What Is Opalescent Glass?
The following information is taken from Ask About Antiques: Opalescent Glass: The Pearl of the Glassmaker's Art (11/6/2005):
"Opalescent glass is a generalized term for clear and semi-opaque pressed glass, cloudy, marbled, and sometimes accented with subtle coloring all combining for form a milky opalescence in the glass. While Rene Lalique may be recognized by most as the pinnacle of opalescent glassmaking, stained glass first evolved in the late 1800's and early 1900's during hte Art Nouveau period when American glassmakers transformed European stained glass used in cathedrals into the translucent milky glass we now refer to as opalescent. John LaFarge and Louis Comfort Tiffany were two American artists who first experimented with opalescent effects, driven by their desire to use glass in creating beautiful visual scenes in art without painting. Opalescent glass was first developed and patented by John LaFarge in 1879, but it was Tiffany who created the masterworks in glass for which he is still so well known today. Tiffany created totally new colors in glass and used glass in new forms that evoked the forms of nature.
The opalescent effect is a glassmaking technique used by many manufacturers to greater or lesser degrees of artistry, produced in the cooling process, which creates the milky opalescent effect, which illuminates any coloration when light shines on it. Sometimes the opalescent effect was created along the edge of a piece, often coupled with wavy effects and making for an elegant yet subtle look. This opalescence is also created in the glassmaking by alternating heating and cooling of the glass and with the addition of chemical additives to create the desired effect. Many U.S. manufacturers made this type of opalescent glass, most notably Fenton, Northwood, Hobbs, and American Glass."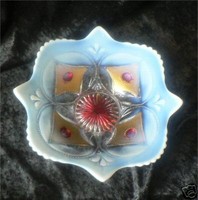 Dugan's "Wheel & Block"
How is it made?
The following information is taken from Ask About Antiques: Opalescent Glass: The Pearl of the Glassmaker's Art (11/6/2005):
"There are three kinds of glass, which are called opalescent. One is the blue-tinged semi-opaque or clear glass with milky opalescence in its center. The color is produced by the slower cooling of the molten glass in those parts, which are thick, causing some crystallization inside the glass. This kind of glass glows a golden color when light shines through from behind it, and a beautiful blue when light shines onto the surface from the front.
The second kind of opalescent glass has a milky white edge or a white raised pattern decorating a colored pressed glass item. This effect is produced by re-heating parts of the molten glass when it has just started to cool, and heat-sensitive chemicals in the glass turn the re-heated sections white.
The third kind of opalescent glass is hand blown and was normally made from two layers of glass. The outer layer contained heat reactive components such as bone ash. The two-layered piece was blown into a mould with the raised pattern impressed into the metal. After removing the mold, the piece had a raised pattern comprised largely of heat sensitive glass, which turned milky white when reheated. This left the white pattern like a silhouette against the usually clear background.
Today, few glassmakers still make opalescent glass primarily due to the toxicity of the chemicals needed to execute the complex glassmaking process. This glass is highly prized and cherished by collectors because of its rarity and because of its elegant beauty."
"Herringbone Whimsey"
What is it's History?
Opalescent glass was first produced in England in the 1880s and grew to great popularity, both there, and in the American market, which was anxious to add brightness and beauty in the home.
The early American makers were primarily:
Hobbs, Brockunier & Company (1863-1880)
Buckeye Glass (1878-1896)
LaBelle Glass (1872-1888)
American Glass (1888-1891)
Nickel Plate Glass (1888-1893)
Northwood Glass (1888-1924)
They were later joined by companies like:
Model Flint (1893-1899)
Fostoria Shade & Lamp Co. (1890-1894)
Consolidated Lamp & Glass (1894-1897)
Elson Glass (1882-1893)
West Virginia Glass (1893-1896)
National Glass (1899-1903)
Beaumont Glass (1895-1906)
Dugan Glass (1904-1913, operated as "Diamond Glass" from 1914-1931)
Coudersport Glass (1900-1904)
Jefferson Glass Company (1900-1933)
The major production years for opalescent glass were from 1880-1920. Shortly after the turn of the century, Fenton Glass Company also began making opalescent glass and has continued to the present time. In 1899, A.H. Heisey & Company tried their hand at a very limited production of opalescent glass in white & blue, producing off & on until 1915, when they no longer produced any opalescent glass.

There is more detailed company information and history in the guide titled "Opalescent Glass - Who Produced It?".
Click here to join "LOG" - an eBay group for "Lovers of Opalescent Glass"! You can ask questions, share information, and post your eBay listings for opalescent glass in the appropriate discussion forums.
Please email me if you have any suggestions to make this a better guide for everyone! Thanks!
Photos of Opalescent Glass:
Spanish Lace: Hearts & Clubs: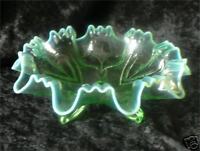 Ruffles & Rings: Ruffles & Rings w/ Daisy Band: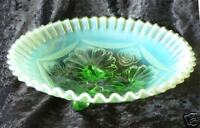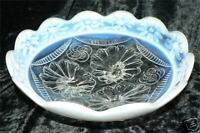 Dugan Carnival Glass Peach Opalescent Coin Spot:
Click on the following link if you would like to view my website to Buy Opalescent Glass.