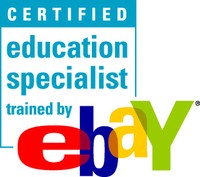 Finding quality education about eBay can be challenging with many "get rich quick" type of fantasy "drop-ship" promises on the market today it is hard to determine the good from the not so good instructors.
Today I wanted to help make your decisions a bit easier when deciding on a class to take when it comes to learning how to sell on eBay.
I suggest to look for the logo above when seeking out an eBay instructor.
This logo represents an instructor that has taken their eBay career to the top level of seriousness and has a true love for selling on eBay as well.
We enjoy sharing our knowledge with our students and especially enjoy seeing others become successful too!
I've personally made a living on eBay since 1997 and this amazing career is available to everyone, WORLDWIDE!
My motto is "There is plenty of eBay for us ALL to be blessed and prosper" and this means YOU too!
eBay education is available in Ocala Florida, my hometown as well as worldwide. Seek out an instructor in your area and LOOK for the official eBay logo that is backed by eBay University. These instructors are using material provided by eBay. I do suggest you ASK the instructor if they are indeed using the presentations and the books ONLY provided directly by eBay? If they are not then you will know this may be a false instructor abusing the logo and I would then encourage you to report them for misuse of the logo.
Happy eBay Selling and hope to see you in my next eBay class!
eBay Classes Ocala Florida <-- click to view