After using the Nokia N8 for two months I've come to the conclusion that this smartphone isn't perfect - what is?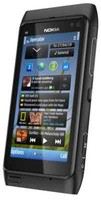 Fit and Finish - This is probably the best constructed and flawless looking mobile device I've ever purchased. The few buttons work well with good feedback. The phone is solid, an advantage of a non-traditional battery cover. The HDMI port cover is too cheap; no port cover for the microUSB port.
Display - OLED and rich looking. 3.5 is as big as I'd want to carry around regularly. The resolution is typical Symbian (360 x 640), which is to say not nearly enough pixels on that just right sized screen. The FIRST mobile display that I can use easily outside in daylight.
Ease of Setup - Initial setup was a bit more of chore than I expected it to be. WiFi setup, contact transfer were both harder than they needed to be. I had to use Ovi Suite to transfer contacts; the interphone transfer application didn't work with my Nokia N900. Everything else, MMS , SMS, microSDHC file system, etc. set itself up. Wow!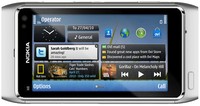 How Does It Work? - The phone behaves very well, picking the wifi network over my 3G connection whenever needed. This is something that my Nokia 5800 does not always do well. The N8 doesn't even ask - it simply picks the right connection. By the way, that is a "wireless N" speed connection. Very fast. The user interface is very fast. There are times when it hangs for up to ten seconds, which is an eternity when you are waiting for an application to open or close so you can do something else. This is once or twice a day, just enough to remind you it can be a problem without being an issue. The random reboots during phone calls I could do without. Reflashing the firmware eliminated that issue. I also use beta level applications so this could be the what is causing it. I use the optional Swype keyboard and love it.
The Touch Screen - The pencil eraser sized stylus gave me an idea of how much precision I was sacrificing for the capacitive multitouch on the N8-00 over my resistive screen devices. I like the subtle but distinct vibration feedback. This is a much sweeter and tuned vibration than on previous Nokia touch screens and much nicer than Samsung touch feedback. Multi-touch works well. There are times when I believe my touch input has gotten lost on the way to informing the OS the screen has been touched. About twice a day this happens.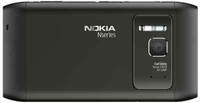 Using It - This is an incredibly snappy device. It does what you want when you want it to. It does true multitasking, it is easy to switch to or close open applications. Application installs are simple. The on screen keypad and full QWERTY keyboard work well. Swype only makes what is good better. Enjoyed playing a movie, complete with surround sound, via the HDMI port directly into my TV and home sound system. This is the "convergence&quot​; we've been hearing about for 15 years. E-mail, SMS, MMS all work as expected.
Camera- I see very few artifacts in my well lit photos. A lot of thought went into the processing algorithms to ensure best results from the 12 MP sensor. Xenon flash is bright and even. Images look fabulous on the device. Video is quite good. None of the choppiness or hesitation I've seen in other cell phone (N900) video shooters. It all looks great on the big screen in native 720p resolution. I rea;lly like the shoot/edit/upload right from device I can do with HD video.
Summary- Daily momentary hangs aside, this is a good device with many features. That I can get 3G speeds with both my T-Mobile US and AT&T SIM cards is a huge plus. I'm glad I have it in my pocket.