FREE PROGRAM REMOTES - COME ON IN AND VISIT
NISSAN AND INFINITI
keyless entry remotes are very easy to program and there should be no reason for you to ever purchase programming instructions for your
NISSAN OR INFINITI
keyless entry remote. Most
NISSAN AND INFINITI
cars trucks and suv's just require switching the ignition off/on a set number of times and pressing the buttons on the remote.
When you ready to purchase a remote for your car please remember these steps in helping you
MAKE SURE YOUR CAR HAS KEYLESS ENTRY INSTALLED IN IT. MOST NEWER CARS DO HAVE KEYLESS ENTRY INSTALLED BUT IT WAS AN OPTION ON OLDER MODELS. IF YOU ARE UNSURE YOU CAN ALWAYS CHECK WITH YOUR LOCAL DEALERS PARTS DEPARTMENT. THEY CAN TELL BY YOUR CARS VIN.
IF YOU ALREADY HAVE A REMOTE AND JUST WANT TO ADD ONE OR REPLACE IT JUST TYPE IN THE FCC ID NUMBER ON THE BACK OF YOUR CURRENT REMOTE IN THE EBAY SEARCH BOX AND A LIST OF REMOTES WILL COME UP. BE SURE TO THEN CHECK THE MODEL OF THE REMOTE WITH WHAT IS AVAILABLE. OLDER NISSAN AND INFINITI REMOTES USE 3 DIFFERENT MODELS WITH THE SAME FCC ID. THERE IS MODEL/, MODEL/A AND MODEL/01A. NEWER ONES DO NOT USE DIFFERENT MODELS AND YOU CAN SKIP THIS STEP
DO NOT buy a remote from a seller who uses generic stock photos to promote an item that will look nothing like what you will receive
This is an attempt to lure you into buying the remote without reading the entire fine print in their auctions. If the price seems really low then read the entire description word for word and look to see if they are using a picture of the condition of the actual remote for sale or a stock file photo of what the remote would look like if not worn. If you don't do that what you will end up with is an ugly remote that looks nothing like the picture. Make sure the remotes condition is CLEARLY described in the main text and not hidden away the description
PROGRAMMING can be found at numerous places on the web and
NISSAN AND INFINITI REMOTES CAN BE PROGRAMMED BY THE CUSTOMER
If you wish to ask me where you can go to get programming instructions for your remote just email me and I will email you back with a link or the programming instructions.
Enjoy your new CAR, TRUCK, SUV or VAN purchase.
Maybe you are just looking for an extra remote for your car or truck or maybe you just purchased your new vehicle and it didn't come with any remotes or just came with one. Well you should be able to enjoy that purchase by getting treated fairly and with respect, nothing is worse than getting your new car and then have people trying to rip you off by misleading you. Ask questions to the sellers and please read the entire auctions description. Don't let anyone ruin your new car.
Please feel free to email me with any questions and check out my great selection of keyless entry remotes in my ebay store at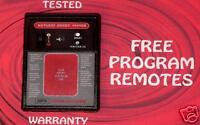 FREE PROGRAM REMOTES - COME ON IN AND VISIT