This is the third guide that I have written on the subject of Nippon porcelain which I have been collecting for 30+ years and for which I have great admiration. This guide focuses on moriage and beaded ware, the beautiful and delicate raised designs found on some pieces of Nippon porcelain.
For help in determining fake Nippon porcelain from authentic antique Nippon, refer to
HOW TO TELL FAKE NIPPON PORCELAIN FROM AUTHENTIC NIPPON
. For assistance in evaluating unmarked Nippon, please see
UNMARKED NIPPON- IDENTIFYING & EVALUATING UNMARKED WARE
.
WHAT IS MORIAGE / APPLIED SLIP DECORATION?
The term moriage refers to raised slip decorations applied to a piece of porcelain or pottery. Slip is the special thick liquid clay from which porcelain and pottery is made. There are several types of applied slip decorations. In one, a pattern is drawn or transferred into a porcelain or pottery base and the slip is applied by hand in layers (a technique called 'slip trailing'), much as a baker would apply frosting in decorating a cake. In another technique, liquid slip is poured into a shallow pattern mold and allowed to partially dry. The formed decoration is then removed from the mold and attached to the base of the piece with a bit of slip to act as glue. There is also a third technique where a thin flat slab of clay is allowed to set up partially, is hand rolled and/or carved by the artist into a decoration, and is applied to the moist body of the ware. And finally there are pieces that have no applied decorations at all but made from a mold that incorporates a raised design.
The photo below of a piece of Nippon slip-trailed dragonware moriage, reveals- where a small section of the decoration has broken away from the base- the pattern beneath.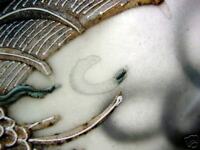 Nippon designs also incorporate the technique of beading, where hundreds of small dots of clay slip are applied to a piece of porcelain which is then fired and painted, a time-consuming process. Later pieces short-cut this process by having dots of enamel instead of slip applied by hand to speed up the manufacturing process. The tea caddy cover below shows some details.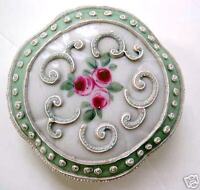 WHAT IS NIPPON MORIAGE / BEADED WARE?
Nippon moriage and beaded Nippon are terms used for slip decorated or beaded pieces of Nippon porcelain. Be aware that many pieces of moriage or beaded ware are unmarked, i.e., have no backstamp. These pieces might at one time have had a paper label, but it is long gone. With Nippon moriage or beaded porcelain, condition matters a great deal, as the ware is fragile and over the years many pieces or sections of the moriage or beading may have been damaged. Examine any piece you are considering very carefully, but keep in mind that it is difficult to find a piece in mint condition.
The dragon pattern with jeweled eyes is often popular with collectors.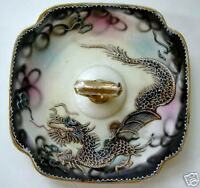 SOME EXAMPLES OF NIPPON MORIAGE & BEADED WARE
Below are some photos from my collection: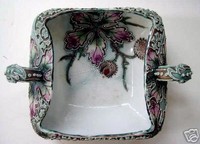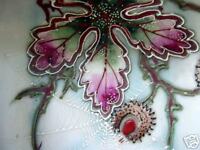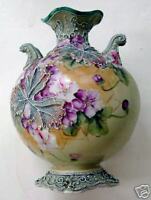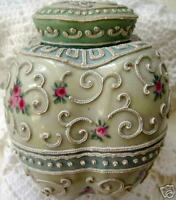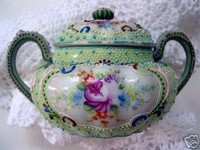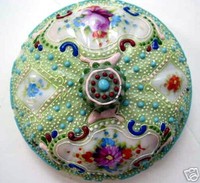 If you have found this guide to be helpful, I hope you will take a moment to vote below.
Regards, Flo Dove
Dove Originals Trims
FOR 1000's OF SEWING TRIMS- VISIT DOVE ORIGINALS TRIMS