New Swarovski Crystal Bead Colors & Component Releases 2006

The new Swarovski colors and articles are released about each spring and fall. There are an almost endless supply of colors from Swarovski but a few times a year they give us a few new colors and shapes to add to a fantastic collection of bead articles. This guide will discuss the newest colors Swarovski released in the Spring of 2006 and information on previous releases.

New Color Releases

The color releases usually come around the same time of the new Spring and Fall fashion lines and in the recent past Swarovski has released one "color" and one "effect" at the same time. For more information on colors and effects please see Swarovski Crystal Beads, Finishes & Effects, Part 1 .
CARRIBEAN BLUE OPAL - this was Swarovski's new color release for this past Spring. The color is quite different than any other color but it adds to the great list of opeque (or a slight creamy tone) colors that Swarovski makes. In this release Swarovski made many more finishes, articles, and sizes than in the past. It was initially produced in the #5000 (Rounds), #5040 (Spacers), #5301 (Bicones), and the #5601 (Cubes) in a variety of finishes including the AB and AB2X finishes (seen below the #5000 ROUND CARRIBEAN BLUE OPAL AB2X).

CRYSTAL SILVER SHADE

- this is the effect that was released at the same time as the color above. It is similar to the CRYSTAL GOLDEN SHADOW effect without the color. This effect was also released in a wide variety of sizes and shapes initially and is a great addition to the effects Swarovski currently produces.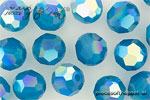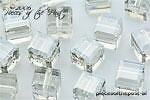 New Article or Component Releases
Some of the time, when Swarovski releases new colors they will also release new article numbers for the bead line. These are new shapes or even new sizes of articles that have not been released yet. One example of a new size release is the # 5310 (Simplicity) which was released in the fall of 2005 in a 4.5mm but was later released in the Spring of 2006 in a new 5.5mm size.
# 5523 COSMIC

- this was the new article release for the Spring of 2006 and is one of their most ambitious article releases in recent years. The cut of this crystal is very hard to describe (and a diagram is coming soon) but it is an elongated bead with several off centered flat cuts on a few sides (see photo below). This article was initially released in the 12mm size and later in the 16mm size in a variety of colors. Shown below in the CRYSTAL COPPER color.

# 5020 HELIX

- this was the second article release for 2006 and is in the more traditional sizes but with many cuts to make it a crystal that could be used in a variety of patterns, although it is one of the more expensive beads of recent release. the #5020's have a flat narrow cut that runs along one side and a few other flat cuts around the bead itself and is centered drilled like most bead components. This article was initially released in the 4mm, 6mm, and 8mm sizes (although most 8mm sizes are a special order size because of their cost). Shown below in the PURPLE VELVET color.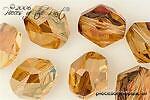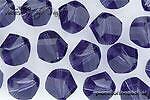 Past New Article or Component Releases
Some of the more recent color and article releases are listed below. In the upcoming guides we will post information on the new colors and articles that will be released for the fall of 2006 as this information becomes available to us. Usually Swarovski holds this information until right before the release of the new items so look for more info soon on the fall 2006 color releases.
Some previous color releases were:
PURPLE VELVET (color)
CRYSTAL COPPER (effect)
SILK (color)
CRYSTAL GOLDEN SHADOW (effect)
CANTALOUPE (changing colors)

ALEXANDRITE (changing colors)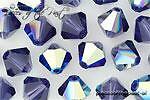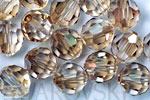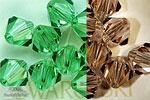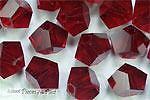 Some previous article releases were:
# 5310 SIMPLICITY
# 5203 POLYGONS
# 5821 DROP PEARL
# 5826 CURVED PEARL

Stay tuned for the latest news. If you have any questions about new colors or colors that you don't recongnize to be Swarovski please contact us and we will by more than happy to discuss it with you. Images above from left to right, #5301 BICONE in PURPLE VELVET, #5000 ROUND in CRYSTAL GOLDEN SHADOW, #5301 BICONE in CANTALOUPE, and #5310 SIMPLICITY in SIAM.
Please don't forget to vote on our guide if you found it helpful. Where you looking for something else? Just let us know. We specialize in Swarovski Crystal Beads and if you didn't find what you are looking for here, we can probably point you in the right direction. Go to our contact us from eBay above (user ID minordtails) or visit our ebay store for the largest variety of color and components at http://stores.ebay.com/Minor-Details . We offer great prices and shipping discounts, ship within 24 hours, and we are continually adding new colors and components.

Our other guides and some new guides coming soon:
Swarovski Crystal Beads, Finishes & Effects, Part 1 (basic finishes and effects produced)
Swarovski Crystal Beads, Finishes & Effects, Part 2 (effects and combinations of each)
Swarovski® Crystal Beads, Limited & Out of Production (special production items, limited or vintage)
Real Swarovski® Crystal Beads or Fake Glass? Part 1
Real Swarovski® Crystal Beads or Fake Glass? Part 2
Swarovski Bead Article Component Numbers, and Their Meaning
New Swarovski Crystal Bead Colors and Component Releases
Hole Sizes for Swarovski Crystal Beads and Components
Swarovski Bead Diagrams, Shapes, Sizes, Cuts
How to Take Great Photographs of your Crystals or Finished Pieces
How to Shop Smart for Swarovski on eBay
Wire Gauge Comparisons
Differences in Jump Rings and Split Rings
Jewelry Clasp Types
Head Pins and Eye Pins
[ALL images & text are ©2007 Minor Detail, Inc. Image theft is taken very seriously, please do not use any of our images without permission. The Swarovski® name is a trademark name and as stated in their copyright information, our company only sells finished pieces manufactured by Swarovski® themselves, any use of the name corresponds to an actual Swarovski® product.]