The Nakamichi cassette deck is one of the most desirable electronic items for an analog loving audiophile. Nakamichi is a Japanese company that took the cassette deck to legendary heights. They ruled the 1970s, the 80s and the early 1990s. With the arrival of the digital age, the demand for these cassette decks waned and thus production stopped. The picture is of a
Nakamichi CR 4A

Now considered an antique, these decks are very desirable by the audio loving ebayers. The decks range from the heavily loaded Dragon, the extremely pricey 1000 ZXL limited ($3500.00) to the BX 1 at the lower end at $100.00. Audiophiles are willing to pay top dollar for a nice Nakamichi in pristine condition. However, this is where the problem arises: The really nice Nakamichi's are very few and far between. Ebay is replete with low down scammers who sell lousy broken cassette decks for high prices by just not mentioning "enough" about their item. Beware of the term "AS IS" and "No returns". Sellers think that this absolves them of all responsibility if they use this expression. Sellers do have a responsiblity to inform their bidders about the exact condition of their decks. The picture is of a
Nakamichi RX 202.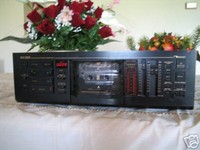 I have had bitter experiences not less than 4 times. The cassette decks in question were an RX 202, an RX 505, a CR 5A and a DR 1. These decks were not dead on arrival but did not perform as the sellers said they would. On each occasion, I felt disappointed, cheated and let down by the system. I contacted the sellers of each of these decks. A couple of them offered to claim insurance in my behalf and the others just shrugged their shoulders and said "too bad"! One particular woman seller called Kelly was most irritating. She seemed to think it was my fault that the deck failed. Her advertisement read "Mint condition". The picture is of a
Nakamichi MR 1.
Here are the important pointers to consider when buying a Nakamichi Cassette deck on Ebay.
Research your deck and know exactly what you want.

Look at the sellers feedback and ask questions about the deck. Decks that have not been used for a long time have problems with belts, idlers and need general tune-ups.
Avoid decks that have fancy functions like Auto reverse. These decks are usually over 20 years old and these functions are the first things that fail. An RX 505 is the same as the LX - 5 with autoreverse.

The most desirable decks on Ebay are the Dragon, the CR7A and the ZX 7. They usually sell for around $400 - $700 depending on the condition of the deck. When bidding on these you need to ask questions about ownership, head wear, service etc.
The REVOX B 215 and the Tandberg 3014 are hardier decks that last longer and have most of the performance of the Dragon. So you may want to consider these also before taking the plunge.

If you must absolutely have a nice Nakamichi, then Ebay is not the place to look for it. You need to go to Audiogon.com. The decks are pricier but you can get what you paid for 95% of the time. I say this from experience.

Beware of the words "AS IS" and "NO RETURNS". There is no MEA CULPA factor with these words.

Here is a picture of my Nakamichi ZX 7.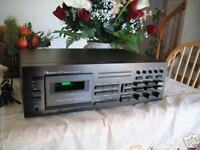 List of Nakamichi 3 HEAD DECKS
481
581
581Z
582
670ZX
680ZX
681ZX
682ZX
LX-5
ZX-7
ZX-9
CR-3a
CR-4a
CR-5a
CR-7A
RX505
DRAGON
BX-300
Cassette Deck 1
Cassette Deck 1.5
DR-1 (1990 onwards)
DR-2
2 -HEAD DECKS
580
BX-1
BX-2
BX-100
BX-125
BX-150
480
CR-1A
CR-2A
LX-3
RX-202
Cassette Deck 2
DR-3 (1990 onwards)
Professional Models:
MR-1 (with XLR inputs and outputs)
MR-2
Good luck and God speed!
If you have found the information
in my Guide
helpful , please rate it with a yes! Thank you!