Fake Apple iPod Nano fooling ebayers...
There are many clones and fakes of the ipod nano 3rd generation. Some Helpful pointers, so you don't get duped.
1. COLOR: Genuine iPod Nano's only come in 6 colors,
These are the only colors, NO OTHER SHADES, NONE DARKER/LIGHTER.
2. SERIAL NUMBER: Genuine Apple iPod have serial numbers that can be verified with Apple support.
Go to apple/support/oss and enter the given serial number (including capitol letters), if the serials number is not valid, that iPod is FAKE.


3. Pictures: It's hard to definitively tell a lone Fake iPod, But also look closely at the included accessories.
If the USB cable doesn't look the same, and the seller isn't giving you a serial number, or other pictures, most likely it's a knock-off.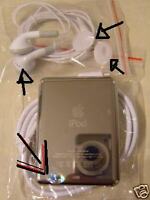 Look at the arrows, they point at clearly fake nano packaging, and the fake nano itself. Notice how the nano has a shiny reflective sticker often stating "8GB" or "4GB", usually put on the factory before the iPod leave's china. Also Notice the plastic baggies apple will never ship plastic baggies as containers with a NEW ipod.