The Oakley sunglasses I received say MPH on the box and frame. How do I know these are real, authentic Oakleys? Why do they say MPH and what does it mean?
Stay tuned and I will reveal a little known Oakley secret.
Many of the Oakleys sold here on eBay have MPH on the box and/or frame of the sunglasses. MPH is an inside joke at Oakley that means "mister potato head."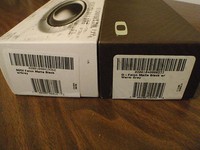 Mister potato head means that the sunglasses were assembled from extra parts that Oakley produced for warranty repairs or other uses. When Oakley discontinues a model, they use these extra parts to assemble sunglasses. These sunglasses are still quality authentic Oakley sunglasses, but they may have a different frame and lens color combination than those originally available.
In the picture above, you see an Oakley Felon brown retail box on the right and an Oakley Felon MPH box (which has MPH printed on the label) on the left. On most MPH frames, you will still see "Made in USA," but not all.
Now you are privileged to inside information from Oakley.