Definition: a catadioptric optical system is one in which refraction and reflection are combined, i.e., lenses (dioptrics) and curved mirrors (catoptrics). One variant of it is a Maksutov lens (former Soviet Union) named after its developer: Dmitri Maksutov.
The Soviet versions of this lens are said to have been so-so optically, but were much sought after by surveillance people for their portability and usability. That wonderful marketer, S.F (Fred) Spira, imported a version to sell from his Spiratone stores, and the rest, as they say, is history. The idea caught on and many lens makers joined in.
One issue with mirror lenses is that, at their best, depth of field is very shallow. Thus, if the lens is not crisp, focus becomes even more difficult, even more so if the viewfinder on a camera (like many older APS-C dSLRs) is fairly small and dark.
A second issue is the nature of the out-of-focus highlights (called "bokeh"). The catch with reflex mirror lenses is that the light is bent back and forth in them to achieve the focal length in a short distance, and like mirror astronomical telescopes, this means that there is a central circular reflecting area on the front element - in short, the light is donut shaped, and bright OOF highlights will become many many light donuts. Many people really hate this - although when these camera lenses were first introduced (the Soviets actually) that became stylish for a little while. Like fish-eye effects this is something where the charm can wear off pretty quickly.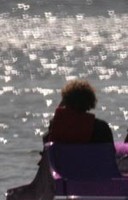 Out of focus 'donuts'
A third issue is that all of them I know anything about are completely manual focus. Aperture stopdown, of course, is NOT a problem since these lenses have only one aperture (usually f/8). Exposure is in Aperture-priority, as a rule. Any adjustment to light is done with neutral density filters that typically mount somewhere on or in the rear of the lens.
A long time back, I thought that it would be nice to have a 500mm lens for the occasional bird or whatever.
So I found a nice old Soligor 500mm mirror lens only to discover it was an FD mount lens rather than the EOS mount I needed, so I called the vendor (it was a store selling on eBay) and they offered me a refund and suggested that they had an even cheaper T-mount lens (Quantaray) new. So I got it. It worked and had nice close focus, but it turned out in the to be rather soft. So far as I can tell, the current crop of inexpensive mirror or reflex lenses mostly seem to be from Korea and are identical in appearance other than the name engraved on them. From reviews and comments on web sites, they all seem to have the issues of softness that mine has.
Then I saw a Spiratone Minitel-M (also T-mount) for sale and got it. Much nicer lens in image quality, although it looks nearly identical in outward appearance to the newer Quantaray. Very light lens and easy to carry and even hand shoot with. Focuses easier than the Quantaray, even on small viewfinder cameras
Then I saw a Spiratone Mirror-Ultratel 500mm mirror lens and copped it, since by now I was losing perspective anyhow. It is huge by comparison to the Minitel-M, but has decent IQ.
Finally, where I should have started in the first place. I found a nice non-AI Reflex-Nikkor 500mm f/8. I made an offer which was accepted. I found that nice though the Spiratones were, this lens was something at a quantum level above the others. For reasons I am not clear about, it even has less of the donut-shaped hi-lites so characteristic of the breed. I used it on older pre-AI Nikons and with an inexpensive adapter on EOS digital.
At that point, I sort promised myself not to buy any more 500mm mirror lenses. However, fate threw me a curve. I found a gray-green Sigma 600mm f/8 mirror lens. It wasn't 500mm, so my vow was not broken when I bought it. It turned out to be at least as good as the Reflex-Nikkor, and maybe even better. A very nice lens. This was also a Nikon mount, and I use it mostly on my EOS digital cameras with an adapter.
Then I wondered what a cheapie 500mm refractor would be like (after all the Spiratone 400mm is terrific for the price). So I grabbed a Kalimar 500mm f/8 (all of these 500mm lenses are f/8, though of course the mirror lenses are just f/8, period). Not much different than the Spiratone 400mm refractor, but pretty decent all in all, if a little long on the camera. It's Ok, Not quite so good as the Spiratone 400mm refrators, I think
I mean, I don't know what I could have done, it was just one little mirror lens, but then another came in and then it was a brigade and before I knew it I was facing the whole Union army ... no wait, that's another story.
Anyhow, I offer my story here to those of you who might learn from it and avoid my sorry fate. I beg you, turn aside from that first mirror lens. I'm sorry to say that the devil whiskey had no part in it either.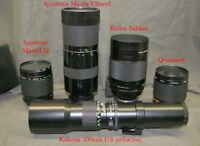 A 'reflection' of mirror lenses
What should you get? Well, my personal recommendation is to stay away from the current crop. Many of the older ones aren't all that expensive, and the Minitel or the Nikkor or Sigma lenses are far superior. At the top are the Sigma and the Reflex-Nikkor. Next the Spiratone Minitel-M, then the older Spiratone.
[this is based in part on posts I made on the internet site Photo.net -- http://photo.net ]